His soft-spoken demeanor belies no hint of the rousing performances he is capable of delivering. With his trademark calm, he waits for us to commence the interview. We have a long list of questions prepared, some biographical and some seeking to extract personal opinions. We hope his patience will hold out.
Meet Dhammrakshit, better known as Dhamma, an artist and activist hailing from Satara, Maharashtra. He is an exponent of 'Virodhi geet' which is a form of protest poetry and aims to bring about a change in society through his performances. His self-composed verses tackle various social issues like inequality, gender discrimination, illiteracy and casteism. Here, he talks to us about personal incidents, professional choices and experiences that shaped his life and nudged him on the path he has currently chosen.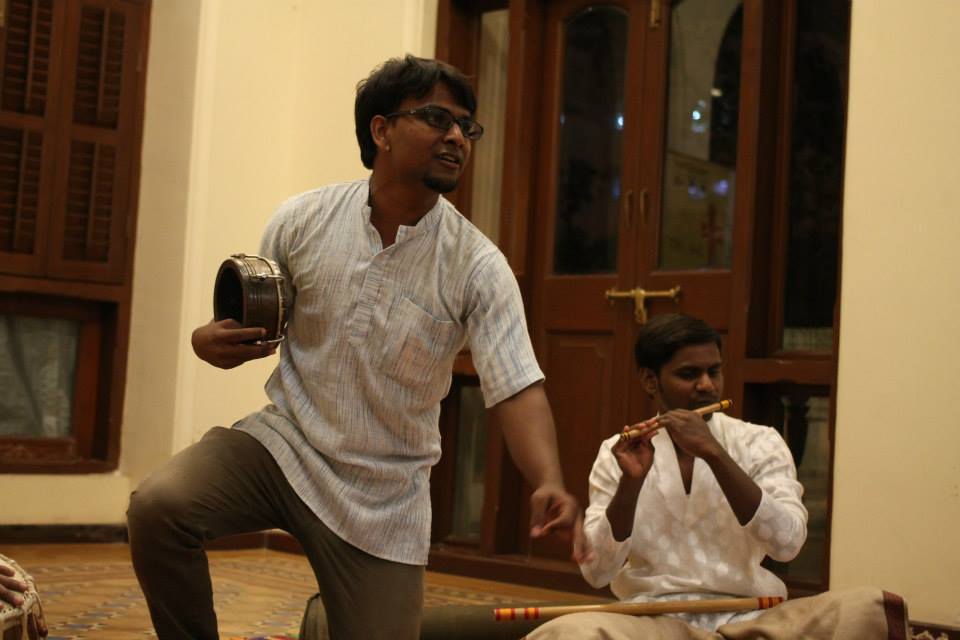 Eager to understand his decision to trudge on on 'the road less traveled,' we ask him about influences that motivated him to take up this particular form of 'performance poetry.' He tells us that his father has been the biggest influence. A champion for change in his times, Shaahir Srirang Randive too attempted to change mindsets for the better through Shaahiri performances (a form of lyrical story-telling performed in verse.) The liberal views expounded by his father and the progressive atmosphere he grew up in played a big role in shaping not just his thinking, but also his ambitions for life.
His journey has been an interesting one, from delivering his first performance at the young age of four to working as an assistant writer and performer in his father's troop, to becoming the leader of the group to starting his own troop, his persistence and dedication have helped him make leaps and jumps in his field.
Our next question aims to prise out a detailed account of all the work he has done and the various communities he has interacted with. He tells us about the 'Jal Swaraj' scheme, which was a government scheme aimed at creating awareness about conserving water at the Gram Sabha level, he promoted in various villages in Mahabaleshwar. He tells us about the work he's done with 'Muktiwadi Yuvak Sanghta,' an anti-fascist organization dedicated towards working with and building the youth of our country. His time studying social work saw him interacting with the Dalit and Adivasi communities in the area, with NGOs looking after AIDS sufferers and promoting the rights of homosexuals and transgenders. He also got a chance to meet children from an observation home in Dhune, which helped him gain key insights in child psychology and juvenile delinquency. To all these places, he also took his special brand of 'performance poetry' in a bid to reform mentalities and transform communities along the way.
 We've often noticed a lot of theatrical elements in his performance and so, we ask him if he draws influences from folk theatre. He tells he has studied theatre and theatrical formats, particularly Marathi folk theatre extensively. Two courses helped with this understanding; one was a Diploma in Marathi Folk Art from the Lok Kala Akademi, where he studied the 5 forms of Marathi folk art – Tamasha, Bharood, Dashavatar, Jagran and Goldhal. Today, he draws influences from all these forms to add an interesting twist to his performances. He strives to reinstate these traditional folk art forms into contemporary consciousness by furnishing them with a relatable, modern twist. A Master of Theatre Arts course from the Mumbai University also helped increase his knowledge about theatre.
Finally, we come to the question we've been most eager to ask – What does he like about his brand of poetry? Has he really seen it change people's lives? He says that he loves the exposure his work gives him.Since he performs on the streets, it becomes easy for him to reach out to people and for people to reach out to him. He likes the fact that his form has a folk flavor and that his performances happen in the local language, as people find it easy to understand him, even if they have little or no education. He does believe that these performance sessions can change people's lives. He has often noticed women become bolder and more open after such performances. This change that he sees, this transformation from a shy, perhaps apathetic silence, to an informed, proactive vocalness motivates him to keep doing what he signed up for.
Dhamma currently works with the NSPA as an artist and also runs a cultural institute called 'Yalgar.' This institute, he hopes, will provide artists with similar ambitions a platform through which they can showcase their talents and use them to bring about a change in society. If you would like to be a part of this institute, do get in touch with Dhamma.