Seasons have always fascinated artists. Leaves change color, sunrises and sunsets take on a different hue; nature drapes herself according to the whims of the season Gods. Artists have struggled to capture these capricious cloaks of nature. In this articles, we look at 5 depictions of winter by prominent artists and try to understand the motives and meanings behind their depictions.
The Magpie – Claude Monet
This gorgeous painting beautifully captures light, shadow and the stillness of a snowy, wintry morning. The luminous glow of the winter sun is so realistic that one can almost feel it spreading a weak warmth through the chilly air. A lone magpie introduces movement into this otherwise silent, stock-still painting. If you've never experienced snowfall, enjoy this wintry wonder through this painting.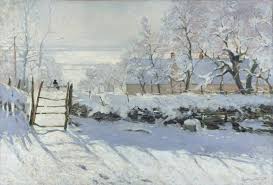 Image courtesy: wikipedia
Snowstorm – Francisco de Goya
At first glance, this painting comes across as being a beautiful one, one that accurately portrays the harshness of a freezing winter. However, if you look closer and longer, a message begins to take shape. Goya, who painted this for a patron belonging to the royal family, smartly highlights the gap that exists between the rich and the poor. While on one side, we see three individuals, cloaked and warm, carrying home a fat pig, on the other, we see two figures, poorly dressed, returning home empty- handed. Art isn't only about portraying beautiful things. Sometimes, it even portrays the ugliness of reality.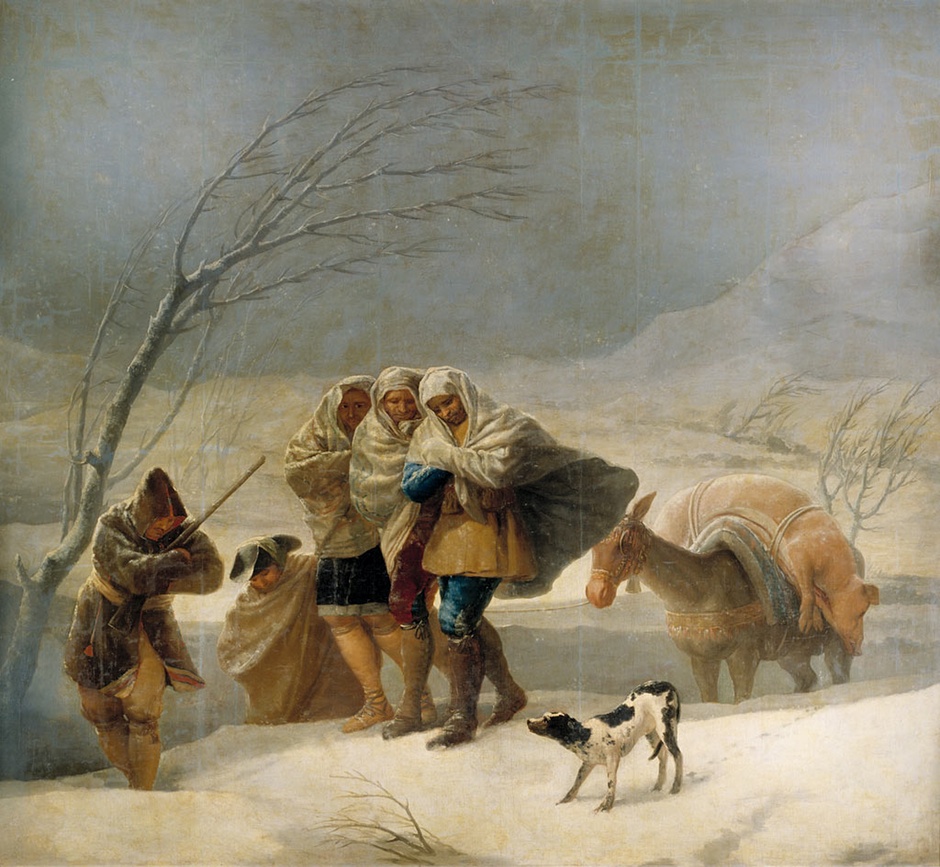 Image courtesy: The Guardian
The Stove in the Studio – Paul Cezanne
When we picture a winter scene, we either picture a scenic landscape, covered with white, fluffy snow and jolly snowmen or then we picture a cosy indoor setting, where the glow from a fireplace lights up a table set with festive delicacies. This painting however portrays a completely different picture. Cezanne highlights the difficulty a bohemian artist faces in Paris's stark, freezing winters by painting an isolated stove alight in a sparsely furnished space. It's a bleak picture that hints at poverty and struggle. Cold winters can be a difficult time for the less fortunate.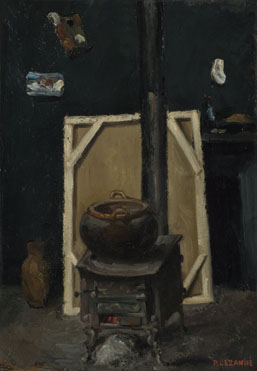 Image courtesy: National Gallery UK
Hunters in the Snow – Pieter Bruegel
This painting communicates the importance of community life and how the warmth of friendships and relationships can make the bleakest of times bearable. In the painting, we see a group of hunters returning home dejected, their bent heads tell us the hunting session didn't go as planned. Yet, their presence, along with the pack of hunting animals, the toiling workmen and the silhouettes of happy skaters somehow make this barren landscape look less severe. There is the warmth of human activity and connection and creates a feeling of closeness and security.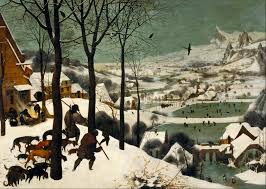 Image courtesy: wikipedia
Winter Landscape – Casper David Friedrich
On first glance, this painting seems like quite the Christmas one, snow-dusted fir trees lie at the centre of the painting while in the distance, one spies a castle rising into the orange-hued expanse above. However, if you look closer, you see crutches thrown on the ground and a figure pleading before a crucifix. A second look at the castle reveals it to be a cathedral, rising ominously in the distance. Why does the man think he won't need his crutches again? Is he begging for a miracle or is he praying for death? The soaring cathedral seems emblematic of his hope for resurrection.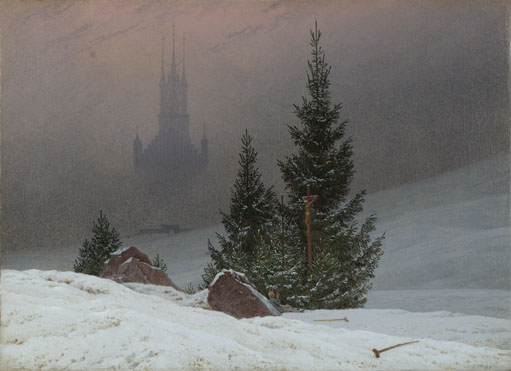 Image courtesy: National Gallery UK
These were five depictions of winter in art that really caught our attention. We hoped you like the paintings and the synopses that accompanied them.