Reverently referred to as the 'Frida Kahlo' of India, Amrita Sher-Gil is one of the most important female painters of the Modernist era. Her paintings have thrown much light on the condition of underprivileged locals in pre-independent India. Born in Budapest to a Hungarian Jewish mother and Sikh father, her journey as an artist, which seen her leave her homeland to travel and stay in India, is a very interesting one. Although she received formal training in painting in European schools, most notably the Ecole des Beaux-Arts in Paris, she felt a longing to return to the country she visited often as a child – India. In one of her letters to a close friend she says, "I can only paint in India. Europe belongs to Picasso, Matisse, Braque… India belongs only to me."
To understand Amrita's genius, one needs to understand her influences, as well as, explore her desire as an artist. She felt that her purpose lay in representing the stories of the common man in India, who were often impoverished and led a difficult life. Her paintings communicate the empathy she had for her subjects and this can be seen through her choice of subjects and the realistic depiction of their situation. Her paintings are also strongly woman-centric and many depict images of woman engaged in daily chores. She also painted images of women in the nude. These images are bold ones and present curvaceous women, sprawled on a sofa, stepping inside a bathtub, or gazing meditatively away from the camera. She did not shy away from depicting the female form in all its glory. The expressions of her subjects too has been a a topic for conversation for long. One doesn't see broad smiles in her paintings, for her subjects always have a sombre, brooding expression. It is her way of telling the viewer about the hardships people in rural India had to face. It her way of commenting on the human condition and the trials, conflicts and difficulties existence brings.
Amrita Sher-Gil visited many places in India, where she not only derived inspiration for her paintings, but also held many exhibitions. It is through these exhibitions that she gained a footing in the art scene in India and also got a chance to interact with talented artists from the country. During her sojourns in India, she stayed in Shimla, travelled extensively through South India, spent time in Saraya, Uttar Pradesh as well as in Lahore. Through her studies in Europe, she was exposed to the painting techniques of the Italian masters and the works of the Impressionists. She drew much inspiration from Paul Gauguin and Paul Cezanne. However, she did not stop at learning European oil painting techniques and continued to seek out new styles to imbibe during her stays in India. Her travels through the land acquainted her with the cave paintings of Ajanta, which fascinated her greatly. She also drew inspiration from the Mughal and Pahari schools of painting, as well as by techniques espoused by the Bengal school of art. Her paintings present a confluence of East and West techniques, for although one spies a definite Impressionistic style, the vivid colours, bold strokes and slightly stylized shapes point towards Eastern influences.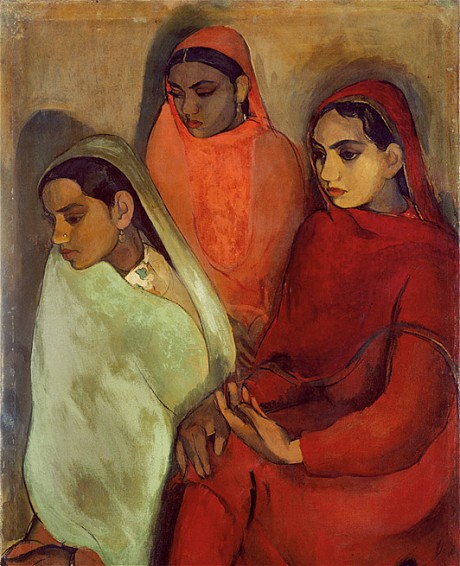 "Three Girls" is one of her most famous paintings. Notice the sombre expressions and vivid colours.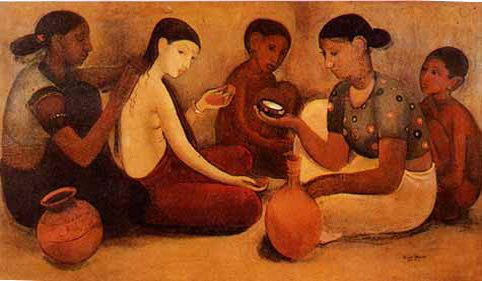 "Bride's Toilet." Another one of her celebrated paintings that gives you a peek into the pre-wedding rituals followed among the women folk.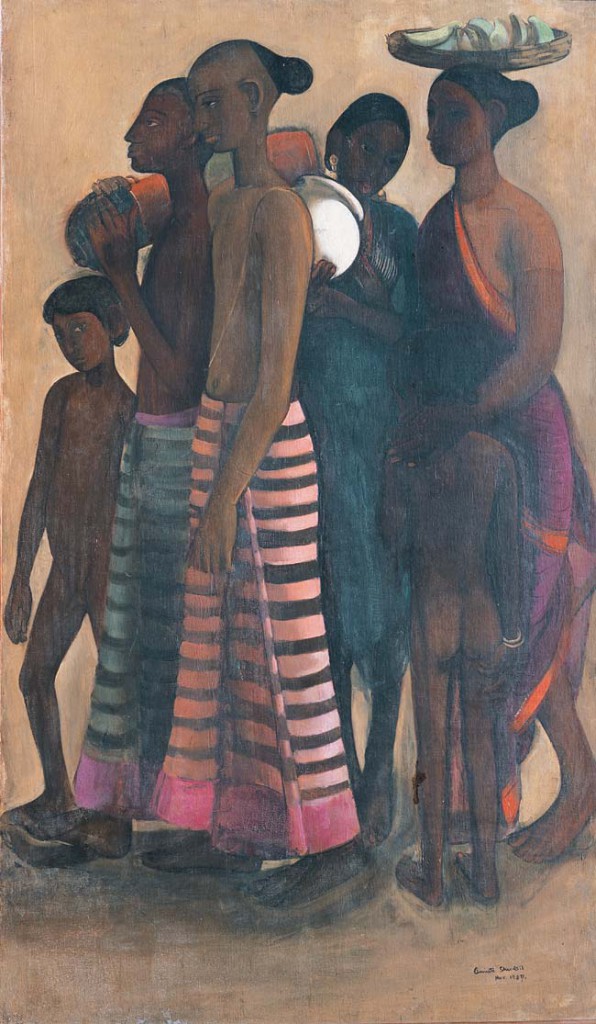 She was fascinated by the simple lifestyle of the people and the rich culture of South India. 'Brahmacharis' is another famous painting that documents her experience here.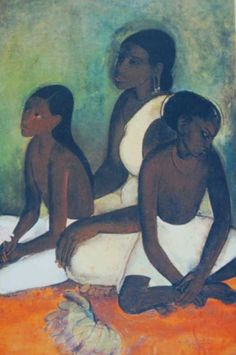 'Fruit vendors' Her elegant forms and smart play with colours is clearly visible in the painting.
Although Amrita passed away at the young age of 29, she has left behind a massive body of work. Even in her short lifespan, she experimented so much with artistic styles. This makes one wonder about the variety we could have been treated with had she not left us so soon. Her work continues to be a strong source of inspiration to painters around the world, especially female artists struggling to find their artistic voice.