Last week, an animated voice called and spoke at such a startling speed, we were barely able to catch even his hello! A stray pause for breath and we jumped for the kill "May we know your name please?"  Rakesh from Shimla Nagar, Napean Sea Road. Rakesh, a resident and social activist, from the area had spotted the NSPA car at Worli and spoke to our enthusiastic chauffeur Nasir. Rather than pinching Nasir, he had him dial the office. Having confirmed our existence and purpose, Rakesh's thrill escalated greater heights peaking at the request of initiating performances at his neighbourhood – the very next day! Phew!
Well, we made it to Shimla Nagar the very next day- not for performance though. Albert, his trusted ally and hero of the area (!) eagerly awaited us. Some confusion later, he earnestly clarified 'Madam, I have no hair on my head- Can you spot me now?' Spot him, we did. As we entered the area, a group of boys welcomed us encore. With about 700 slums in its vicinity, Shimla Nagar stands testimony to the stark inequalities of Mumbai, nestled between the towering skyscrapers of Napean Sea Road flanked by Priyadarshini Park and Godrej Baug on both sides; its 4000-strong population primarily servicing the chic lifestyle of its upmarket neighbours.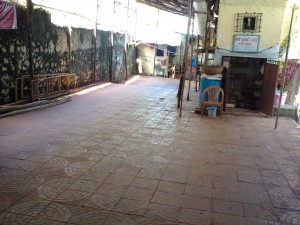 So Albert and Rakesh grew up in the area and lament the poor quality of education and leisure activities through their growing up years. They asked us if we could organise performances and workshops for the kids and residents sharing with glimpses of different cultures, music and perspectives. A charming angan(common space) bang in the center of the settlement seemed to call out to us makes for a lovely activity space. On a breezy Saturday morning, with the electric blue Ambedkarite flag blowing gallantly at Shimla Nagar's exit point, we hummed along Lokshahir Com. Annabhau Sathe's Mumbaichi Lavani and hope to program some more Shahiri therein, in the coming months. To stay posted on Shimla Nagar developments, sign up to our newsletter here..