It's celebration time, as the festival of lights is upon us! And we've figured out a great way to decorate your home, and the best part is – the main ingredient is pistachio shells! So all those dry fruit packets rolling in at home will actually serve to help you make this week's pretty awesome (if we may say so ourselves) great DIY!
So why don't you read on for the instructions while we go much on some more pista.
What You Need:
1. Pistachio shells (the more, the merrier)
2. Hot glue gun
3. Spray paint or acrylic paint
4. Piece of cardboard for base, or an old CD
5. Tealight candles
What To Do:
Step 1
If you're using a CD for the base, then great, otherwise cut out a circular piece of cardboard to stick the shells onto. Find the center of your base and trace out the tealight candle size so that you can make the right size frame for it.
Step 2 
Prep your pistachio shells by making sure to remove all flakes from inside. Ensure there are no broken or ill-shaped pieces.
Step 3
Now comes the most important part. Start with tracing the inner circle (tealight candle outline) with the hot glue, but ensure you only take 2 inches or so at a time, as the glue dries and sets pretty quick. Stand pistachio shells in the glue, with a slightly outward angle and move along, forming a border to the previously marked circle.
Step 4
Now start with the second circle, exactly behind the already placed shells. For the second line, place shells in such a fashion that the shell covers the space between two shells in front of it, creating an alternating pattern. They might not all lineup, so don't worry about it. Just keep creating tight concentric circles. Keep doing this for as many rounds as necessary to reach the end of the base piece.
Step 5
Once you reach the last line, turn the base over and lightly put a round of glue between the edge and the last circle, for extra fastening.
Step 6
Once the glue is nice and dry, spray paint over the whole thing. If you don't have spray paint, you can use regular acrylic paints with a brush as well.
Step 7 (Optional)
For extra shine and a longer lasting candle holder, go over the finished and dry piece with a coat of varnish.
Step 8
Now all you have to do is place the candle in the middle and light it!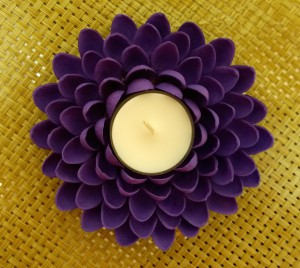 Love and light to you all! Happy Diwali!