It's an unearthly hour to be awake at on a Sunday morning. Still groggy with sleep, I scramble ungracefully inside a waiting rickshaw. "Linking Road," I tell the rickshaw driver, who seems to be mirroring my waking state. "Madam woh road toh bandh hoga," (That road will be shut) he tells me. "Haan wahin jaana hai, jahan road bandh hai," (Yes, that's where I want to go, where the road is shut) I tell him. He gives me a look that is clearly estimating my sanity, then wrenches up a lever. The rickshaw shudders to life and we start off on a peaceful, early Sunday morning rickshaw ride. The roads are refreshingly empty, and so we zip past shuttered shops and shanties, moving swiftly towards our destination – The closed street on Linking Road. Along the way, I soak in the beautiful rhythms of a city stirring to life. Stretches and yawns, smoke rising from brewing teapots, rustling newspapers and shuffling, sleepy feet; the symphony of morning sounds lulls me into a state of tranquility.
We reach our destination sooner than I would've liked, and still experiencing that soporific calmness, I amble across the street to visit for the first time that famed stretch of road that has been creating quite a buzz among the residents of Bandra – Equal Streets. A foot on the street and I am jostled out of my reverie by a boy zooming past on purple skates. A second later, a cycle whirs past, then another and another and another. I have to jump off the street to avoid getting caught in a whirlwind of human activity. Safe on the sidewalk, I let my gaze skim over the chaos surrounding me and my eyes are treated to a burst of colour and movement; there's a group of chicly dressed youngsters sauntering past, their blaring, hand-held JBL speaker asks me "is it too late now to say sorry?" (So reminiscent of the boombox era!) Across the road, close to the divider, a group of squatting children are adding chalky pink, blue, yellow and green lines to the grey concrete road. A little ahead, a group of yoga enthusiasts are practicing their asanas, inviting passers-by to join them. Weaving through all this are a bunch of cyclists and skaters, carefully manoeuvring their wheels to create minimum damage. But, this is not all.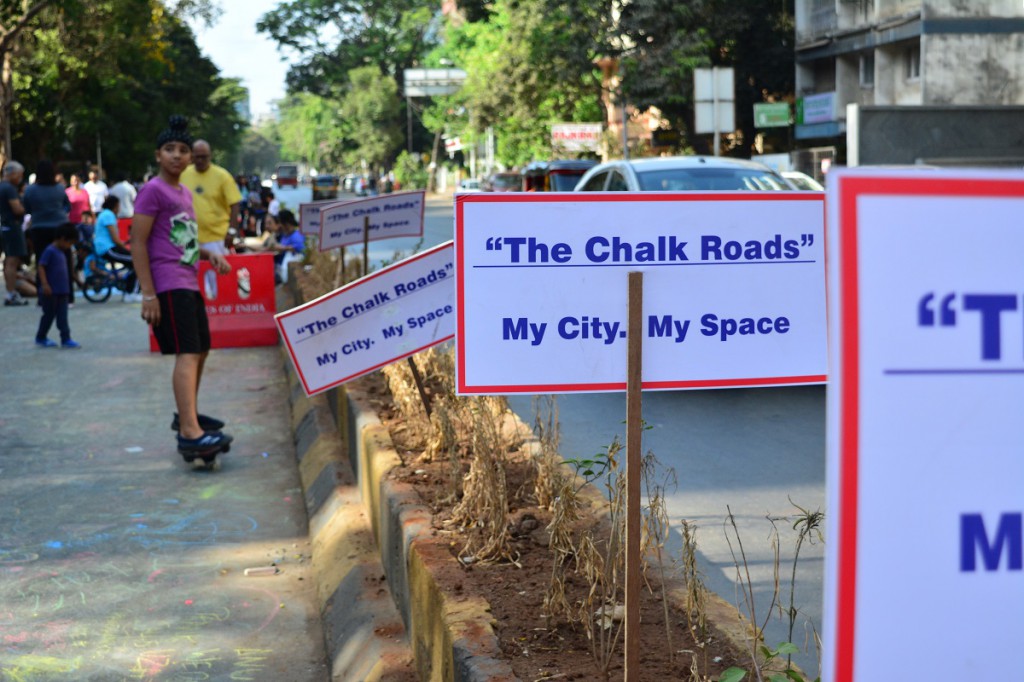 I step off the sidewalk and slowly ease myself into the gushing throng of people, wary of being swept into the current of energy streaking past. As I walk along, my ears pick up the merry sound of musical instruments. The sound is emanating from a group gathered around a table, on which is strewn an assortment of instruments. The purpose of this setup, I'm told, is to encourage people to try their hand at making music. Any person can pick up any instrument and try to match its rhythms with the songs being played!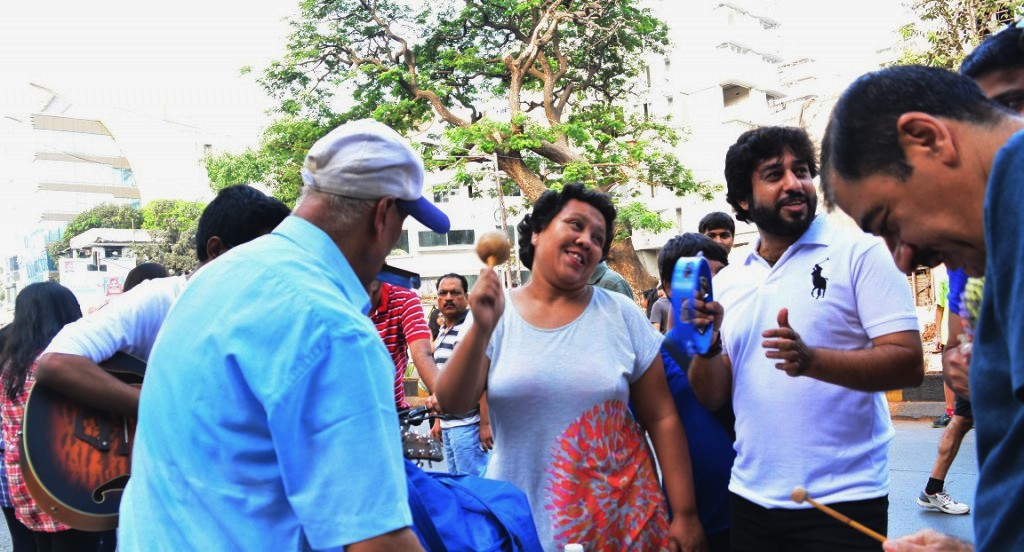 Skaters are ubiquitous on this stretch. You'll see the suave and smooth professionals as well as the stumbling, bumbling learners.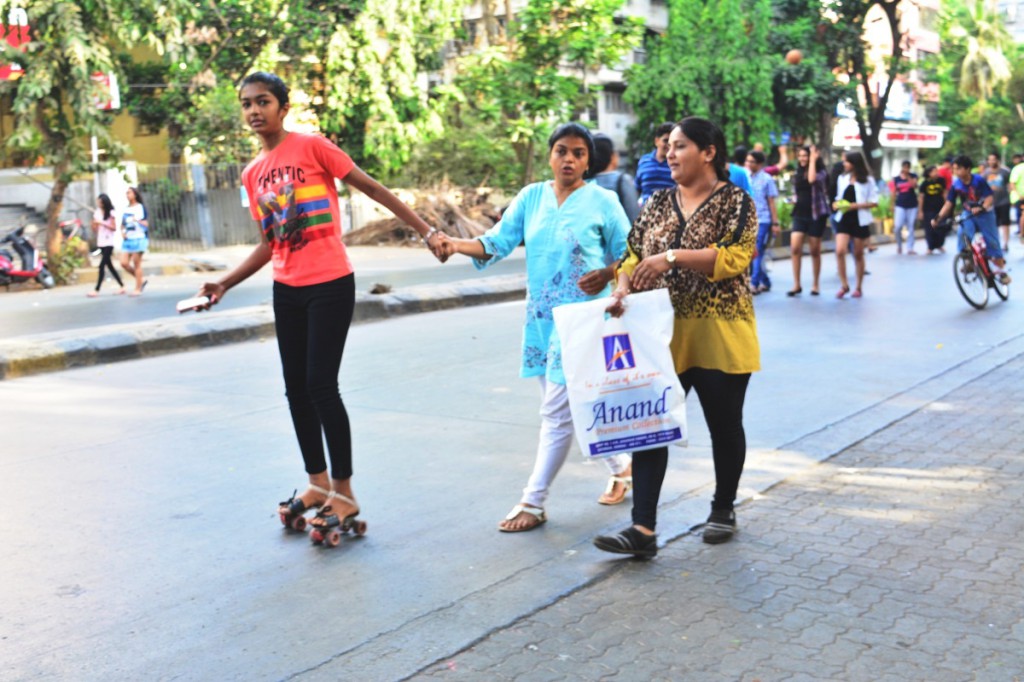 I found so many kids scribbling their masterpieces on the road. I'm sure their parents exhale a sigh of relief every Sunday. Better on the street than on the walls, right?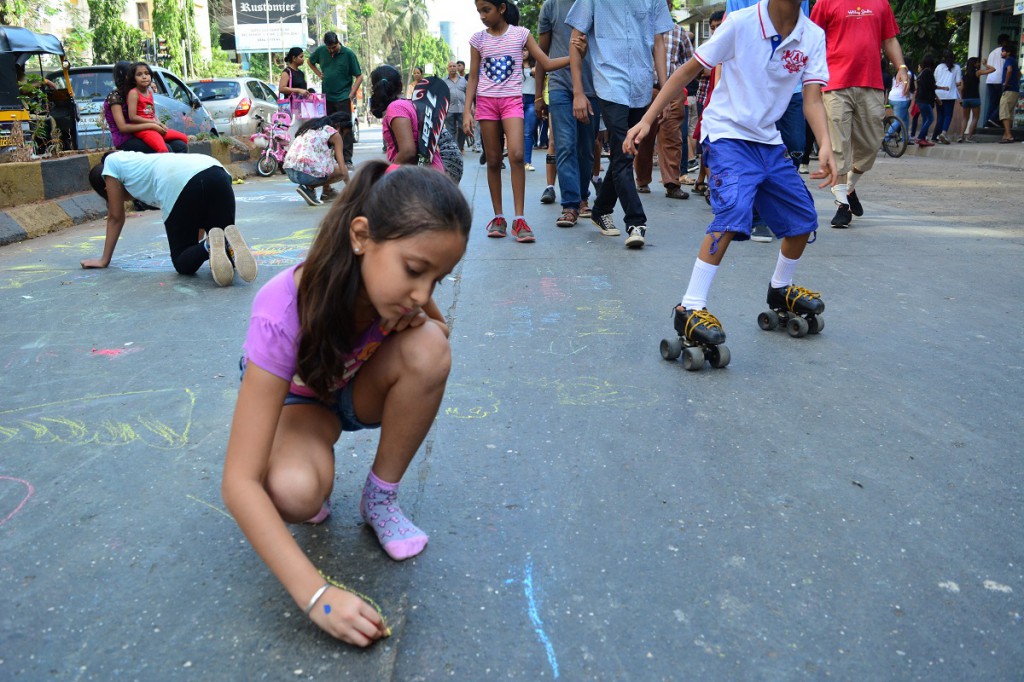 Further ahead, I ran into Yasmin an ex-teacher who spoke to me about her desire to explore other methods of teaching, methods that will tap into a child's talents and help him/her develop these innate abilities. At Equal Streets, she and her partners conduct group games to help people explore their possibilities.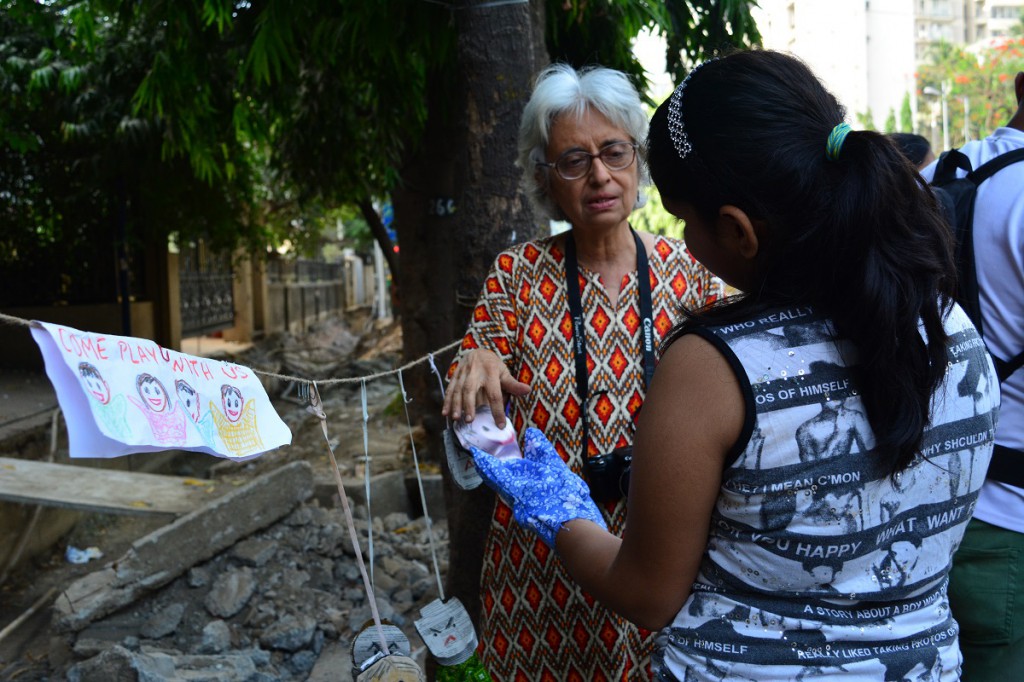 A little ahead, there was a group organizing tug of war competitions. To play, all you need to do is register your name. Complete strangers stand side by side and work towards winning as a team!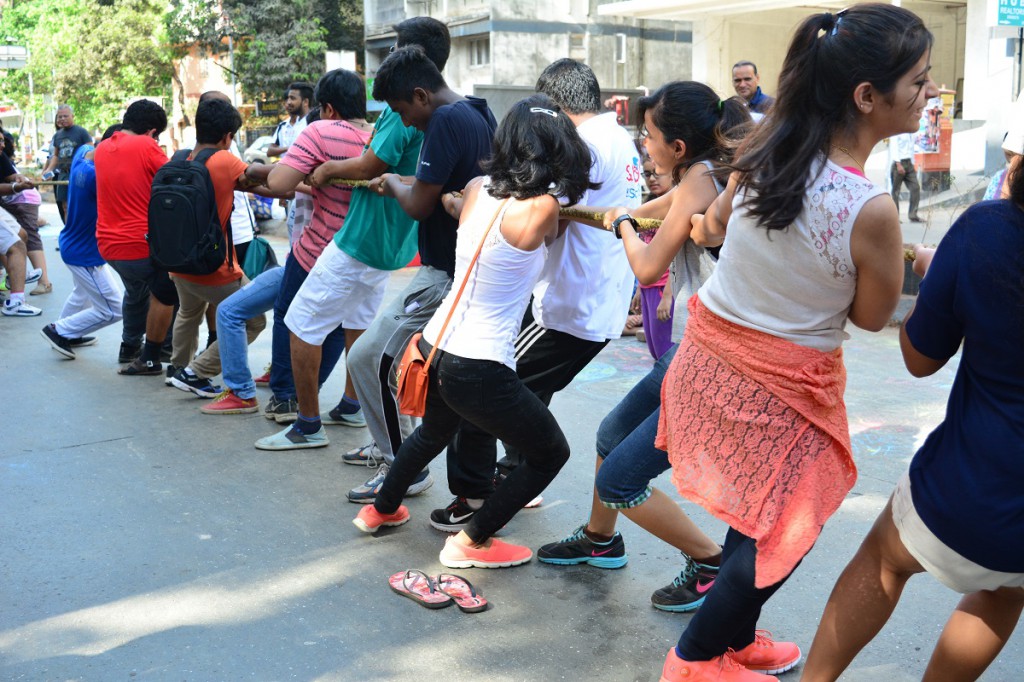 'Slick' shows off his moves and grazed knees.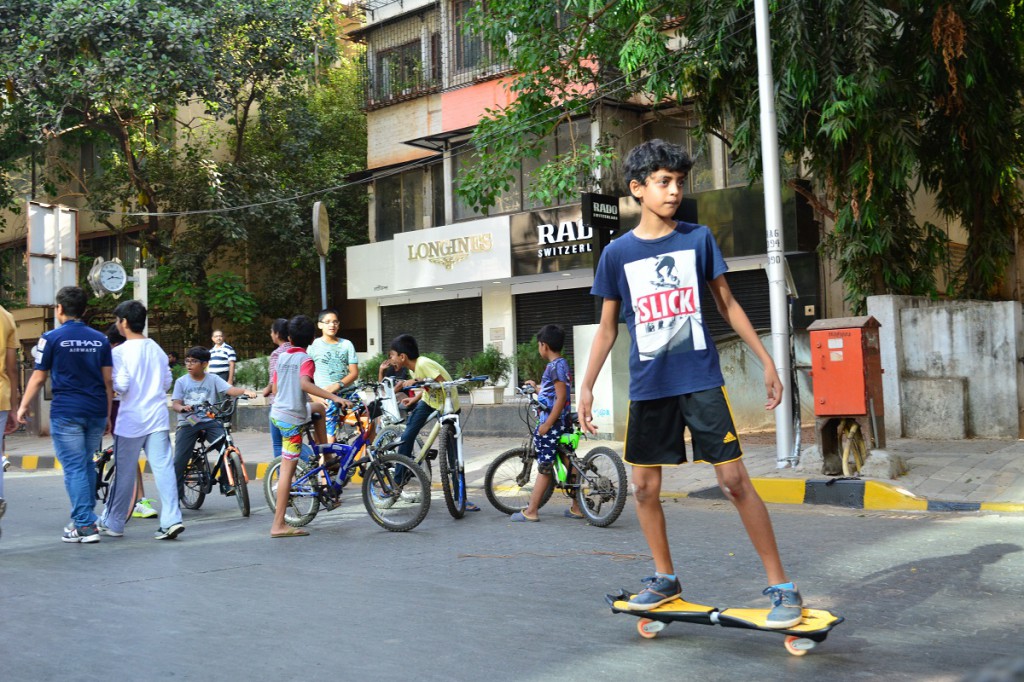 I also seen individuals training children if different sports. Tennis, badminton, basketball, football, children can opt to up their game in these and several more!
This little one finds age appropriate admirers.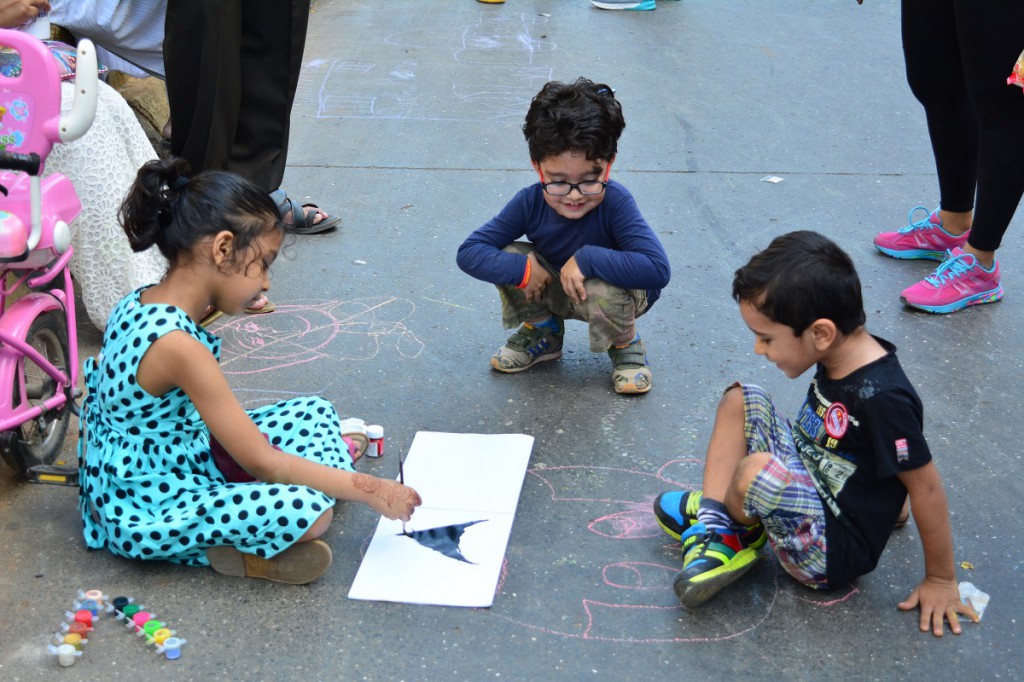 Quite drained of energy, I decided to sit down on a curb. That's when I spotted those familiar yellow tees. Yup, the NSPA is at Equal Streets too, doing what it does best – taking art to the people! I ran into Tushar, Manoj Pandya, Avinash and Uzair who teamed up to entertain the audience with some popular numbers from the past and present.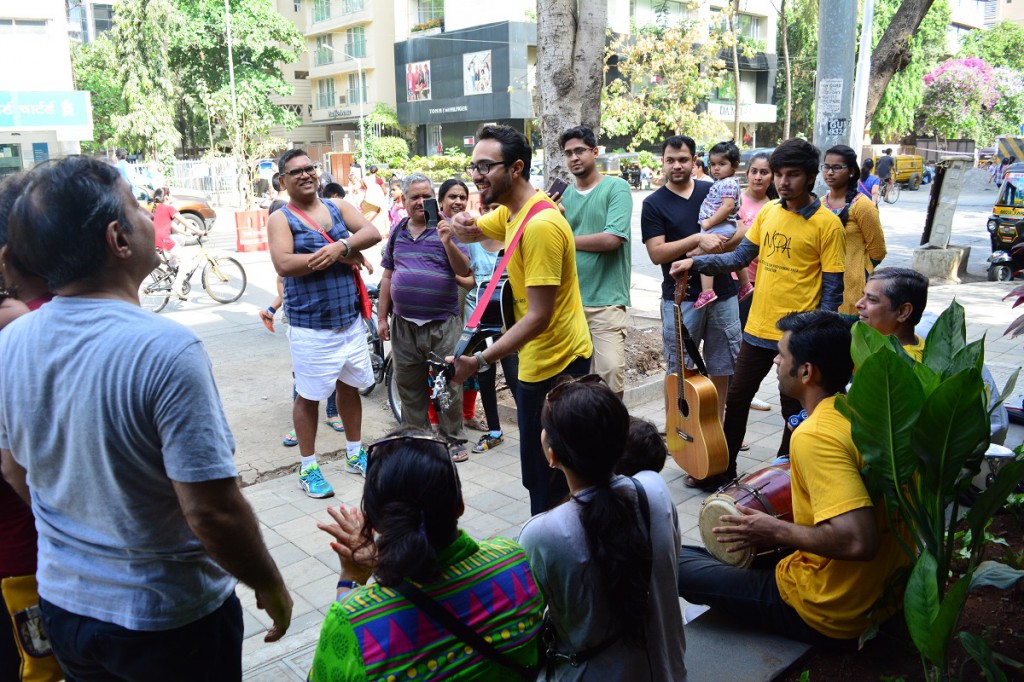 My walk through this bustling street provided me with the opportunity to take part in games, practice yoga, draw on the sidewalk, meet and talk to complete strangers, ride a cycle or skates if I wished to, and just throw myself into any activity taking place on the streets. Here, you don't have to know to belong. Curiosity and enthusiasm are your entry cards and all you need to do is let people around you see your interest. Lo! You'll be given a warm invitation to take part in any activity. I guess this is why people like hanging out on this street. It isn't only because you get an empty stretch of road to walk on, but because in this stretch, you feel included, one with the community. No matter if you're 5 or 50, rich or poor, well-dressed or dressed in last year's Holi outfit, you can enjoy the experience of this street, make friends, talk to people about issues close to your heart without being judged. I guess 'Equal Streets' is a pretty apt name for this stretch then, isn't it?
Equal Streets offers a very unique experience to its visitors. It's really worth the effort you'll be putting in to get there. We urge you to visit this place at least once. It's okay if you don't have company. It's also okay if you're not the sporty kind. Go there, even as a spectator, to experience an indescribable, immeasurable dose of fun and energy!
To know more about Equal Streets, visit their website: http://equalstreets.org/
And Facebook page: https://www.facebook.com/equalstreetsday/