When taxed with the job of writing about a workshop, I mostly stick to the trusted fly on the wall routine. As a mute, non-participating spectator, I get the chance to observe and comment on all that's going on without having to put myself in harm's way, and by harm's way I mean the activities going on. This workshop, however, was frightfully different, because, while most swear by the adage seeing is believing, for poets, feeling is believing. And since this workshop, titled 'From the Brazen to the Golden: Creating and Chiseling Poetry,' was one with poets, I was invited to participate before jotting down my observations. Visibly shaken and shaking, I got ready to explore all that goes on in a poetry workshop.
The workshop was conducted by Shrenik Mutha and Ankita Anand, both gifted poets and poetry lovers. Through creative exercises, they encouraged us to explore our relationship with poetry. We started off by answering questions like 'Why I write poetry?' 'What do I like about poetry?' Through our own answers we realized a range of problems that confront us as poets, whether it was the fear or not being profound enough, or articulate enough or simply running out of topics, each participant brought to the table unique problems which, quite strangely, resonated with all of us. On the one hand, these revelatory conversations comforted the hesitant poet in me while on the other, it motivated me to try harder to overcome my writing-related fears.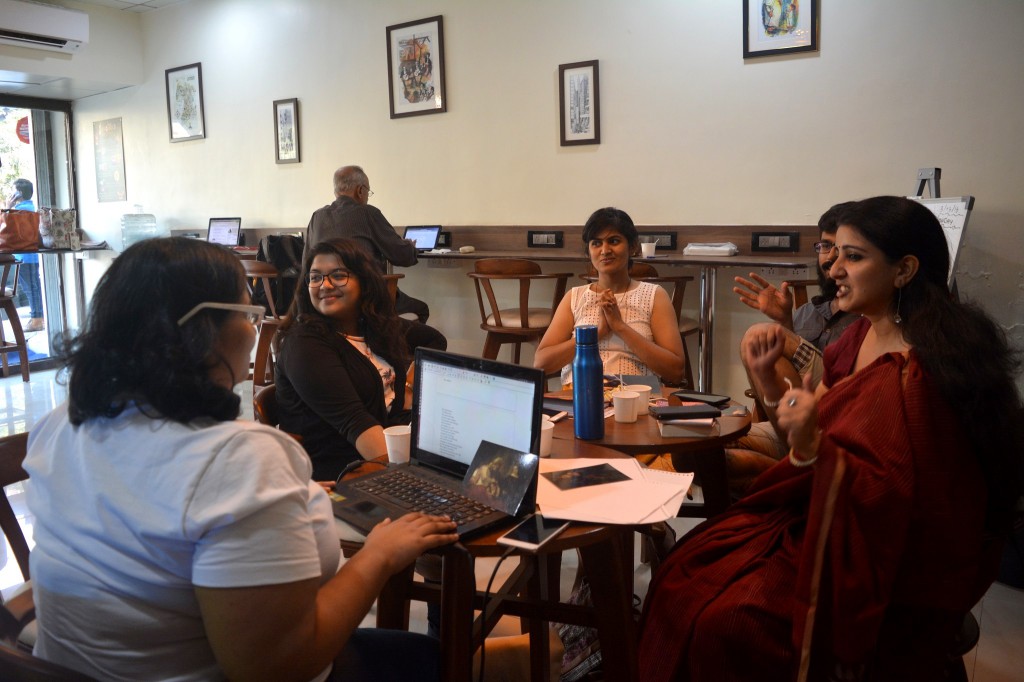 All poets understand the importance of fair criticism and so, Ankita's next exercise had us jot down our expectations from a 'good' poem and through our lists, she helped us understand how to share useful feedback. This exercise left us with a ready-made checklist we could revisit often and use to sharpen our own writing. The next exercise aimed to explore the relevance of poetry in a world fascinated by visual mediums. With motion pictures and photography claiming to be infinitely more captivating, can poetry still stimulate the mind and move the soul? After the exercise (which involved observing a photograph handed to us, and composing a poem inspired by that photograph,) we were convinced that poetry offers a kind of dynamism no other medium offers, because when language is your tool of choice, there is no limit to creativity. We were also asked to read out our poems, which were then praised and critiqued by the other participants.
After a quick lunch break, we dived into the next and last exercise for the day, which called on us to pen another poem. This time however, our inspiration had to come from a place closer to home, that is, from some chaotic incident weighing us down at the moment. This was an incredibly difficult exercise, but at the end of it, felt strangely therapeutic. Later, we had to read out our poems to the group.
Although this workshop was quite intensive for me, a person who doesn't dare call herself a poet, by the end of it, I felt much more confident about my writing ability. I was even encouraged to call myself a poet, and thereby, own my talent, for as Ankita rightly pointed out, to become a better version of yourself, you have to first accept your current version, faults and all. It was an immensely empowering workshop for not just seasoned poets, but for upcoming ones like me and this is what both Ankita and Shrenik are trying to do through such sessions. When not conducting such workshops, Ankita uses her linguistic talents to help those without a voice. She helps those marginalized by society learn basic communication skills and even assists them in form-filling and other official procedures. If you'd like to know more about her work, read her poetry or get in touch with her, contact her at anandankita2@gmail.com / anandankita.blogspot.in or via Facebook
If you'd like to host something similar at a location near you, contact Shrenik at shrenik.mutha@gmail.com. You can read his work through his WordPress blog – Anthology of Thirst
This workshop had no fee of any kind because the organizers wanted to encourage participation from people belonging to different strata. However, to remind us that arts education is valuable in its own right, and so that we respect the efforts put in, participants were asked to donate a sum they felt fit. No minimum or maximum amount was prescribed.