When the team was informed that there was a requirement for an NSPA performance in a senior citizens home, we were a little unsure about the kind of artist to send as well as the kind of songs he should perform. We all know how crabby elderly folk can get and given the very young blood flowing through the veins of most in the team, this unsureness was quite justified. We decided to send our soft-spoken, mild-mannered and always polite Sarang Gosavi, an NSPA artist par excellence and perfectly suited for a music session with the golden-agers.
On being told that the venue was located in Lonavala, almost everyone in the team expressed a desire to "go see the performance," which is actually a professionally-safe way of saying, "I want to go Lonavala too!" It was quickly decided that on the 31st of Jan, the team would make a trip to Lonavala to make merry with the old-timers and take a look at all that goes on in a senior citizens home.
A two and a half hour long road journey led us to a bumpy path off the old Mumbai-Pune road and soon we were entering through wrought iron gates that supported an arching board displaying the words 'Swami Ramanand Shastri Charitable Trust.' Established in 1994 by the followers of Pujya Swami Ramanand Shastriji, this sprawling institution looks less like a senior citizens home and more like a quaint, scenic vacation spot. Pockets of lawn, beautified by flowering plants, fountains, swings and elegant benches fence in the two-storied buildings of spacious apartments. Everything is spick and span, well-kept and thriving. A pleasant breeze greets us as we walk along the pavement towards the main entrance of the building. All of us have the same thought running through our mind "Hell! Even I wouldn't mind staying here!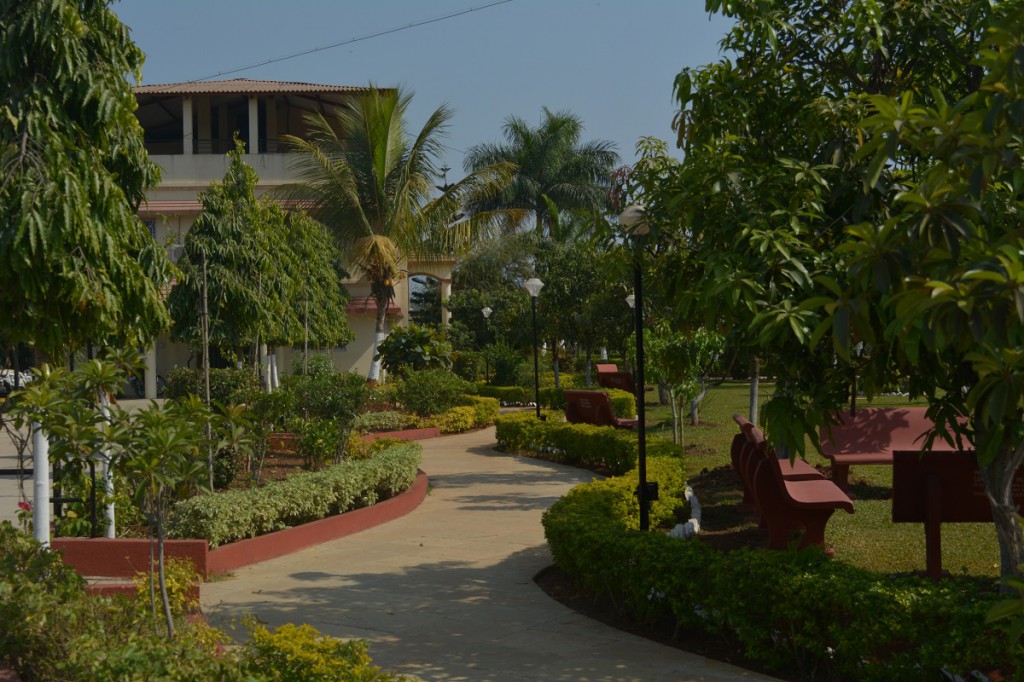 A smooth, clean pavement runs between the lush gardens. The occupants enjoy taking brisk walks on these lanes.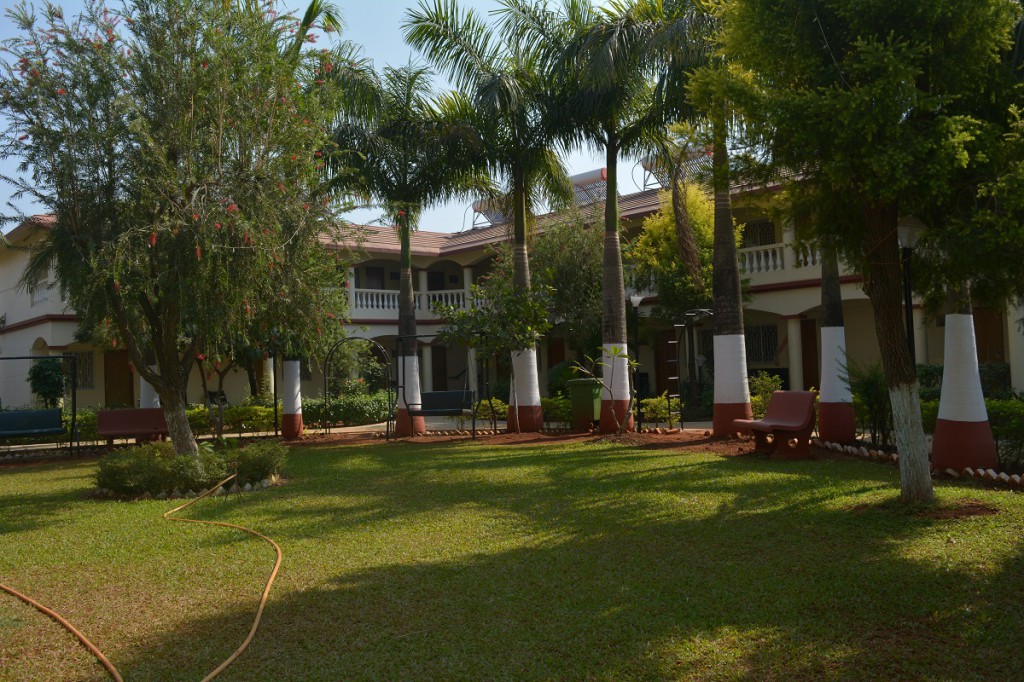 A section of Swami Ramanand Shastri Charitable Trust peeks through the trees. Almost a 100 senior citizens call this place home.
Since the performance was to happen at three in the afternoon, after all the occupants had had their lunches, we had time to stroll through the corridors and also in the verdant gardens outside. Here and there we spotted elderly people sitting together and chatting, some chose to catch some sun after their lunch, while some chose to take a walk by themselves. We were really surprised by the camaraderie we seen there as well as the disposition of most of the occupants; they seemed happy, or content. There wasn't the sadness or depression you think you'd see in a place like this and that's probably because most of the people here come on their own accord, to socialize with people belonging in the same age group. Also, they are looked after with much care, with staff to take care of daily needs in a timely, efficient fashion. The place even has a recreation room with a well-stocked library and screen for people to enjoy some entertainment!
The performance happens after the delicious lunch we are treated to by our hospitable hosts. After lunch, we gather in the entertainment room, now lined with rows of chairs and cushioned armchairs, waiting for our audience to arrive. Our artist, Sarang, is still apprehensive and we can hear him muttering his concerns under his breath. We are a little apprehensive too, we don't want to ruffle feathers here. We've all been victims of the wrath of irate grandparents and so, none of us want to get a dose of that here. But, surprisingly, the performance went exceedingly well. The audience were a jolly bunch, making requests, singing along and encouraging our artist to belt out one song after the next. Old Bollywood songs got the most response and songs like 'Meri Sapno Ki Raani,' 'Yeh Dosti,' 'Jai Jai Shiv Shankar,' and 'Chura Liya,' drove the audience crazy. We were surprised by the energy in the room and can say that it was a million times more than the amount we see at college fests! In those moments, in that room, all the clichés we've heard about old age – that it makes you slow, that you like silence, that you prefer slow songs to peppy ones, that your tolerance threshold drops – were thrown out of the window. These elderly folk were a powerhouse of energy, egging our artist on with their cheers and applause.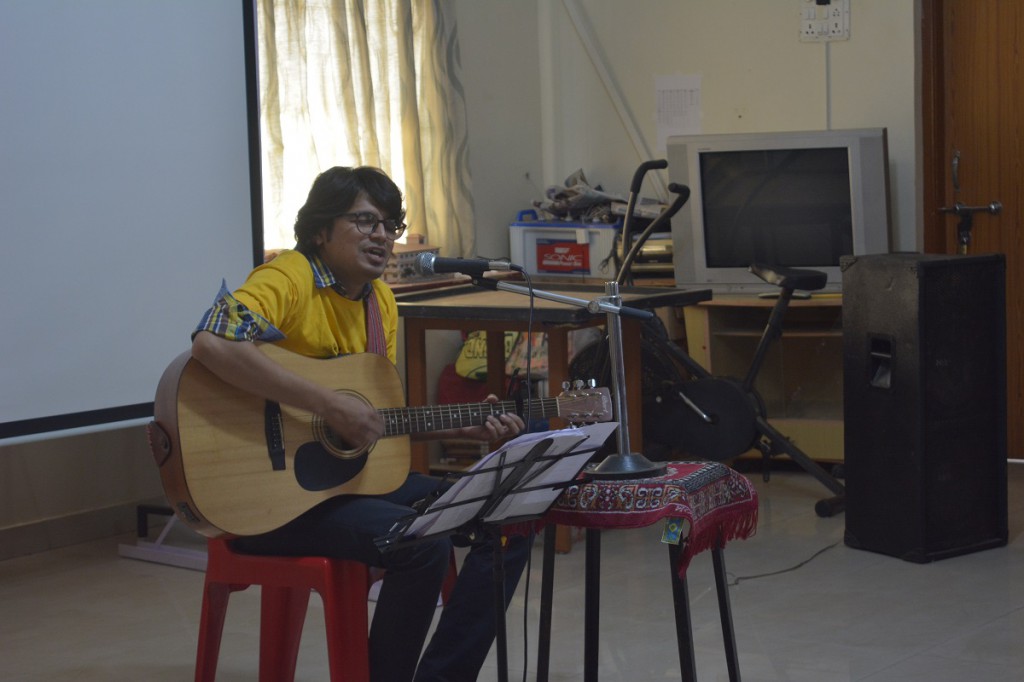 NSPA artist Sarang Gosavi immersed in his performance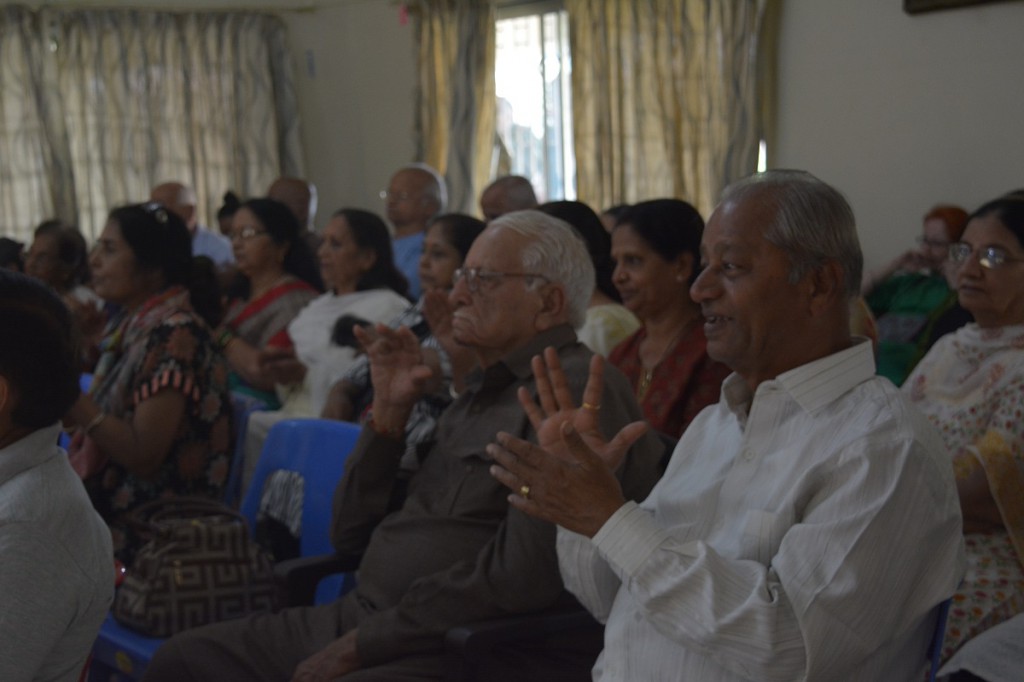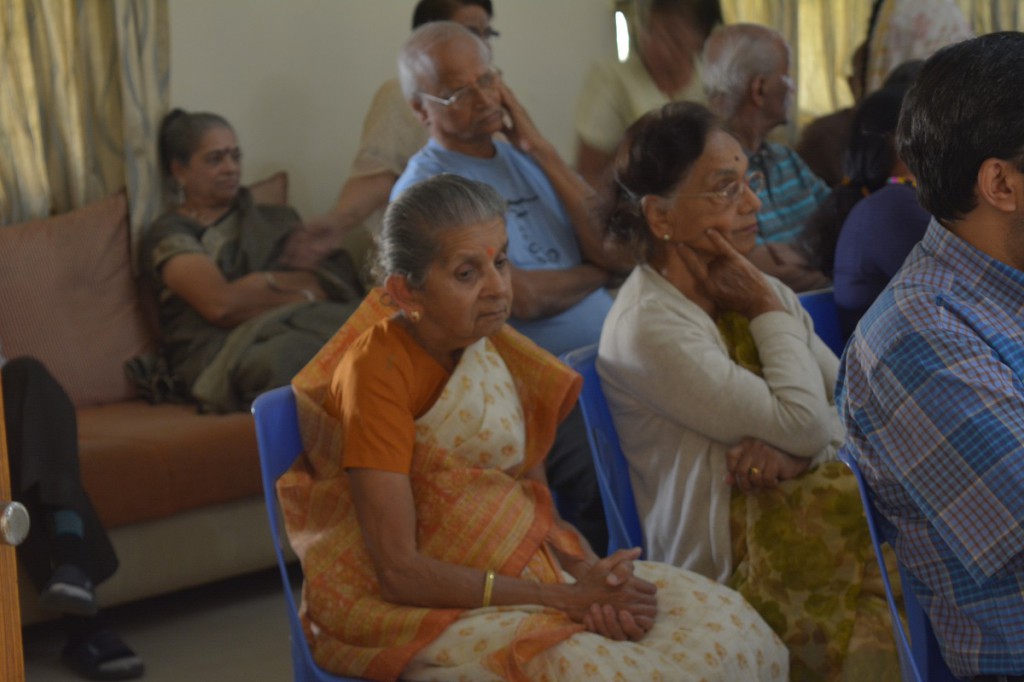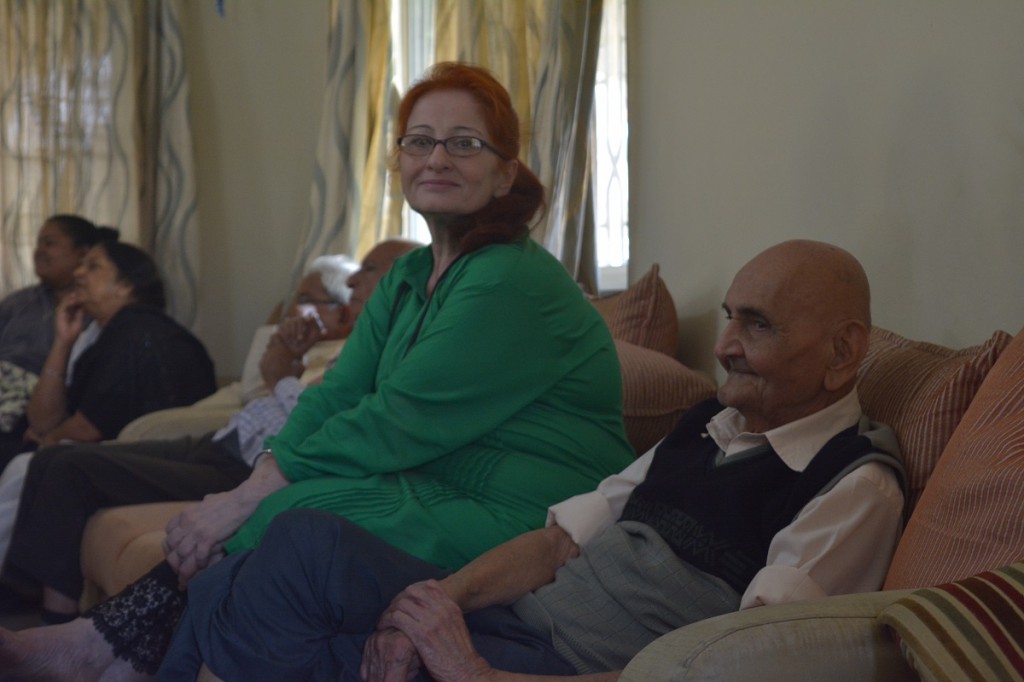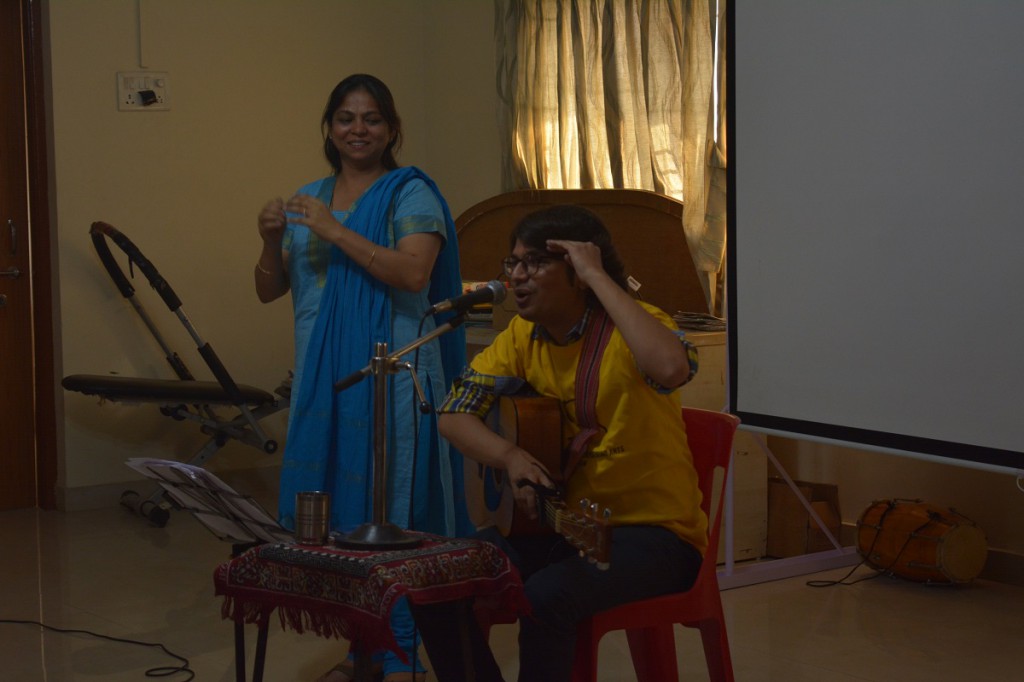 After about an hour, it was time for us to bring the performance to a close. It was difficult for us to say goodbye to these jolly people, because in all honestly, we were having as much fun as them. As our artist got busy getting his equipment together, we had time to have a quick chat with Rajeev Goel, a generous man who, along with his brother Vinod Goel, sponsor a lunch and entertainment session every month for the occupants. It was because of them that NSPA got the chance to perform here. We ask Rajeev a bit about the occupants and the reason why they chose to come here. Having visited this place often, and also being a close friend of one of the trustees, Rajeev knows the occupants and their routines quite well. He tells us that many come on their own accord, because they need someone to take care of them, and also because they are looking for company. "Children get married and leave and then they get lonely," he says. "Here they find similar-aged individuals with whom they can develop a friendship." And yes, we did sense a warm camaraderie between everyone here. Whether it is dragging a chair closer so that someone can sit soon, or offering to get a cup of tea for someone who's finding it difficult to stand, everybody tries to extend a helping hand in some way. We ask him what motivates him to come here every month and he says that he believes that the management are genuinely doing the best they can to help senior citizens enjoy a good, satisfying life, no matter their age. Also, .he feels like just donating money isn't enough, because what a person really wants is love. "Money is nothing in front of love," he says, "and these people want love." We admire him and this organisation for the wonderful work they are doing to keep the senior folk in our society healthy and happy.