One can almost hear the shattering of hearts. Harry Potter fans around the world are devastated by the news of the death of one of the most layered and loved characters in the Harry Potter series – Professor Snape. Hated at first for his cold, cynical bearing, deathly-pale appearance and of course, bitter hatred towards Harry, fans around the world experienced a change of heart when his undying love for Lily and loyalty towards Dumbledore was revealed in the last book – 'Deathly Hallows.' Always an enigmatic character, he now became the perfect example of a selfless hero, ready to sacrifice all, even himself, for the greater good! It's so difficult not to fall in love with such a person right! Alan Rickman was a wonderful actor, gifted with the ability to bring to life any character assigned to him. Although he is known mostly for his performances in the Harry Potter series, he's put on fabulous performances in several other movies, like Robin Hood, Love Actually, Truly Madly Deeply and the Butler. Here are some of his quotes, that remind you not only of his genius, but also of his understanding of life.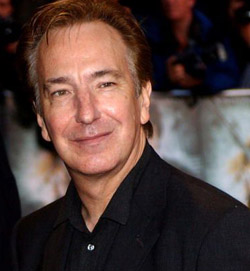 Image courtesy: imdb
"I do take my work seriously and the way to do that is to not take yourself too seriously."
"If only life could be a little more tender and art a little more robust."
"Talent is an accident of genes-and a responsibility."
"I think there should be laughs in everything. Sometimes, it's a slammed door, a pie in the face or just a recognition of our frailties."
"There's a voice inside you that tells you what you should do."
"I've never been able to plan my life. I just learn from indecision to indecision."
"If people want to know who I am, it is all in the work."
"Maverick is a word that appeals to me more than misfit. Maverick is active, misfit is passive."
"Acting touches nerves you have absolutely no control over."
"I want to swim in both directions at once. Desire success, court failure."
"I like it when stories are left open."
Just as life always is, right?