The searing summer heat is upon us, literally, and the run for sunscreen, shades and scarves has already begun. But, along with the almost unbearable heat and humidity, this season also brings along delightful things, like Alphonso mangoes and summer vacations. While all of us can indulge in the former, many of us aren't lucky enough to enjoy the latter (unless you're still in school or college.) Fret not though, for QTube Café is on mission to make your summer months enjoyable and interesting. We've got a list of fun events lined up in April and we hope these help you feel active and young again! Happy summer, everyone!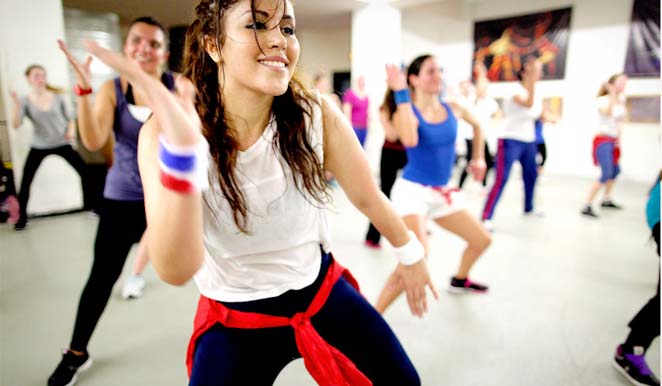 Image courtesy: Zumba.com
Just For Laughs
Awkward Fruit continues to host enjoyable Open Mics on Wednesdays and Saturdays. These Open Mics are perfect for upcoming comedians as they give them a chance to perform in front of an audience for free! It's also great for all those who want to enjoy an evening of humour, for many established comedians join in to liven things up.
Let's Stand Up Open Mic – 12th, 19th, 26th April
8-9 pm, Entry Free.
Let's Stand Up Open Mic – 22nd, 26th April
7.30 – 9 pm, Entry Free
Just Dance!
Sitting at a desk day in and day out can leave you with some unflattering bulges. It's time to burn up all that fat, but in a fun way. Participate in this Zumba workshop to get rid of some calories and to learn a few basic Zumba moves that you can slip into your workouts.
Zumba Workshop by BeHiver – 8th April
6-9 pm, Entry Rs. 500
Book tickets here: https://insider.in/behiver-presents-zumba-workshop-april8/event
Spread Help & Happiness
This Open Mic invites comedians, first-timers and veterans, to share their jokes with the audience. The best part about this event is that the ticket money will be donated to the Cancer Aid Foundation.
The Bhayanak Bakra Open Mic by Manoranjan Mania – 10th April
5-7.30 pm, Entry Rs. 50