Given the past week's events, we're all desperate for something positive to happen in Kashmir. Something that will put a smile back on people's faces and dispel the dark cloud of fear that has been looming over like a deathly Dementor. Well, it looks like the Buddhist saint-scholar Naropa, revered for his empathy and intelligence, will once again journey to this paradisiacal place to spread love and happiness in a time of turmoil. From July to August, the Hemis monastery in Ladakh will come alive with festivities to mark the 1000 year anniversary of Naropa's visit to Ladakh. This month-long festival, called the Naropa festival, is being celebrated after 12 years and has hence, captured the interest of tourists around the world. Grand festivities have been organized for every day of the month, but, before we reveal what these are going to be, here's a little more information about the Naropa festival.
The Naropa festival is celebrated to commemorate the life and teachings of Naropa, a revered Buddhist scholar credited with creating the Six Yogas, a fundamental pillar in the Vajrayana Buddhist tradition. His life was a shining example of perseverance, endurance and compassion and through his teachings he sought to spread peace and goodwill among mankind. The festival is slated to be held at the Hemis Monastery, which also happens to be the largest, most distinguished monastery in Ladakh. The monastery or Gompa is located in a picturesque valley 40 km away from Leh.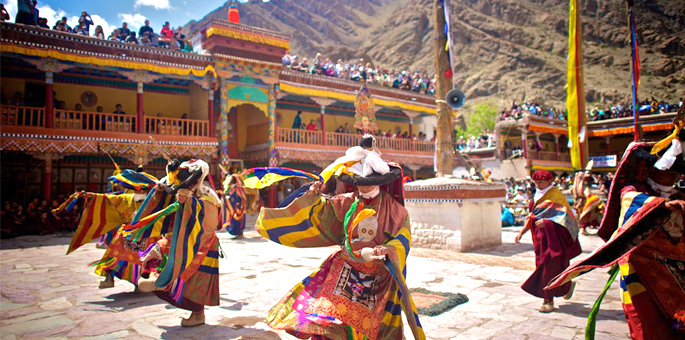 Image courtesy: tour my India
Exciting events to look out for:
The unfurling of the 'Thangka,' which is a mammoth silk brocade embroidered with incidents from the life of the Buddhist master Padmasambhava. The brocade is considered to be the largest in Ladakh and stretches from the roof of the monastery to its floor.
The various traditional song and dance performances put up by lamas. Another great performance to look out for is the Tsam dance or the masked dance. (To know more about this traditional dance form, read our article: Tsam Dance – Exploring the Myths & Meanings behind the Masks)
A light show organized by French lighting experts. 3D video mapping will be used for projecting images of Ladakh's culture and wildlife on the monastery walls.
One of the largest assemblies of Drupka masters. Take part in the prayer sessions organized by them.
Shop for souvenirs, handicrafts made by local artisans, paintings and an array of other items from stalls and community markets.
Display of the sacred Six Bone Ornaments of Naropa, laid out by the head of the Drupka Order, His Holiness Gyalwang Drupka.
Well, so if you'd like to experience all this first hand, do make a trip to the scenic Ladakh and be a part of this wonderful festival. For more details about this festival, visit their website: http://naropa2016.org/programe.php