It's time for us to give you a lowdown on the fun activities happening in the city this week. Spice up your monotonous week by attending some interesting events after work/college. Get your buddies along and laugh out loud with your favourite standup comedians, or watch an experimental play. Here is a list of enthralling events you can check out.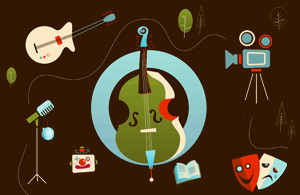 Image courtesy: gretchenstaines.wordpress
For drama/film lovers:
'Noor' is a French movie that beautifully explores sexuality and the problems a person faces if he/she does not accept conventional gender options and roles. This 78 minute film, by giving you a glimpse into the mind of one such person, will also make you rethink the way society treats such people.
When, where? Alliance Francaise de Bombay, 4th May, 6.30 pm onwards
'Chanakya' is an excellent Hindi play that throws light on the life of the able and dynamic statesman and strategist of the Maurya Empire- Chanakya. His progressive views and strong nationalistic spirit helped him become a great governor. Even today, his views and governance style serve as an inspiration to many rulers.
When, where? Dinanath Auditorium, 4th May, 8.30 pm onwards
'The Hard Problem' is an introspective play written by Tom Stoppard. It is about a researcher's exploration of the consciousness and poses questions like 'what is consciousness?' and is there anything beyond our body and mind?
When, where? Dance Theatre Godrej, 6th May, 6 pm onwards
'The Siddhus of Upper Juhu' is a moving drama on the life of a couple who put in their life's savings to buy a plush home in an upmarket area. When the husband loses his job, things start to go downhill in their personal and social lives. Watch how they brave the situation and find a way out of this financial hurdle.
When, where? Tata Theatre, 7th May, 7.30 pm onwards
For music lovers:
'Whiplash' is a monthly concert organized by the students of 'True School of Music.' Punk rock band 'Punk on Toast' will be headlining the event, plus three talented bands formed by the students of TSM will perform 20 minutes sets.
When, where? True School of Music, 5th May, 7.30 pm onwards
NSPA artists perform at various public spaces. Stop by to enjoy melodious live performances for free. Sufi rock, folk, pop, western, our artists perform a range of genres. So, there's sure to be something for everyone! For details regarding our performances, check out our events page: NSPA events
For photography lovers:
'Anatomy of a Photograph,' is a lecture conducted during a photowalk that focuses on training and developing the amateur photographer. Learn framing, lighting, composition techniques as well as how to solve a range of practical problems that arise when on the field. For more details: 'Juhu Chowpatty Photowalk and Lecture'
When, where? Juhu Beach, 8th May, 5-9 pm
Well, the list contains something of your liking. Have a happy week!