This Saturday, Sunday and Monday were exciting days for us, because just like countless other Mumbaikars, we rely heavily on the Mumbai Metro for a comfortable and quick commuting experience. On the 8th of June, the Mumbai Metro completed a year of efficient functioning and to mark this day, they organized three days of celebrations. From holding exciting exhibitions, to organizing fun train rides, food stalls and live performances, the Metro really did make a lavish effort to transform their stations into bustling hubs of activity and entertainment! We were lucky to have been invited to participate in the merrymaking. To infuse enjoyment into this celebratory milieu, NSPA artists delivered live music and drama performances at almost every Metro station. What's more, we even surprised commuters by organizing a few performances inside Metro trains!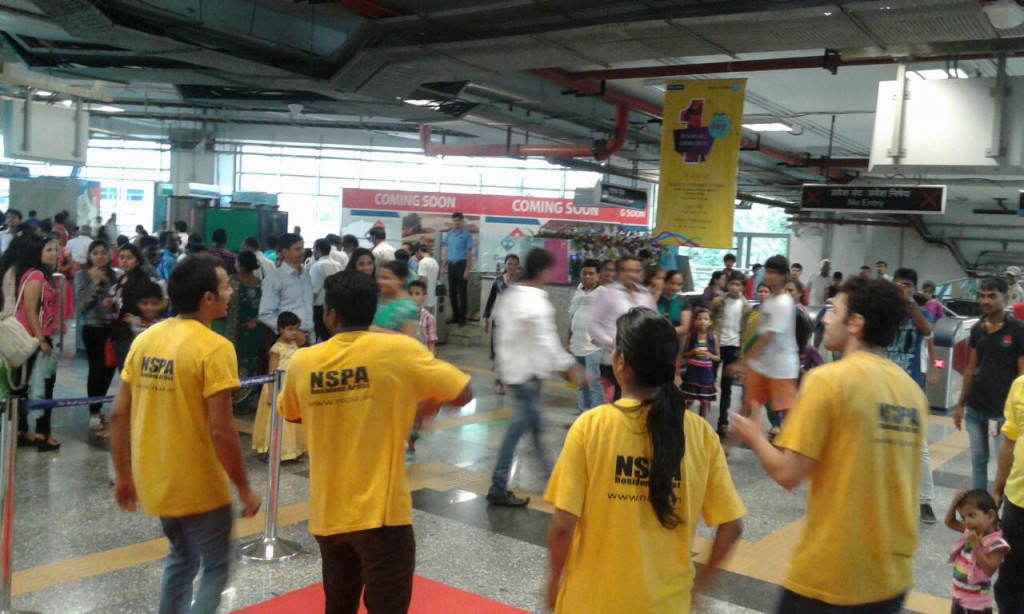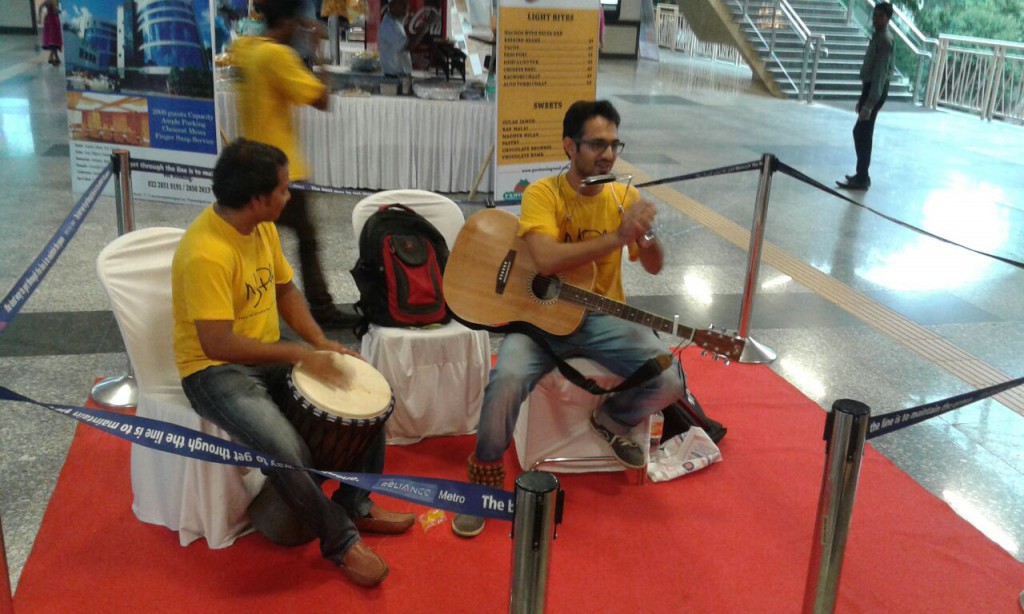 On bumping into our artists at first, most commuters were taken aback, and tracing their reactions, from surprise to smiles was quite enjoyable. Although we must admit, it wasn't always a bed of roses for our budding buskers, sometimes they were greeted with not-so-flattering comments and sometimes, the worst reaction of all – pure disinterest, yet, we must stay our artists did hold their stations well. Dutifully and delightedly, they belted out one fabulous performance after the next and more often than not, they did succeed in arousing the interests of the busiest of commuters. Slowly and shakily the curious commuter inched closer to where music could be heard playing from. On spying a person performing for no apparent reason, some chose to wait back and enquire about the proceedings, some merely busied themselves in enjoying all that was unfolding and some, well, turned on heel and scurried off. Either way, we must we had a really great time performing at the Metro! Lilting melodies cut through the frenzied din to contribute an aura of much happiness and revelry.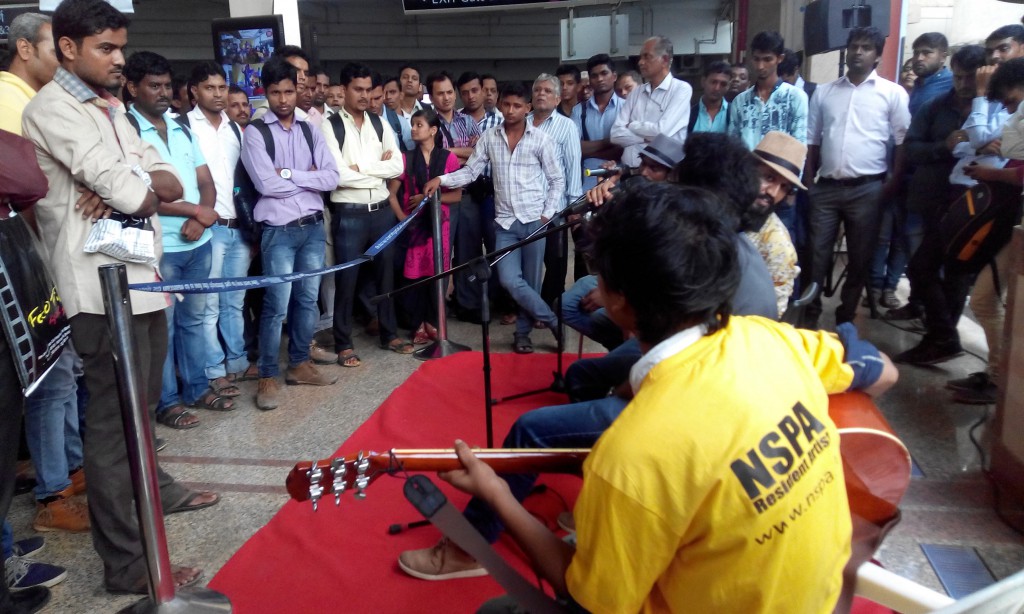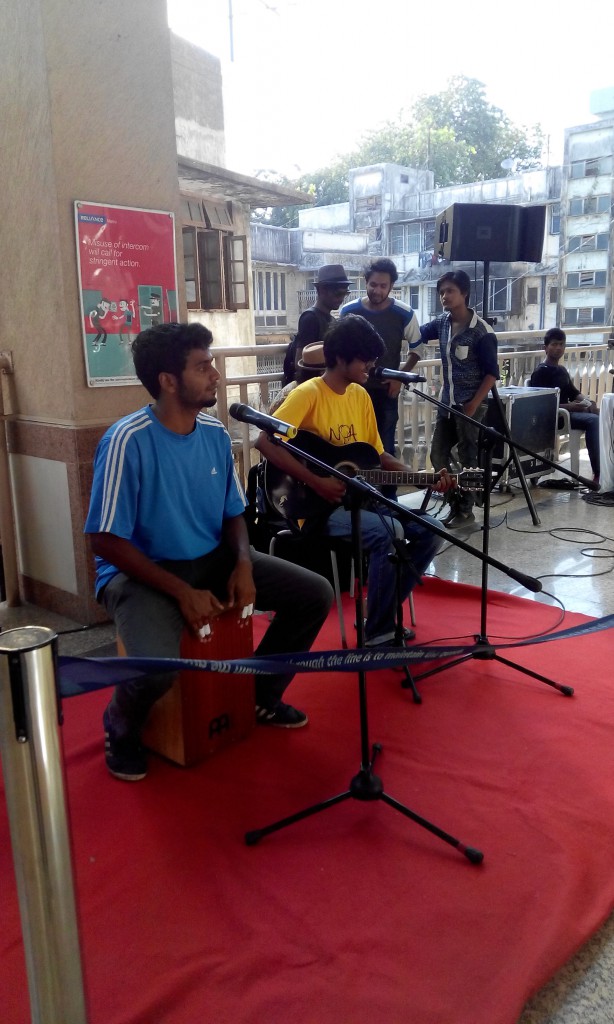 Busking inside the metro!
Busking inside the Metro was a memorable experience for our artists. Somehow, we enjoyed a much better response here. (We have a sneaking suspicion that this is because trapped inside a snake-like, moving structure, most people had no option but to set aside their suspicions and enjoy what was going on!) Inside the Metro, our artists were greeted with wolf-whistles and much cheering. Most commuters seemed to enjoy having the monotony of their journeys broken by some melodious live music. On reaching their destinations, a quick 'thumbs up sign' was pointed in our direction or a soft "good job" whispered. All these compliments, no matter how small, encourage us and motivate us to continue doing what we do.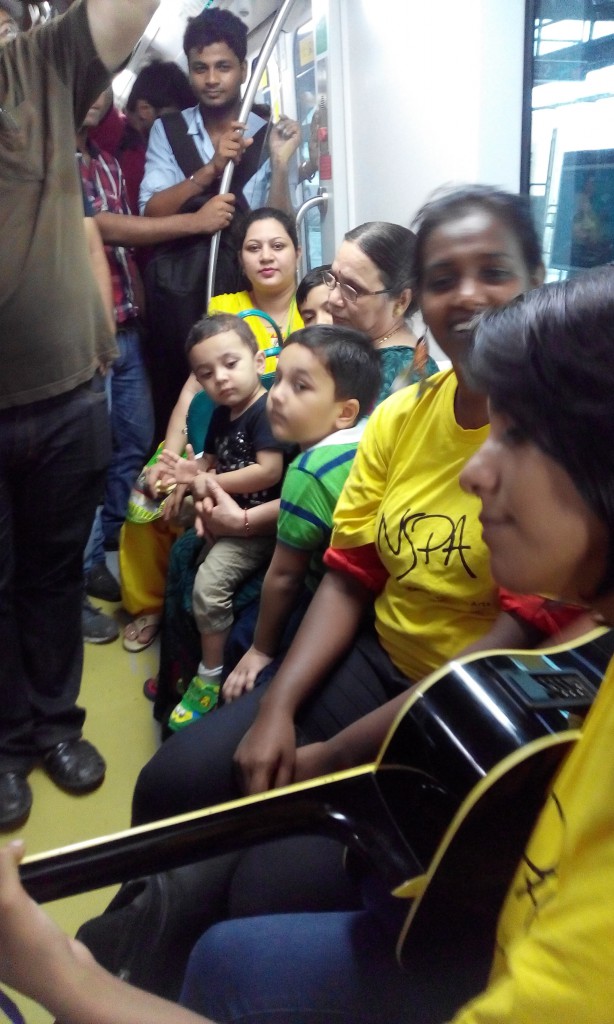 On the whole, it was an extremely enjoyable 3-days and we're sure that the Metro commuters too had a very pleasant experience. Once again, we extend a big 'thank you' to the Mumbai Metro for always being supportive of our efforts and a special, but equally big thank you to Quantum Asset Management Company for believing in us and supporting us, always.