Many of us fell in love with Ruskin Bond's writing way back in school, perhaps when we read his 'Cherry Tree.' His description of picturesque landscapes makes you want to spend time in a forest and his subjects, simple people leading regular lives, are refreshing and intriguing. Ruskin Bond has made many a child fall in love with nature, and go on to become avid travellers. If you haven't read his books yet, fret not, for now is a good time to start. His heart-warming stories are perfect for people of all ages. 'The Room on the Roof,'  'The Blue Umbrella,'  'Our Trees still grow in Dehra,' 'The Night Train to Deoli and other stories,' are some of his best books. Pick up one of these today to give him the perfect birthday gift! Yup, it's the octogenarian's 82 birthday today (19th May) so Happy Birthday Mr. Bond!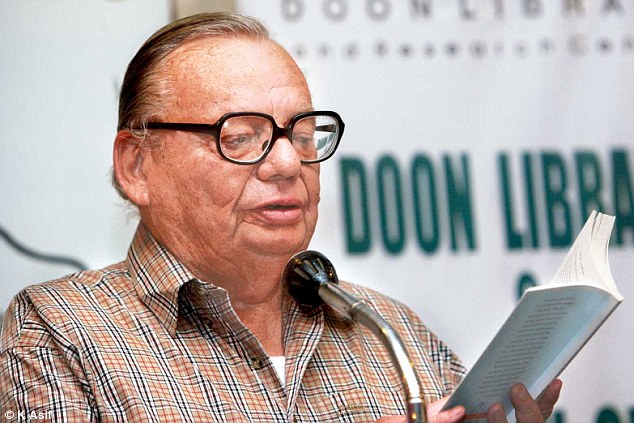 Image courtesy: dailymail UK
Now mull over these wonderful quotes.
If you too love being in the presence of nature, these quotes of his will fill your heart with joy.
"…for every time I see the sky I'm aware of belonging to the universe than to just one corner of the earth."
"And when all the wars are done, a butterfly will still be beautiful."
"Live close to nature and you'll never feel lonely. Don't drive those sparrows out of your veranda; they won't hack into your computer."
"The adventure is not in getting somewhere, it's the on-the-way experience. It is not the expected; it's the surprise."
"A story never really ends and happiness is something that comes and goes. It is as rare as a rainbow."
"By day, it does seem that our troubles won't cease, but at night, late at night, the world is at peace."
"I have come to believe that the best kind of walk, or journey, is the one in which you have no particular destination when you set out."
"It is always the same with mountains. Once you have lived with them for any length of time, you belong to them. There is no escape."
"Happiness is as elusive as a butterfly, and you must never pursue it. If you stay very still, it may come and settle on your hand. But only briefly. Savour those moments, for they will not come in your way very often."
"It wouldn't be much fun living on a planet where grass could not grow."