BY: ABHEESHEK DEV ROYE
"No pedagogy which is truly liberating can remain distant from the oppressed by treating them as unfortunates and by presenting for their emulation models from among the oppressors. The oppressed must be their own example in the struggle for their redemption" Paulo Freire, Pedagogy of the Oppressed
The underprivileged, the ones in need, the ostracised corners of our chest-thumping and proud society, are the ones who primarily populate the streets of our country. While they may seem like silent observers, who should and must hold to the shorter end of the rope that we, the privileged, have so benevolently handed over to them, their voice is the pertinent sound you hear in many of the erstwhile and on-going protests in our Democracy, oft-cited as world's largest. And what is a democracy without the freedom to express as one wants? Is Freedom of Speech too much for our thin skins? Are conferences, public speeches, Gram-sabhas, Nukkad-naataks, addas and the collective dissemination of ideologies, facts, fiction and the rest, a good way to give voice to the oppressed?
The answer to the latter question is perhaps a yes or a no. But what should be agreed upon by us now, is the role of street theatre and performances in a democracy like ours and around the globe.
Street theatre is intrinsically entwined into our culture and ethos. More than five thousand years ago, "Nritya" was a form of theatre that existed in our country when Sanskrit theatre was at its zenith. The dances conveyed a story, a morale or an ideology. At the same time, indigenous values and stories were spread in the rural corners of the country to keep communicate the ancient myths and stories of our rich culture. This kind of theatre is still prevalent in our country in the 21st century. I once happened to learn a lot more about Ramayan from a street play in Guptkashi, Uttarakhand than I could from reading my school books. These nukkad plays, or are a source of cultural enrichment and entertainment in the hinterlands of our primarily agrarian country. Not much unlike the Bhil tribes in the Aravalli hills of Udaipur district in Rajasthan, who put on a vigorous and colourful show during the months of July and August, celebrating Lord Shiva and Goddess Parvati in a festival known as Gavari.

Picture: An evening Gavari Performance in Udaipur
Source: W. David Kubiak, CC BY-SA 4.0 <https://creativecommons.org/licenses/by-sa/4.0>, via Wikimedia Commons
Street theatre found its social and political clout in our country during the struggle against our Western colonisers. As the enlightened and educated citizens of pre-independent India grew more aware the barbaric and fascist British regime, they saw no clear opportunity to mobilise the nation through its innumerable newspapers and media outlets. The problem was (and ironically still is) the utter lack of education and literacy, further turned grim by the diversity in languages and cultures. Street plays offered direct participation, real-time reaction, and dialogue with the people. It seeded ideas into people's heads, with simple plays of relatable struggles, pertinent issues of the society and effectively managed to communicate the need for action. Street theatre emerged as a potent medium to express and catalyse social transformation through participatory methods.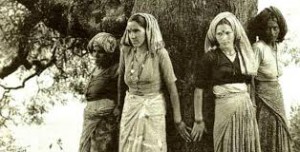 Picture: The women of the Garhwal tribe in their stance during the Chipko Andolan of 1973
Source: Biswarup Ganguly, CC BY 3.0 <https://creativecommons.org/licenses/by/3.0>, via Wikimedia Commons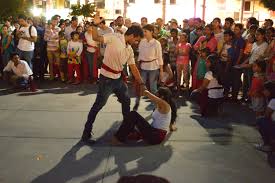 Picture: Street Theatre on Domestic Violence, Chandigarh, India
Source: Biswarup Ganguly, CC BY 3.0 <https://creativecommons.org/licenses/by/3.0>, via Wikimedia Commons
Since then, Street plays in the rural areas of India are widely used by NGO's and even Government Organizations to spread awareness about developmental programs, schemes, preventable ailments, Women's health, Malnutrition and several other pertinent issues. Socio-political issues, which might sometimes alienate the common man in terms of jargon and understanding, are best displayed with flair, creativity and most importantly, engagement via impact, through street theatre. As Ryan Powers, an artist in Pandies Theatre opines, "it is inherent in any theatrical performance that you would want to identify with what is going on. That is where I think it is more powerful than a speech"
In any part of the world, an uprising against the mighty ills of the society or even against the ones in autocratic power, needs the mobilization of people, their collective empathy and conscience. While speeches can only tremble our inner compass, street theatre is what creates fodder for the mind and the hearts of the common man.