Is the heat making you sullen and lethargic? It's time to rejuvenate your mind with some fun activities. Head to QTube Café to enjoy a host of interesting events, plus, the cool AC air, for free! This May, we're all set to host a list of exciting events. Get ready to make QTube Café your new, cool summer hangout!
Here's what to look out for:
Open Mic (Stand-up Comedy)
The Awkward Fruit is back with Open Mics for stand-up comedians. Register to get a chance to share your jokes with fellow comedians!
Dates: May 10th, 13th, 17th, 20th, 31st (7.30 – 9.30 PM)
Entry Free
Manoranjan Mania will be organizing an open mic session for aspiring comics. Walk-in slots are available. Contact +91 9920261249 for queries.
Date: May 8th (6 – 9 PM)
Entry free
Plays
The Loser – Directed by Debanshu Shekhar

The Loser' is a solo act depicting the ups and downs in the life of Dipen Misra, an aspiring writer who is forced to give up his writing ambitions and become a software engineer, thanks to an overbearing father. The play depicts the protagonist's frustrations at the work place and the methods he devices to overcome them. It also urges us to question our own choices with respect to our careers and decide for ourselves if we made those choices out of passion or for money.
7th May (7.30 – 8.30 PM)
Entry fee: Rs. 100
Get tickets: https://in.bookmyshow.com/mumbai/plays/naatakwaales-the-loser/ET00056147
Kumar Talkies – Naatakwaale
The play tracks an unlikely encounter that occurs between two long-lost friends. The meeting happens in an abandoned theatre and just like the old movies that were once screened there, the friends, too, revive and narrative old memories of their younger selves. However, a plan of deception is simultaneously being cooked up, but unfortunately, the friends have no idea who the betrayer is going to be.
Date: May 12th & 14th (7.30 – 8.30 PM)
Check QTube Café Facebook page for ticket details.
Home Maid – Naatakwaale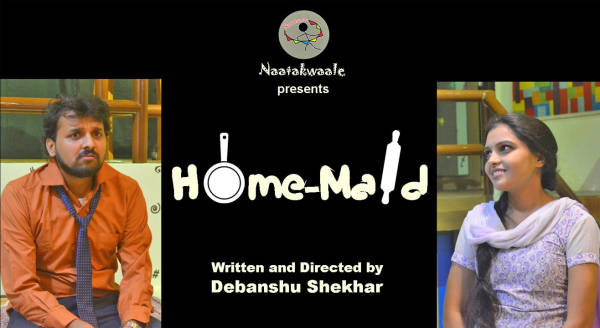 Ajit Jaiswal is a bachelor working in a big city, living alone, away from family and doesn't know how to cook. What would he need? But of course, a trustworthy maid. After a lot of struggle, he finally finds a decent maid, Asha Rani. As time passes by, Ajit develops a soft corner for Asha and trusts her more than anyone else. He tries various ways to tell her about his feelings, but misses every time and what's in store in the end takes him by surprise.
Date: May 27th & 28th (7.30 – 8.30 PM)
Check QTube Café Facebook page for ticket details.
Yoga Session
A one and a half hour yoga session will be conducted by Dhanashree's Ashtanga Yoga. Drop in to join in the session
Date: May 14th (9 – 10.30 AM)
Entry fee: Rs. 200-300
Play Session
Participate in Toy Bank's Play session to unwind and feel creative like a child again!
Date: May 25th (6 – 7.30 PM)
Entry free
Discussion Session – Alliance Francaise
Once again, Philosophy is taking over Qtube Cafe! Come and share your views on some philosophical topics. No need to be an expert in Philosophy, everyone is welcome to discuss and exchange their thoughts in an informal and friendly atmosphere. Free entry – No registration necessary – Event in French & English.
Date: May 20th (10 – 12.30 PM)
EdMojo
EdMojo bites from chaos to philosophy to neuroscience to computer science to beauty to design to complexity to spirituality. Attend to explore concepts and connections between some of these fields while having some fun.
Date: May 6th (11 – 1 PM)
Entry Free
Chess Tournament
Quantum AMC will be organizing a full-day chess tournament at the café. Come to meet fellow chess enthusiasts and battle it out with some fine players!
Date: May 21st (9 AM – 9 PM)
Entry Free
See you at the Cafe, folks!