Airports are intriguing spaces. On one hand, they throw open the doors to reunions and chance encounters, yet, on the other, they remind you of the transience of things. Every arrival is faced with an eventual departure, every 'goodbye' is met with a hopeful "I'll be back soon." We are always passing through, readying ourselves for the next big leap, this time miles into the air, soaring away from one reality, gliding swiftly towards another.
Airports are also unsettling spaces. They signal change, a moving away from the familiar, a moving towards the unfamiliar, or the now distantly familiar. Waiting areas bubble over with hope, anticipation and excitement, yet, the melancholic pull of apprehension, loneliness and uncertainty aren't foreign entities here. These unfeeling, concrete enclosures harbor a whirlwind of human emotions, made palpable by the pacing of impatient feet, the tight embrace of loving arms, the nervous clutching of a bag or ticket, the excited conversation over a phone call.
To soothe the anxiety, to numb the anxiousness, passengers turn towards a medicine that is powerful and comforting – music. Where, on any other day, they would've had to turn towards their music players for solace, on the 24th & 27th of July however, they were surprised to find it elsewhere. NSPA artists put up live performances at the domestic and international terminals for a good six hours to treat passengers to uplifting music. Yes, we were there, with our trademark yellow tees and infectious smiles to create good music so that the wait became bearable, so that minds could be shielded from worrisome thoughts during that period of stasis between baggage checks and the boarding call.
And it did turn out to be an interesting experience. From having pilots spend a couple of minutes next to our performers before boarding their flights to having flight attendants inquire about our cause, to having passengers congratulate us on introducing the concept of busking in India, we came across a range of enthusiastic reactions that really made our day. We were especially touched when we had passengers sit next to our artists and jam with them.
Here are a couple of memorable moments we encountered during our time at the airport.
The guy in the black, we didn't catch his name, shared a beautiful story with us. He himself used to play in a band during his teens and early twenties, however, after meeting with an accident and injuring his hand, he lost the ability to play and had to give up his dream of becoming a musician. He spent almost a good two hours with our artists, listening to their music. Then, there was the selfie moment!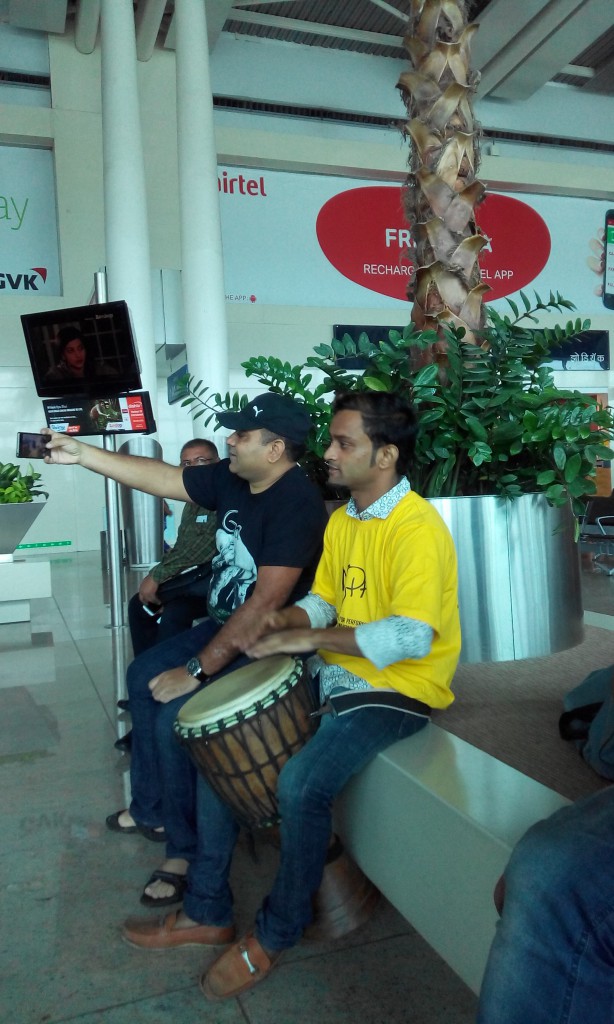 A happy family plonked down next to our artists and requested them to play some Marathi songs. However, the singer happened to be a true-blue Punjabi. What happened then? Oh well, our Punjab da puttar belted out some fabulous punjabi numbers ('kala chashma' being one among them) that kept everyone entertained!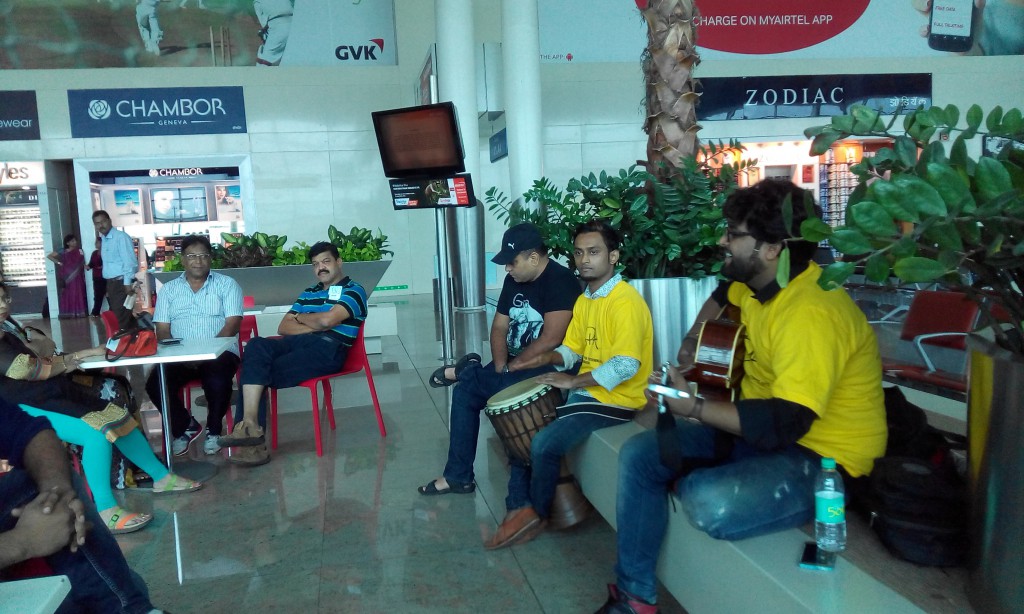 Oh, this is what our artists like doing when no one's clicking selfies with them.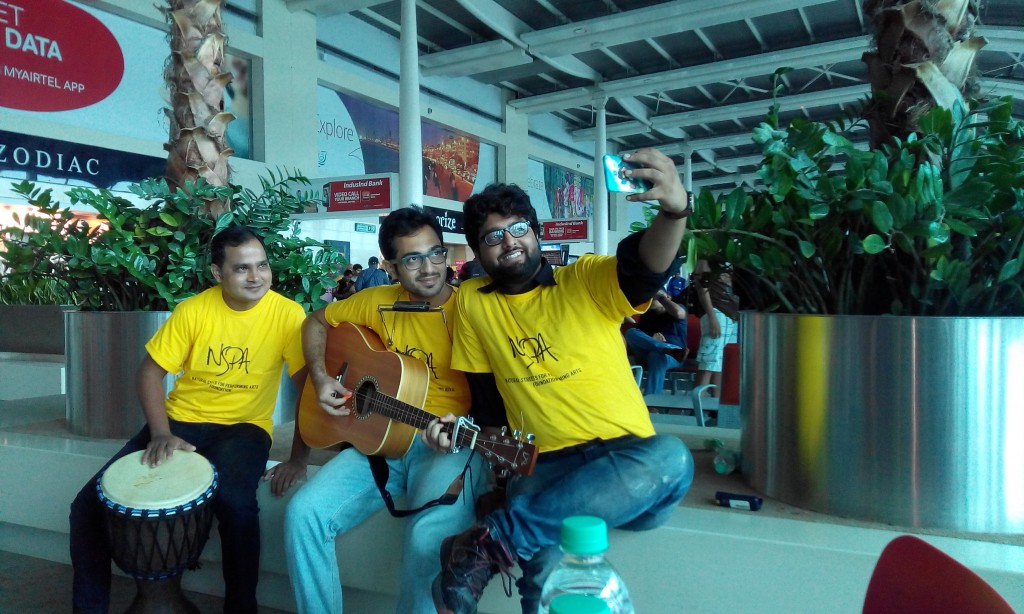 And another selfie with our artists! (We realized a lot of people liked doing this. Is it the bright yellow T-shirt? We don't know.)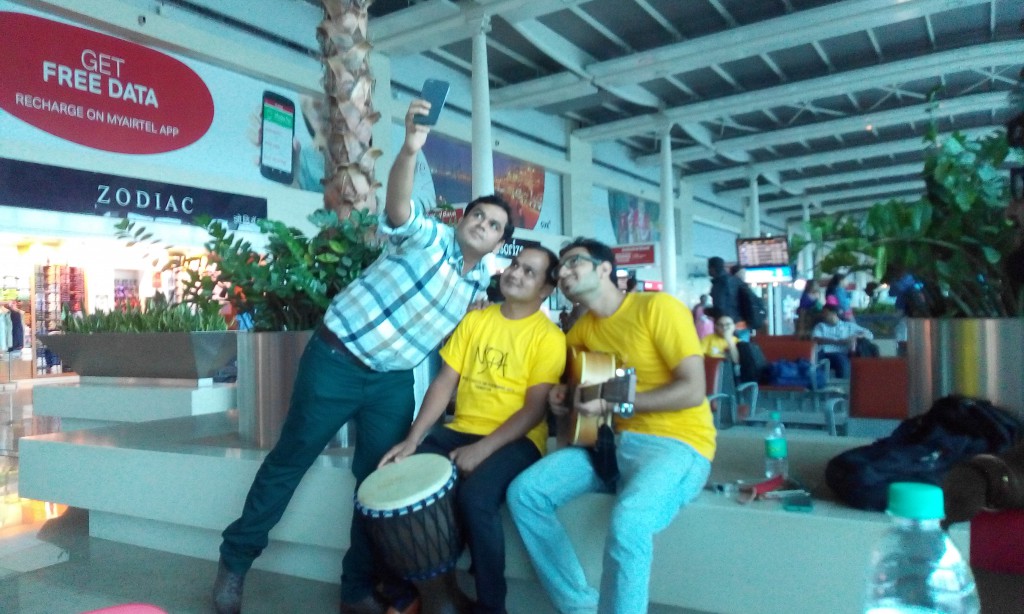 This passenger probably loved singing a lot. He pulled up a chair next to our artists and launched into song. Our artists obliged by keeping time with his singing.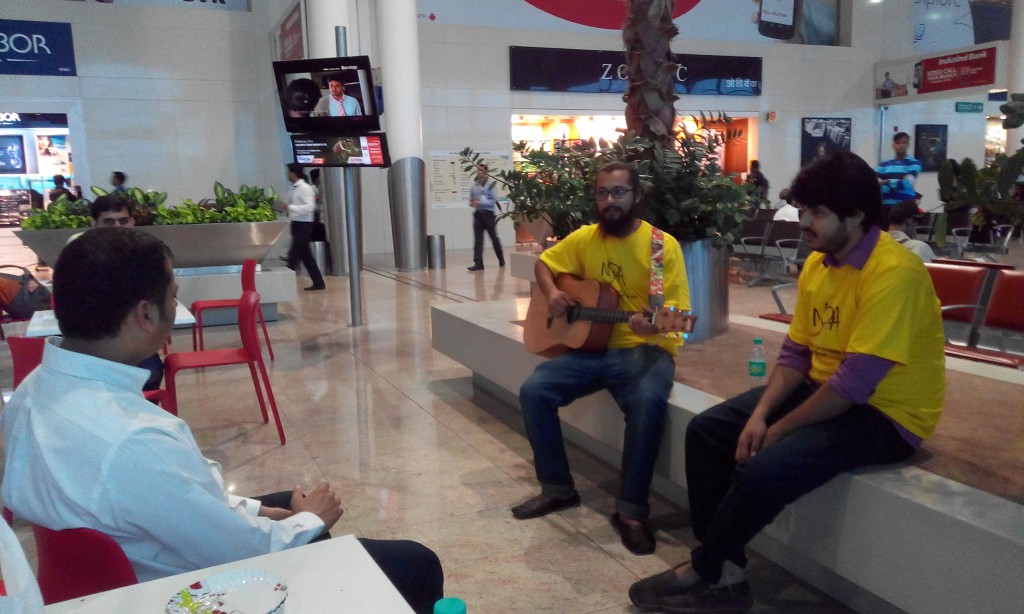 We even had a group of mothers gather around us with their kids. We like to think they were there to enjoy the music, however, we have a sneaking suspicion that they were actually there in the hope that their kids would be quiet for a couple of minutes. We also had a lot of passengers pull out their phones and take videos of our artists and ask for their contact details and visiting cards later on.
Here are some pics of our performances at the international airport.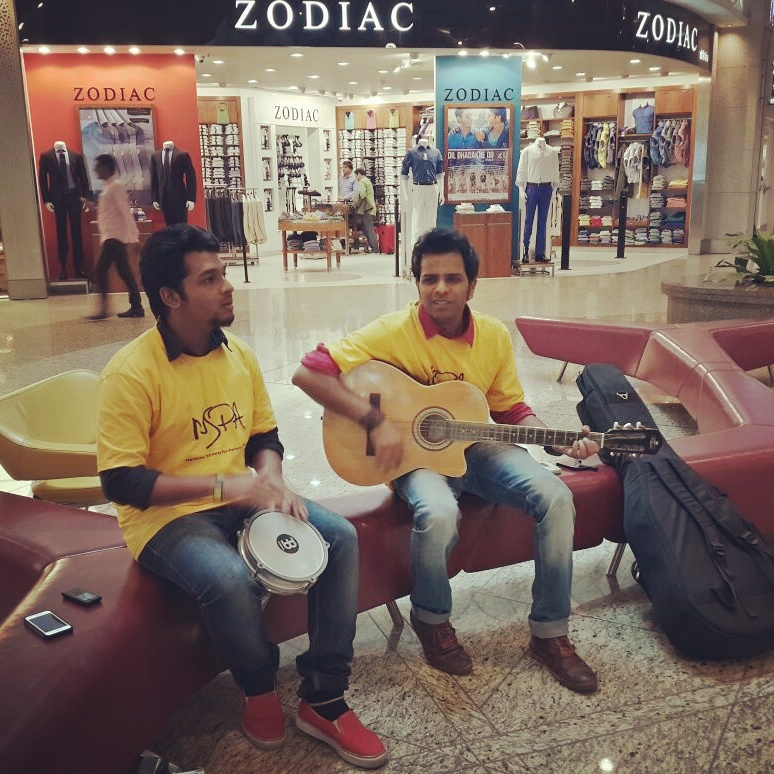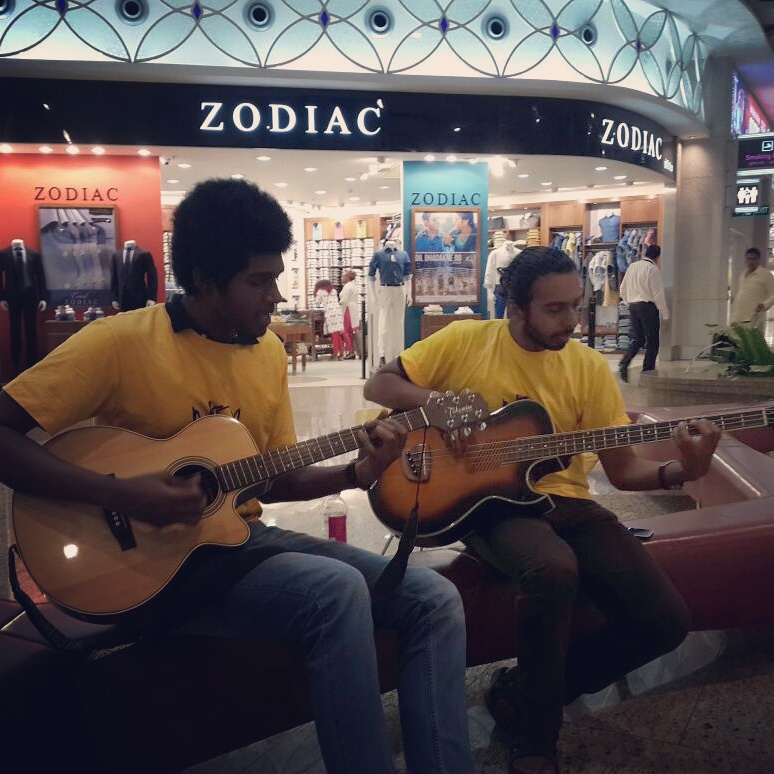 A special thanks is due to the Chhatrapati Shivaji International Airport authorities for supporting our cause and inviting us to perform here. Also, to Payal Aggarwal for tirelessly assisting our artists in and out of the airport and making sure that they were supplied with refreshments and water at timely intervals. We lost track of the number of trips she actually made during these two days, but we know they were a lot!
On the whole, it was a memorable two days of performances. We were especially glad that people appreciated the effort we put in to bring the concept of busking to India. Also, we hope that our music helped make the airport a fun, happier place for at least a few passengers traversing through on the days we were there.