We, at the NSPA, have big hearts and big arms and are opening both in a bid to embrace more art forms and artists. Yes, we have decided to expand our artist base and so, are conducting auditions on the 28th of Jan, from 11 am – 3 pm at QTube Cafe, S.V. Road, Bandra. We urge all aspiring musicians, actors, poets to pluck up the courage and audition for us so that we get a chance to give some upcoming talented artists a chance to grow and shine.
To Register for the auditions: https://nspa.in/audition.php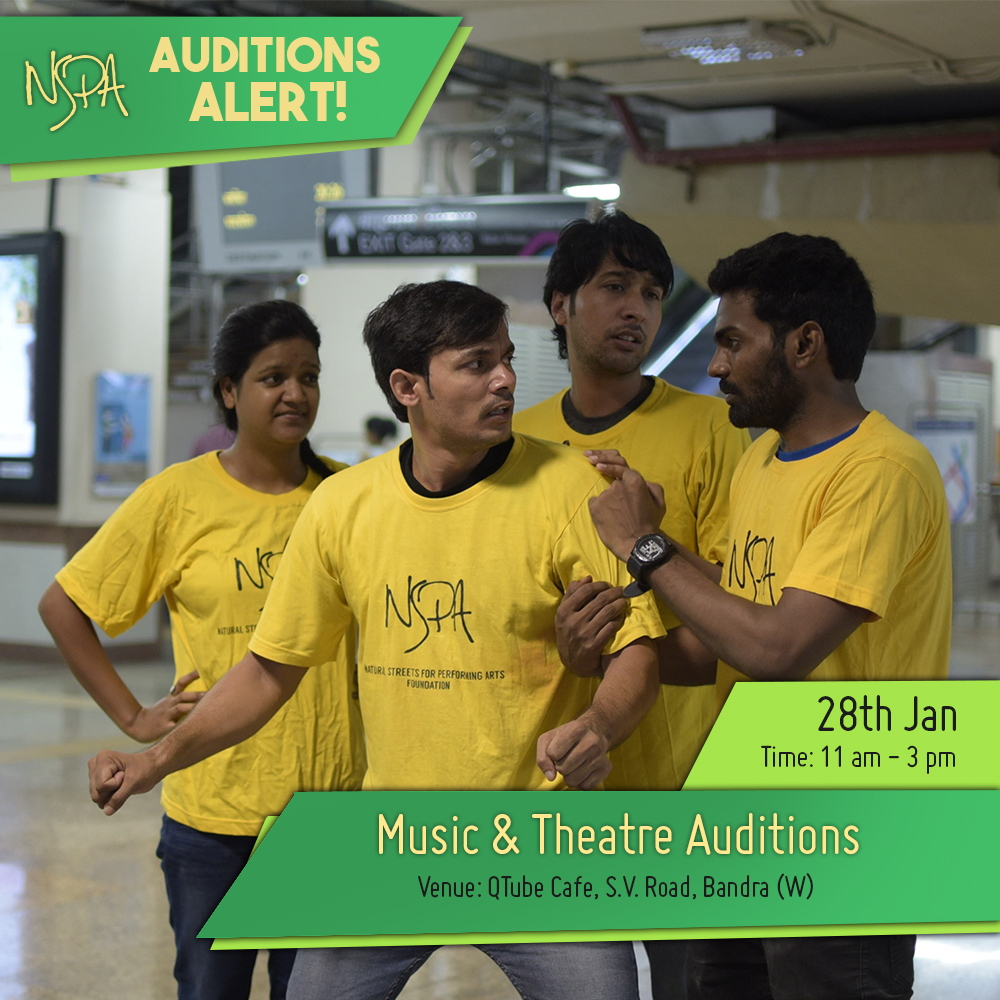 Still hesitant to audition? Here are 5 reasons why you must! Hope these motivate you to go ahead and register for our auditions!
Been There, Done That
Auditions can be unnerving, because you're conscious about the fact that someone is judging you and your talent. However, once you go through an audition, you're likely to feel more confident and competitive and this will go a long way in helping you perform better the next time you have to prepare for one. Also, at an audition, you're exposed to performances from different artists, helping you gauge you're abilities and skills better. You may also be lucky enough to forge a new friendship that could result in a fruitful collaboration in the future!
On-board NSPA!
Once you get selected that is. But, if you do, you become an NSPA artist and being one surely has its perks. You get a fixed number of slots each month, guaranteeing you the opportunity of performing at various public locations. You also get a chance to perform at big stage events we bag. Apart from this, there are additional benefits you're sure to enjoy, like being featured on our website and social media channels and getting videos of your performance shot and shared on our YouTube channel.
It's not Just about Playing & Performing
The NSPA is involved in several art-related activities and programs. We not only have street and stage performances, but we also conduct community art programs, art literacy programs and training sessions for our artists. So, you'll get a chance to try your hand out at all these activities and therefore, gain greater exposure and practice!
Exposure + Kickass collabs = Growth
At the NSPA, we strive for excellence and urge our artists too to constantly grow and evolve. For those in need of training, we organize training workshops. For those interested in trying out new forms, we give them a chance to collaborate with other artists so that they get a chance to experiment and learn something new. Once a part of NSPA, all are opportunities and resources are thrown open to you, so you're sure to get all the backing and support you require to make a name for yourself.
Money (because one can't live on Love & Fresh Air)
We don't expect you to perform for free, after all, we all have bills to pay and cheques to write. So, we pay our artists a stipulated sum as remuneration for their efforts. This way, our artists get to do what they love and are good at without having to worry about a big, empty hole forming in their pockets. Well, you too can join us and use your talents to earn some money!
So, what are you waiting for? Come for our auditions and get your talented friends and acquaintances along as well.