The monsoons are here, and the pitter-patter of falling raindrops turn most of us into mushy romantics. The sublimely beautiful weather, with just a whiff of melancholy, provides the perfect backdrop for the lovelorn poet and the introspective photographer to weave their magic. That's the beauty about this weather, it can turn even the most creatively-challenged person into a prolific artist. Tissue doodles and love notes, black-and-white photographs and profound quotes, there isn't a dearth of creations now. As you explore this enchanting world of thoughts and emotions, here are 6 songs to help you enjoy the monsoons and your creative pursuits better. Plug in your earphones and let these tracks play on in the background as you craft your next piece de resistance!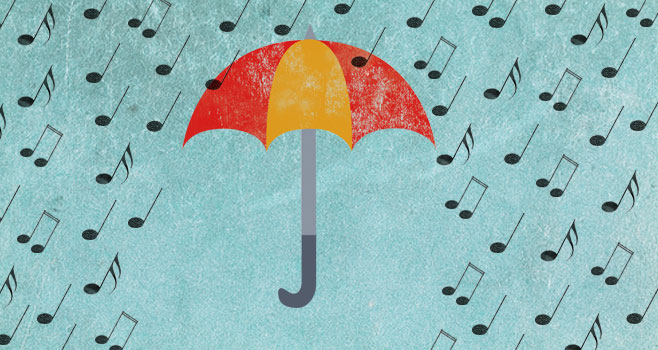 Image courtesy: whatliesneartheheart.wordpress
Purple rain – Prince and The Revolution
This multi-award winning track combines rock, pop, orchestral and gospel music and is considered to be a signature track of the singer. Listen to it for its evocative lyrics and awesome, awesome guitar solo.
Fire and Rain – James Taylor
This song speaks about things that could move anyone; a friend's suicide, the perils of fame, dealing with depression. The melodious, slow folk-rock rhythms are perfect for a rainy day.
Have you ever seen the Rain? – CCR
Said to refer to the inner tensions simmering among band members, this song is probably one of the most famous tracks sung by the band. Enjoy its soothing rhythms and poignant lyrics as you sip on a warm
cup of chai!
Rain drops keep fallin' on my head - B.J. Thomas
This song is filled with so much positivity that it instantly dispels the gloominess of a bleak, rainy day. Enjoy B.J Thomas's deep, husky voice singing jolly lyrics like, "It won't be long till happiness steps up to
greet me."
I love a rainy night – Eddie Rabbitt
Love jiving? Well, then you must listen to this song, if you haven't already! The peppy beats and jolly country vibe will bring a sunny smile to your face.
Riders on the Storm – The Doors
This iconic track sung by Jim Morrison features real sound effects of thunder and rain. The chilling lyrics and electric piano solos add an eerie feel to the song. Curl up in bed with your writing pad and pen and let those creative thoughts flow as this song plays on in the background.
Hope you liked these suggestions! Plug in your earphones, turn up the volume and enjoy a melodious, musical monsoon!
* NSPA artists too have sung some amazing cover versions and original compositions. Eager to check out these songs? Head to our YouTube channel to enjoy a generous offering of melodious music.