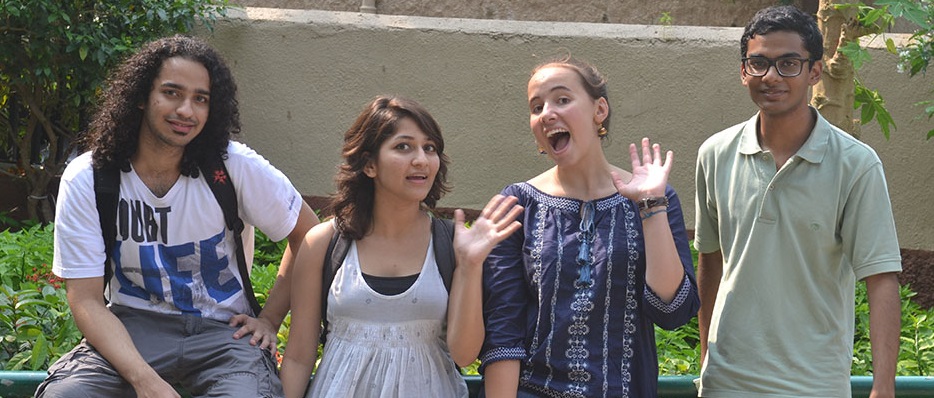 Hi! My name is India Matheson. I am from Zurich, Switzerland and I had the opportunity to work with the Natural Streets for Performing Arts (NSPA) for two weeks as part of a school project. This is to tell you of my experiences interning in the land I'm named after!
This was my second trip to India and the lasting impression from my previous trip was all the honking of the cars and trucks. Compared to Switzerland, the constant noise level is much higher. Switzerland is a multicultural nation, but even to me, Mumbai is an incomparable melting pot of cultures, colours and people.
On my first workday, the NSPA Mumbai team gave me a very warm welcome. I was set to create two postcards and record two song podcasts showcasing my musical collaborations with the organisations' artists. During the two weeks, I was able to accompany Tanvi (NSPA's Performance Associate) from the office to Carnatic classical music recordings and some of the live folk music performances by artists of NSPA. I was very impressed by how enthusiastic the whole team is about working, and how much energy they invest into the project.
Beside all the working experiences, I was drawn into the everyday life of Mumbai's citizens. I got to travel by public transport like the local train, share taxis etc. and was encouraged to try local and sometimes homemade food items like Pav Bhaji, Pani Puri, Theplas (yummy!) and some more tasty delights !
I met many fantastic people and received lovely new experiences. I am very grateful for the awesome time I had with the NSPA team. Thank you so much for all the patience and the kindness you showed me!
Thank you Tanvi, Anisha, Shrishti, Shruti, Nirman, Satish, Jess, Akash, I will never forget the incredible time I had with you all!
- India Matheson