Who says you need to wait for the weekend to have fun? In a city as lively and energetic as Mumbai, cool things happen every day! All you need to do is give the papers, or your favourite on-line event magazine a glance, and you're sure to find something interesting to do throughout the week!
If you feel too lazy to skim through multiple sources, here is a blog post that gives you a lowdown on the best and coolest events happening this week. Go through this list to pick a few (or all) activities you would like to be a part of!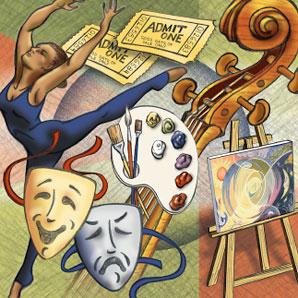 Image courtesy: Kate Collins 2003
For music lovers:
Well, there always is the NSPA! NSPA artists perform every day of the week at different locations, so your live music scenes are sorted for the week. The best part about these performances is that they are held at public locations, like at Metro stations or in malls, so if you happen to be passing through these locations on your way to or from work, stop by to unwind to some relaxing music.
NSPA performances to watch out for this week:
Famous songs get a pop/jazz twist as our NSPA artists create melodious cover versions of them. Head towards Carter Road on Tuesday, 7-9 pm to enjoy these compositions.
Commute via the Metro every day? Look out for our artists at Marol Naka Station on Thursday (6-8 pm), Andheri Metro Station on Friday (7-9 pm) and Saki Naka Metro Station on Saturday (6-8pm)Upbeat folk music, Marathi fusion, Sufi and alternate rock are the genres you'll be treated to here.
On Sunday, head over to Linking Road to catch some wonderful live performances. From 8-10 am, our resident artists put up fun-filled performances at various junctions. Powerful dramas, folk and fusion music, pop/rock and Sufi performances, it's all there at 'Equal Streets!'
For more info regarding these performances, visit our website: NSPA Events
For movie lovers: 
Movies @ the Museum is a movie screening program that is held at Dr. Bhau Daji Lad Museum. It promises to showcase films and videos belonging to various genres, like documentary, fiction, animation and visual art.Film and academic practitioners too will be invited to engage with the audience and discuss their work. Head towards the museum on Friday at 6.30 pm to catch the action.
For drama lovers:
Explore eternal myths that still exist in our subconscious through a powerful drama by The Phoenix Players. 'Orochi & Kaalia' uses folk and classical forms to infuse life into the enactment. Enjoy this enchanting experience on Saturday, 7 pm at the Hive.
For comedy lovers:
Irish House and He Said She Said, two happening pubs team up to present 'The Comedy Crawl' on Thursday, 8.30 pm onwards. Talented standup and Improv comedians from Culture Shoq will keep you in splits with their witty, snappy-smart jokes. Also, there are some cool offers on domestic liquors!  Learn more about the event here: Time Out Mumbai
Well, hope this has your weekday scenes sorted! Have a happy week!