Puffing, panting and dangerously out of breath, we finally spotted the tiny, chawl-like structure we were on the lookout for. It's 5.15 in the evening and we've reached in the nick of time. Gazing up at this far from fancy construction, the first thing that strikes us is its bright, colorful exterior. Covered with tiny pink, yellow, blue and green rhombuses, one feels like a huge patchwork quilt has been draped over the structure, complete with secret symbolic imagery and a name – 'Colorbox.'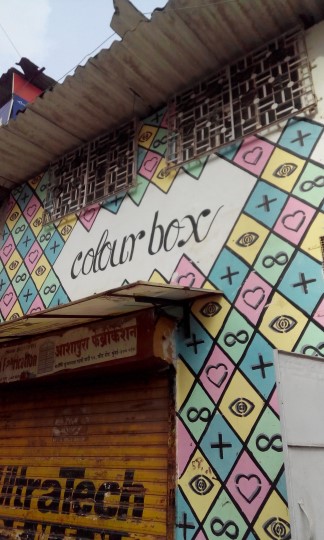 Finding this place can be a little difficult, especially if you're heading there for the first time. The name does nothing to help. Situated in a congested, crowded lane in Dharavi, surrounded on both sides by colorless, rusty, cramped up houses and shops, this bright structure with its strange name stands out. It's an odd name, an odd structure, almost a misfit here. But history has showed us time and again that it's the misfits we need to watch out for.
Right enough, a single step inside this place is enough to convince you that a lot goes on here. Hand-painted clay models line the walls, stacked up tin jars double up as a partition, a strange wall piece – colorful and chaotic – hangs proudly in a corner. Further on, one finds an enormous map of Dharavi, made out of pieces of denim, stuck breadth-wise across a wall. Bang opposite, a life-size painting of a strangely-placid woman sitting on a glaring tiger prevents a white wall from feeling like a fish out of water inside this startlingly colorful place.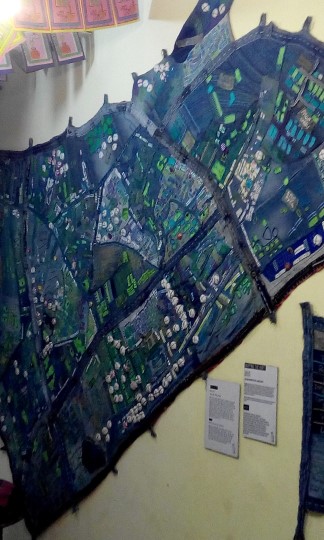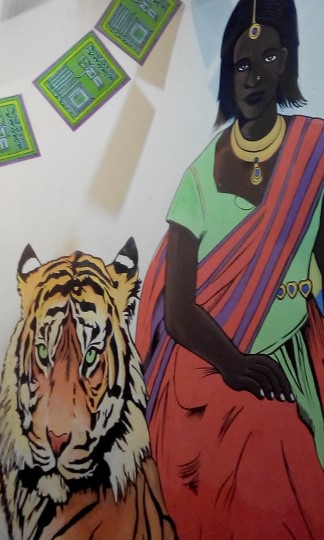 Welcome to Colorbox, a tiny two-story space exploding with creativity, enthusiasm and hope. It is in here that our NSPA artists conduct their weekly art literacy sessions. Every Wednesday, two of our artists make their way towards Colourbox and conduct an hour long musical session with kids in the area. The organization responsible for this intervention is SNEHA – an NGO working tirelessly for the betterment of the people in this area, particularly the children.
This month, Tushar Maithani and Manoj Pandya are the NSPA artists conducting sessions here. The classes are attended by a motley group of children brought together by SNEHA volunteers. They sit on the floor, some with toothy grins, some with eager eyes, some with bashful smiles, listening to the two artists teach them a song. The lyrics speak about childhood and encourage children to dream big and believe in their capabilities. It's a song composed by our NSPA artist Tushar Maithani, and he seems to enjoy teaching it to the kids. The kids, in turn, look like they're having a good time. However, they still have to overcome those obstacles that plague every kid in a classroom, like uncontrollable fits of giggling, inattention and of course, sleep, as one particularly cute boy demonstrated by yawning at regular intervals throughout the session. The artists deal with these childish transgressions with a practiced firmness and genuine good humor.
The session is an interesting one. It starts off with children having to memorize lines from the song, then, the artists shift to teaching them different rhythms one could create to go along with the song. The kids are divided into two groups, where one group has to demonstrate their singing skills and the other, their adeptness at catching and creating the right beats to go along with the singing. Then, roles are reversed and the group previously responsible for creating music is required to sing and vice versa. A coin toss decides who does what first, and the competition kicks off.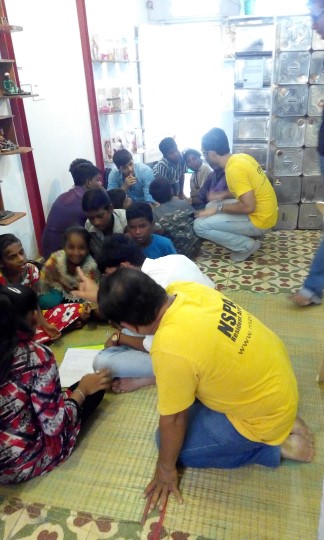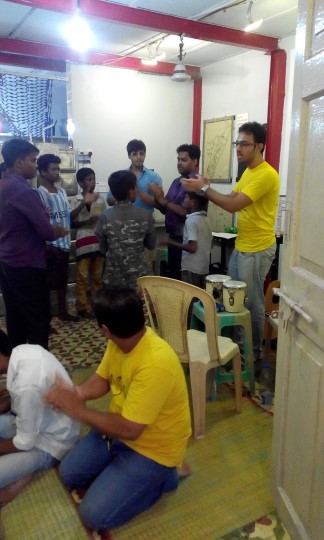 As raw, wavering voices fill the tiny room, I hear another one, deep and confident say something close to my ear. I look around and am greeted by one of the volunteers of SNEHA. The man informs me that these kids are from the 'maakadwaala' community, one of the most unfortunate communities in the area. He goes on to tell me all the work his organization has done here and I trace a hint of pride. He knows most of the kids by name, he even knows their addresses. I ask him whether they go to school. His face lights up. "Yes," he says. "We see to it that they do. Or else we find out why they aren't. We've done a lot, but there's a lot more to do now…" his voice trails off. I understand it's a difficult job. His pensive face reveals the effort gone into getting these kids here.
The session ends. It's time for us to leave. As we walk out, I glance back at 'Colorbox.' The sun is still shining brightly on this tiny, colorful place.