This week, on the 2nd of May, Google celebrated Mario Miranda's 90th birthday by creating a Google Doodle inspired by his style. Imitating his distinctive, people-packed illustrations, the Doodle was bursting with interesting subjects, each involved in a different activity. On looking at the illustration from afar, one might find it chaotic, and yet, if you zoom in closer and take a long, careful look at each character, one discovers a method in the madness. Each character is engaged in an activity that contributes to the setting and together, these characters, their actions and expressions lends meaning and perspective to the illustration, very much like a Mario Miranda creation.
Mario Miranda is perhaps one of the most famous Indian cartoonists, his popularity rivalled only by the eminent humourist R.K. Laxman. His work has been featured in leading newspapers like The Illustrated Weekly, Times of India and The Economic Times. He has even collaborated with international cartoonists, his most notable one being with the 'Peanuts' comic creator Charles Shulz. His travels to foreign lands for exhibitions and learning provided much fodder for his comics and one gets to see prolific creations on the culture and lifestyles of people in Paris, London, Spain and several other countries. His most memorable works however, at least for us Indians, are his illustrations on Bombay and Goa.
Interestingly, Mario never went to art school. His love affair with sketching started at a very young age, when, as a child, he took to scribbling his creations on the walls of his house. To encourage Mario to keep up sketching, and perhaps, to stop him from destroying the walls, his mother handed him a blank book. Mario continued to sketch in that book and as he created one drawing after the next, his confidence in his talent grew. He went on to create an iconic illustration style, one that has a 'slice of life' approach. His trademark technique involves adding a large number of subjects in his illustrations, such that they almost seem squeezed into the frame. A keen observer of people and situations, he draws his characters involved in relatable activities, but with a humorous twist. His images are comical, satirical and excellently detailed. They offer humorous visual commentaries on everyday life situations and this is what makes his creations so special. To help you understand his style better, here are some of his best works.
Alternatively, you could visit Café Mondégar, where his doodles decorate the wall and keep diners company!
A comical take on what happens when there is a pretty lass in the building.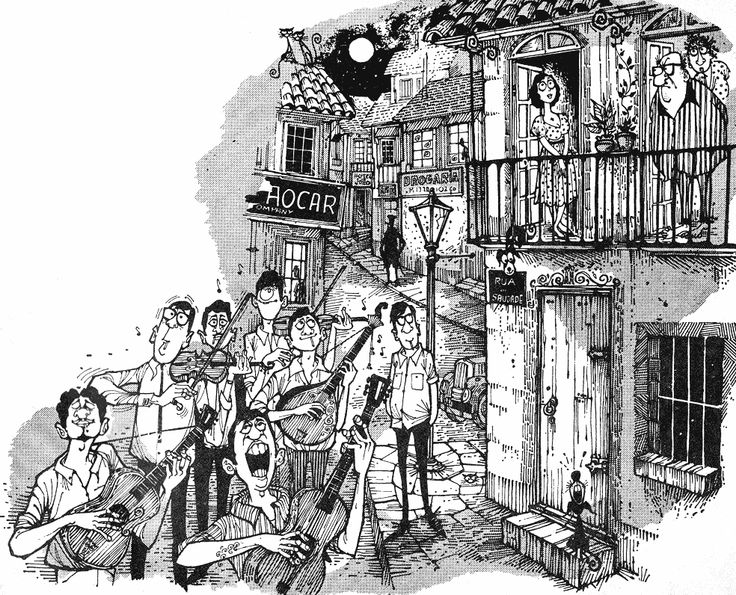 The shoddy transport system in Goa is well know. Here's Mario's take on it.
What a stroll in the market area is like.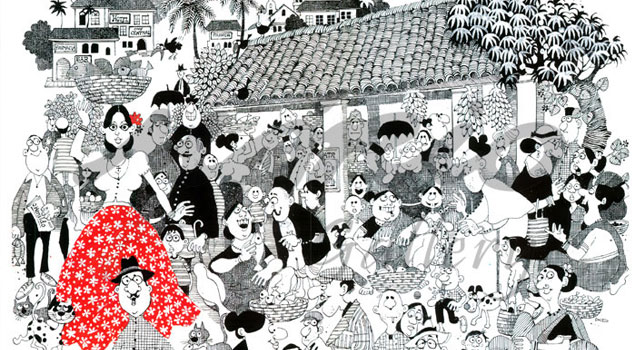 Rainy Day in Bombay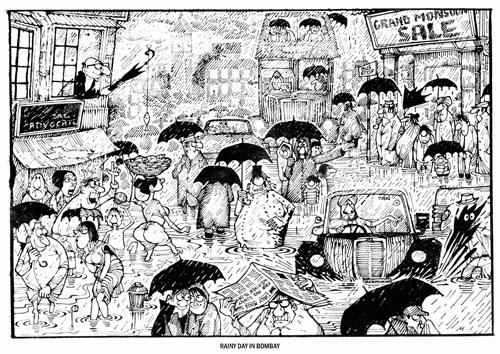 Mario's Tribute to the Jazz Yatra Festival, India's biggest Jazz Festivals, happening at Rang Bhavan.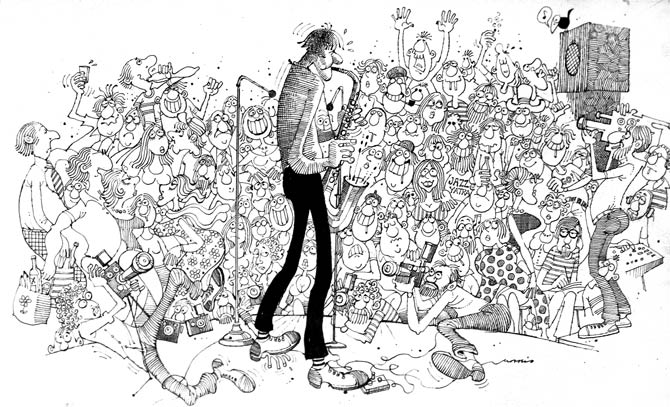 Well, if you've found yourself becoming a Mario Miranda fan, go ahead and get one of his prints! We hope his journey and unique style inspires you too to pursue your hidden talent.