The last two weeks have been incredibly enjoyable, thanks to DaanUtsav 2015! This 'Festival of giving' which is celebrated from the 2nd to the 8th of October got us all inspired and charged up to do some serious giving. Our preparations for this week started a while ago and had us brainstorming about items to collect, places to donate to performances to put up. It also saw us get on our hands and knees and decorate 'Donation Boxes' like enthusiastic 5th graders!
Some artwork by the team to make these drab brown boxes look a little more exciting. (Don't judge us too harshly, most of us can't draw an egg without making it look like something it shouldn't.)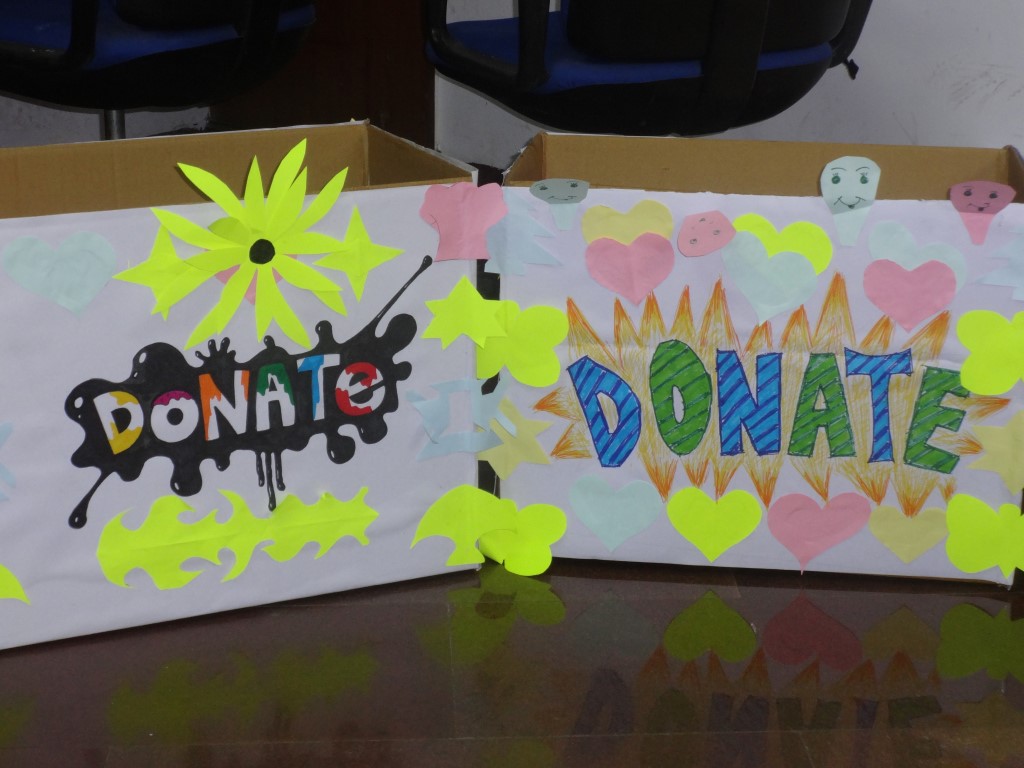 For donations, we approached four financial corporates – Quantum Mutual Fund, Equitymaster, PersonalFN and Help Your NGO. To each of these companies we sent a mail and a poster that contained the list of items they could donate. We must say we were overwhelmed by the response we got from all four places! Box after box poured in and sorting out the goodies was a real back-breaking task!
For a few days, our office resembled a true-blue Kiraana store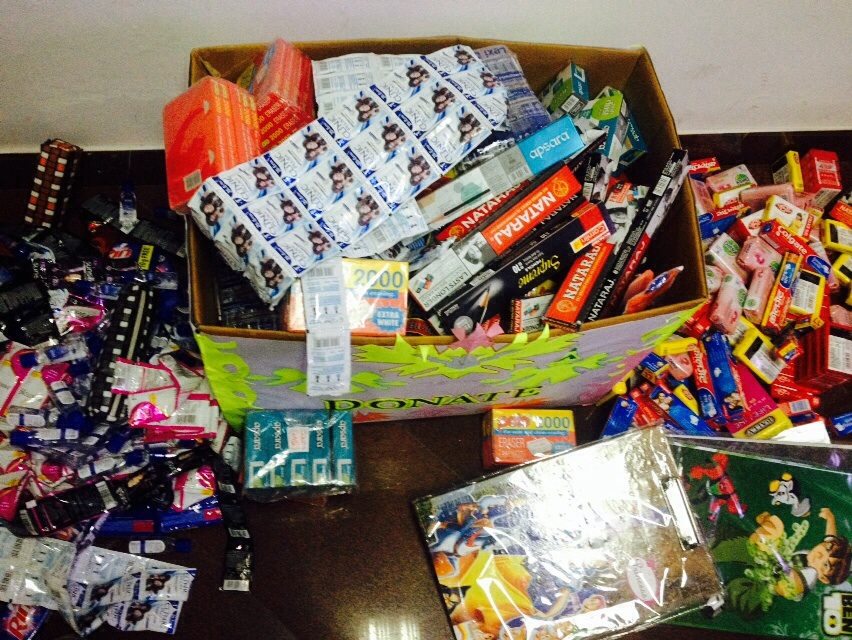 So, what did we do with all the donations? We distributed the items among two aanganwaadis, a municipal school and a children's shelter home. This first place we visited was the shelter home in Wadala. Unfortunately, we were not allowed to click pictures of the kids due to privacy issues. Here, we donated combs, toothpaste, shampoo sachets and soap.
The place looks deserted in the photograph, but it was quite full of childish squeals and giggles. The little ones were leaving for school when we paid the visit.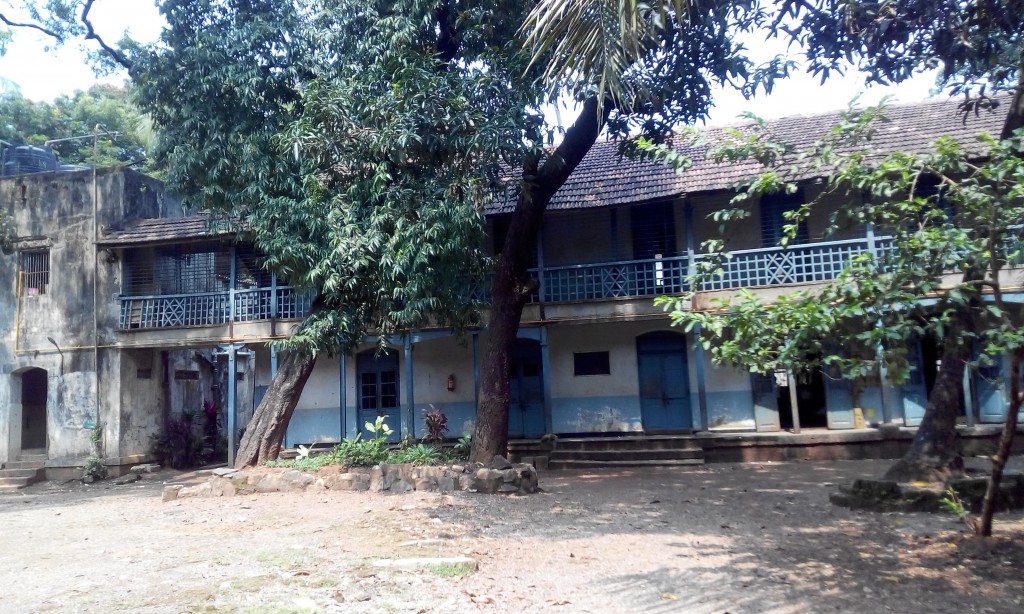 Next, we headed towards Sewri Wadala Municipal School. Here, we distributed among pens, pencils, erasers, sharpeners, scales and writing pads to the 10th standard kids. We also got a chance to spend some time with them and so, we did what we do best, got them to sing some songs!
A team member hands out the goodies to these happy youngsters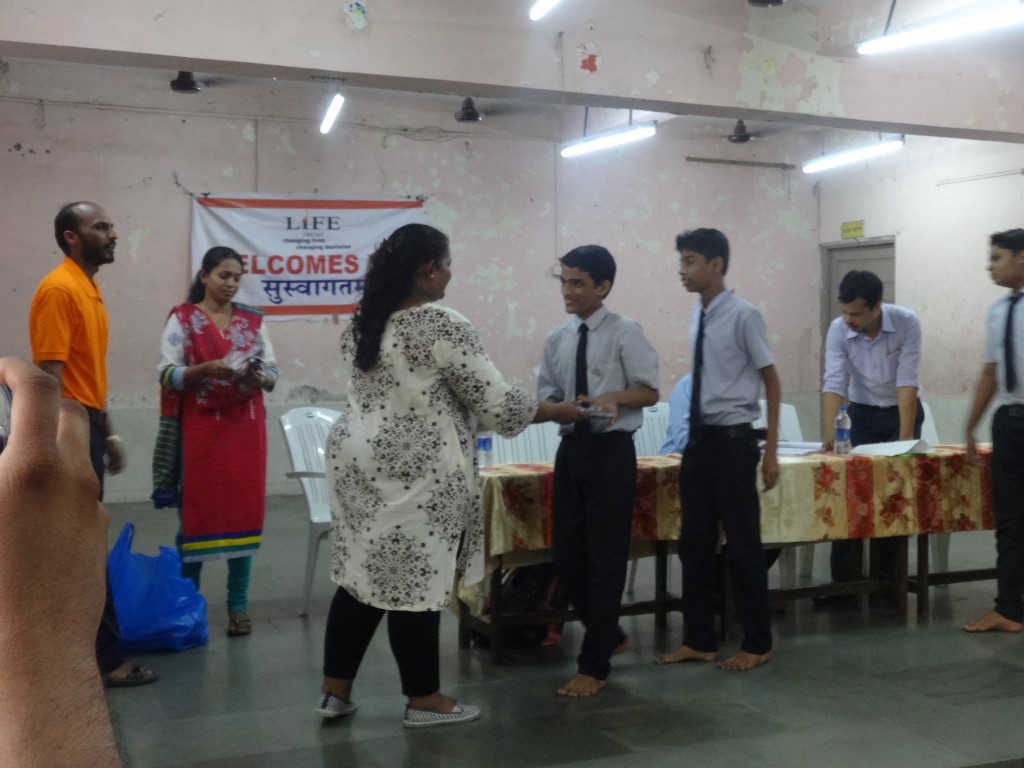 We just had to take a pic with the 'Happy Dot'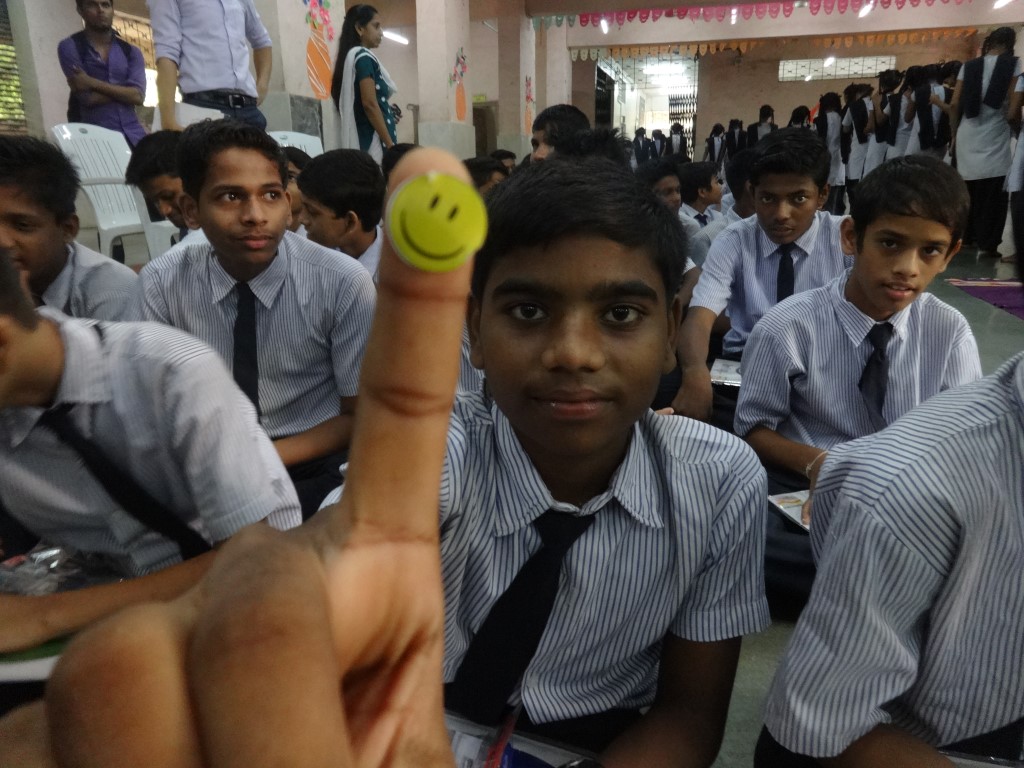 Next on our list were two aanganwaadis, one in Wadala and one in Worli. In both places, we had our ace theatre group – Naatakwaale, put up a short but powerful piece on 'The girl child.' After the performances, we distributed sanitary napkins, Mediker sachets, hand sanitizers and cold cream. We also gave them a short talk on the importance of good health and personal hygiene.
At the Wadala aanganwadi, Naatakwale had a blast performing the street play 'Udaan.' The children enjoyed the play as much as the adults did.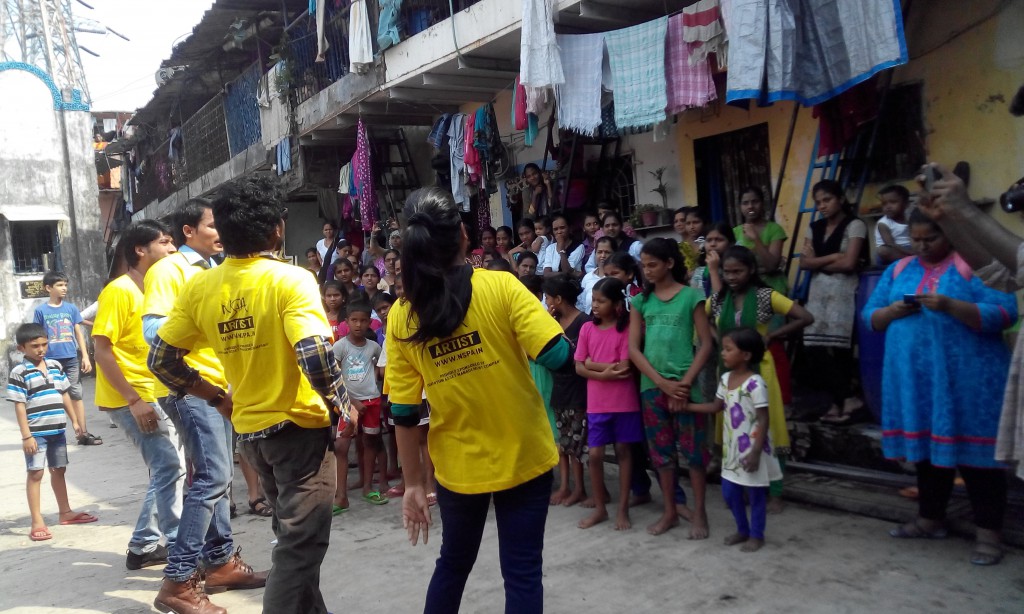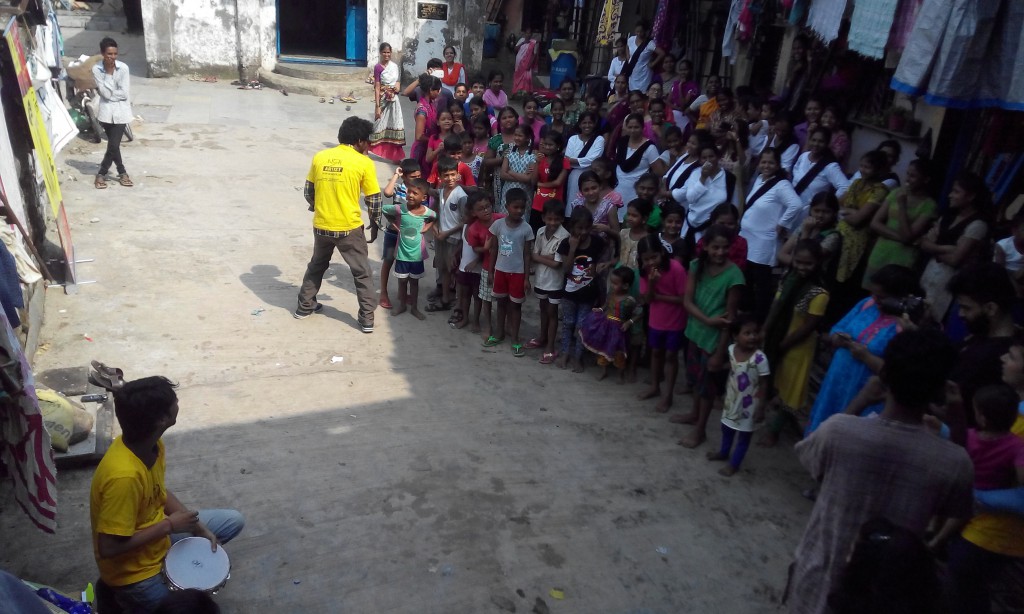 We also gave the girls a small talk on the importance of good health and personal hygiene.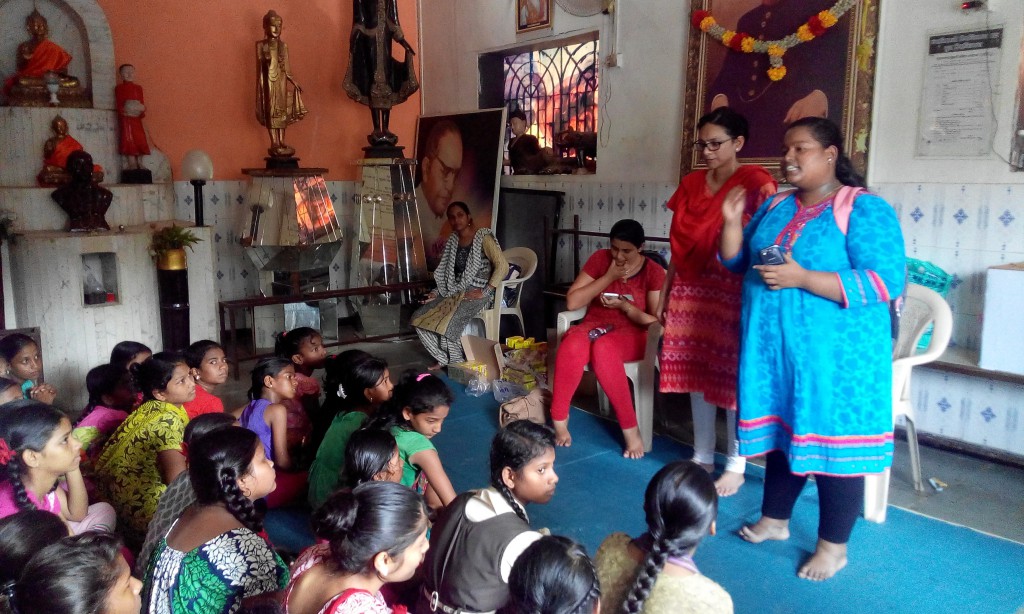 At the Worli aanganwadi, we had as much fun! We performed in front of a big group of women and girls and it was a riot!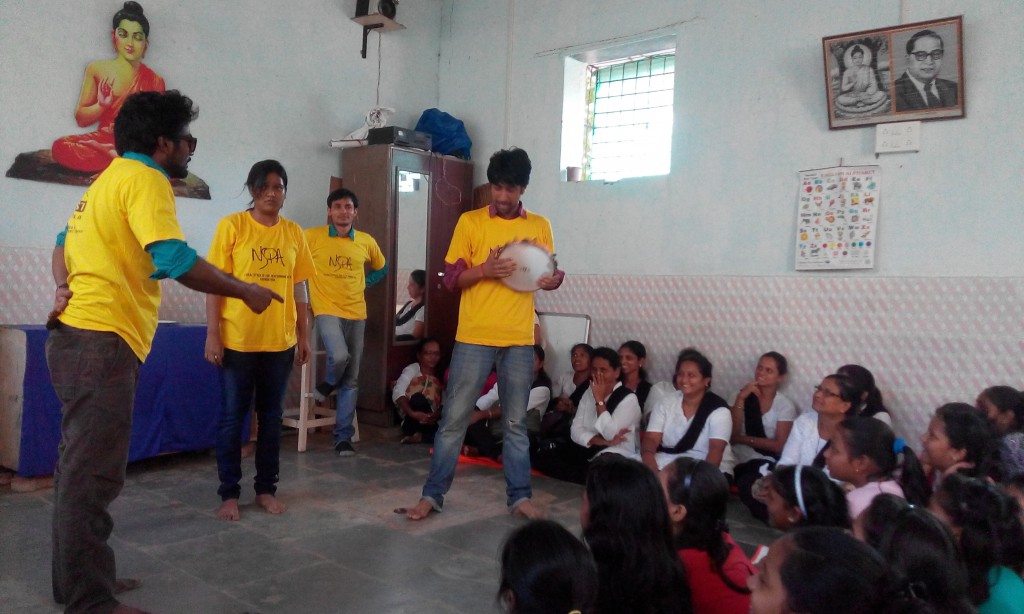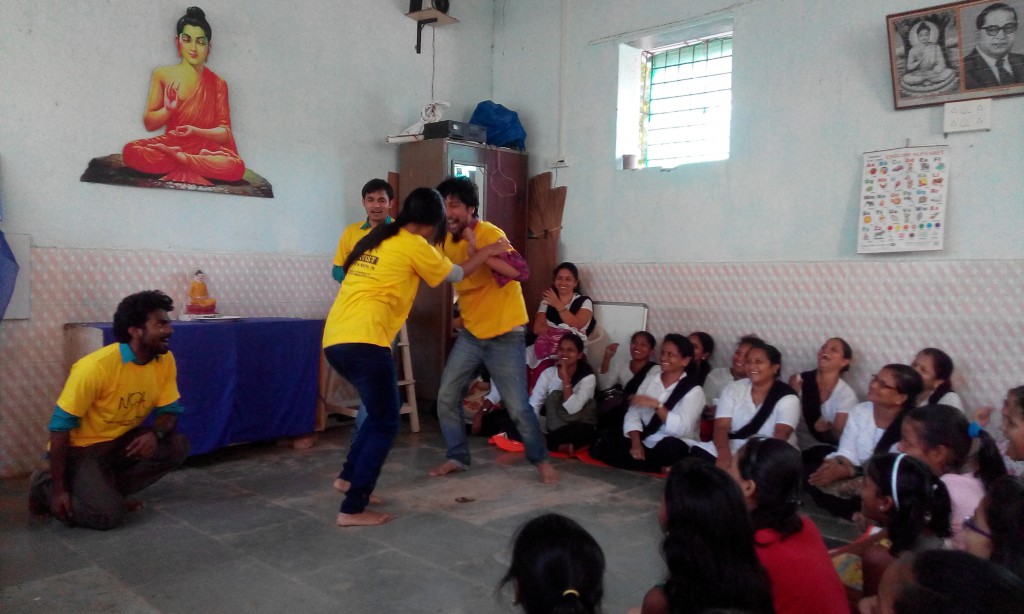 Well, this was the last place we visited and with it, our DaanUtsav activities came to  a close. However, although the festival is over, we will still keep up the happy act of giving and try to make peoples lives better with small acts of kindness!