Thanks to the hectic nature of our days, we hardly get time to treat ourselves to entertainment. At the most, we'll probably find time to watch a serial or two on Netflix, or catch our favourite comedian's stand up piece on YouTube. But, where or where is the time for art, right? Taking a leisurely stroll through a museum or art gallery seems unthinkable and undoable. Back up  bit, for the good news is that you DON'T have to visit either to enjoy art. There's art all around you and all you need to do is take a closer look at your surroundings. Here's an article that'll help you spot some cool art zones in the city. We bet you never thought these places had any artistic significance!
The Ghetto
This hole-in-the-wall pub in Breach Candy has given graffiti lovers something to marvel at for decades. The pub opened its doors in the mid 90s and since then, has swiftly become one of the most prestigious clubs in Mumbai. While the price of food and beverages can be a little steep, the club is a must-visit because of its unique lighting. The UV tubes make eyes, teeth and fluorescent clothing glow with ghoulish brilliance. If you do visit this club, don't forget to add your artwork to the graffiti-ridden walls for posterity!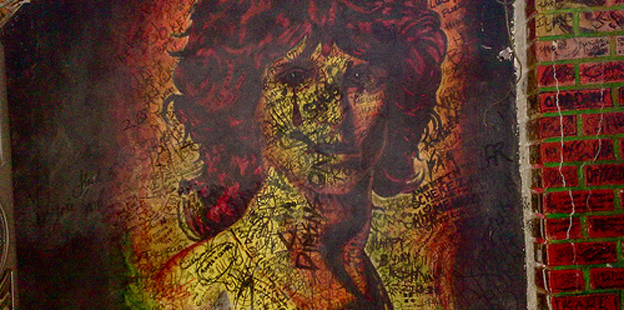 Image courtesy: CNN Travel
Café Mondegar
This iconic café has multiple claims to fame. Not only was it among the first restaurants to dot the city's streets, it was also the first eatery to introduce a jukebox. But, this isn't the only reason why the Café is famous. It also boasts the artwork of a very famous cartoonist – Mario Miranda. Mario's iconic artwork is sprawled along the Café's walls. The mural comments on life in the city and that's why the city's patrons find the artwork incredibly humorous and relatable.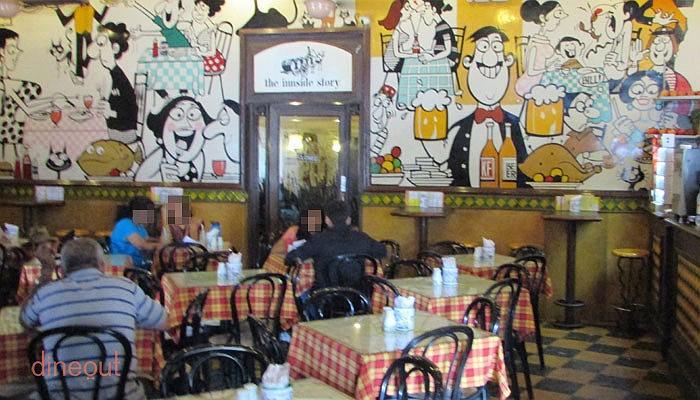 Image courtesy: Dine Out
Phoenix Market City, Kurla
Hailed as one of the largest malls in the city, this upmarket mall houses not only some very expensive brands, it also hosts the works of some very talented local artists. As you walk across the expansive walkways, don't be surprised if a huge installation jumps out at you. The mall is a good place to go to your monthly art fix without having to shell out a penny.
QTube Café
This tiny café on S.V. Road is an artist friendly café that allows artists to host shows, events, talks and workshops for free. It also displays the works of creators for free. Step in and you'll see the walls dotted with the works of doodlers, painters and mixed-media artists. It also hosts fun, performing-art related events every week so follow their Facebook page to get timely updates about all the events that are held there.
Public Art Installations
Who says you need to visit an art gallery to view the works of famous sculptors and painters. Several of the creators have designed massive installations that deck the streets of Mumbai. Yes, you can walk along a lane or street in the city and be treated to the works of a famous sculptor like Arzan Khambatta. All you need to do is keep your eyes open and be prepared to ask a few questions. Here are some installations you can look out for – Steel Dolphins at Worli, bronze mermaid sitting on a flower at Marine Drive, R.K. Laxman's statue at Worli, Valay Shende's Dabbawalla. Could you think of more installations that often go unnoticed?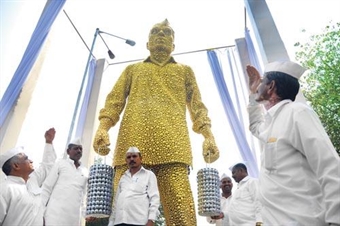 Image courtesy: Afternoon D & C