Now, every time a David Bowie fan looks up into the night sky, he will know that his favorite musician is watching over him from up there in the stars, because, guess what, David Bowie now has a constellation named after him! This constellation consists of 7 stars, which when joined together by an imaginary line make up the shape of the lightning bolt he sported on the cover of the 1973 album 'Aladdin Sane.' The decision to do so was a joint one taken by the Belgium radio station – Studio Brussel and the MIRA (Monterey Institute for Research in Astronomy) Public Observatory. All seven stars are located in the vicinity of Mars and make references to his various albums. Quite a fitting tribute for a man who once portrayed himself as an extra-terrestrial rocker and seemed to be obsessed with outer-space business!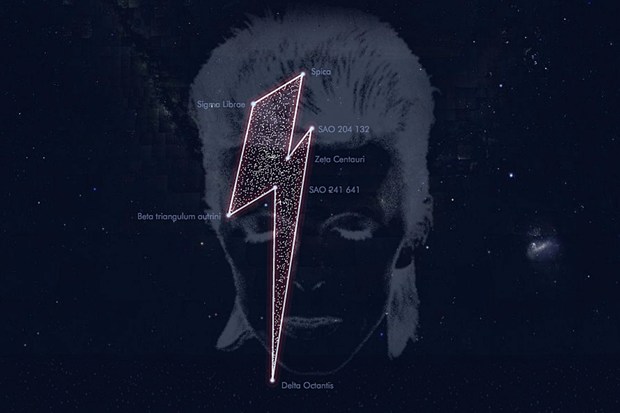 Image courtesy: wired co.uk
This finding made us wonder what it would be like if someone really played music in space. Has it ever been done before? If so, how does the music sound? We decided to read up on instances of "music played in space," which we realize now is a rather amusing and silly choice of keywords, but surprisingly, we did chance upon quite a few articles that listed out musical firsts in space. Here are some of our most interesting finds.
'Jewel in the Night' is the first original song to have been played on-board the International Space Station. It was performed by Canadian astronaut Chris Hadfield on Christmas Eve in 2012 and posted online the next day! The Space Station was orbiting the Earth at 17,000 miles an hour!
You can give the song a listen here:
The first instance of music being played to a spacecraft happened on 12th April, 1961. Yuri Gagarin, strapped to his couch in the Vostok capsule, found himself having to kill time because his launch was delayed due to technical glitches. When mission control asked him how he was feeling, he said that some music would help. After struggling a bit, technicians managed to pipe records of Russian love songs into the capsule!
You're probably aware of the tradition of waking up American astronauts with a wake-up song. The tradition started on day two of the Gemini 6 mission in 1965. Since then, wake up calls have included everything from Beethoven to Bowie (Space Oddity!) Cold Play and even personal greetings by Paul McCartney and Elton John!
Apollo 17 astronauts Gene Cernan and Harrison Schmitt are the first to have sung a duet in space! While bouncing across the surface of the moon collecting rocks, Schmitt began an impromptu rendition of "I was strolling on the Moon one day…" His fellow astronaut promptly joined in to sing the second line "In the merry, merry month of December… May." Unfortunately, that was as far as they went with the song for neither could remember the lyrics ahead!
Musical instruments were first flown into space in 1965 on Gemini 6. A harmonica and bell were carried by astronauts Walter Schirra and Tom Stafford to perform 'Jingle Bells!' Similarly, NASA astronaut Cady Coleman took three flutes and a penny whistle with her on her 2011 mission to the ISS. She also performed a Space-Earth duet with musician Ian Anderson! Here's a video that actually captures her performing in space in zero gravity!
The ISS currently has a keyboard and ukulele on board so that astronauts can enjoy a quick jam session when they aren't searching for water, or well, 'moonwalking!''
Seems like life up there can be as melodious as it is down here! So, if an Armageddon-type request had to come your way, would you accept?