This fun event, with an even funnier name, was a very special one for us. For the first time, the NSPA planned an organized an event of this sort, and we must say, it did feel good! It was also special because of the many glitches and disappointments we had to brave and overcome along the way. From last-minute venue shifts to having to re-envision the entire event, a lot of drama unfolded before this dream could turn into something tangible. But as they say, if plan A doesn't work, the alphabet has 25 more letters to choose from! Thankfully, we didn't have to go too far into the alphabet for our plan B, which materialized into 'Misal Pav – Music. Dance. Theater,' worked perfectly fine and even gave us the whiff of success we were hungry for!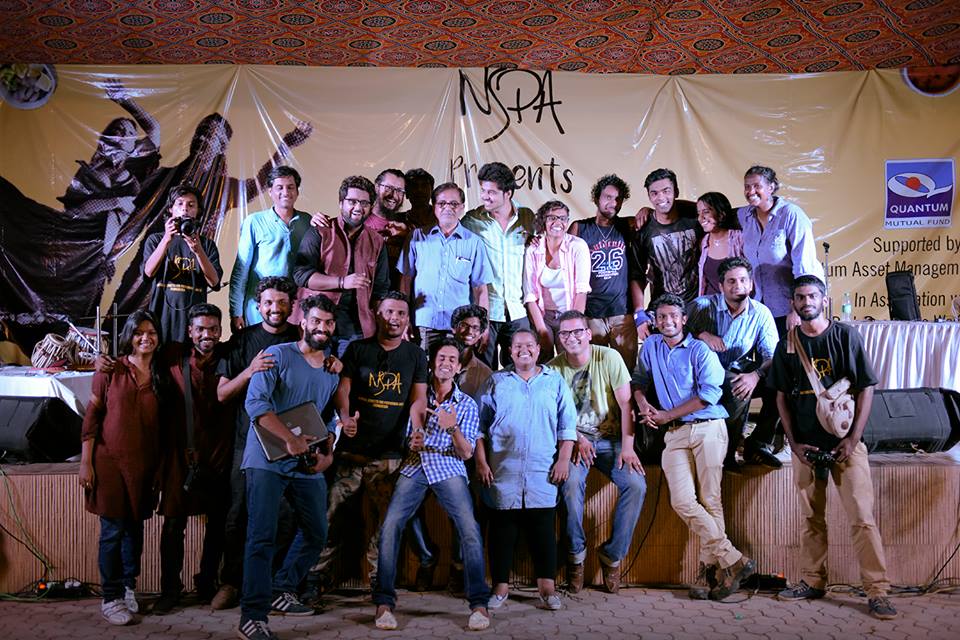 The days leading up to the event were just as exciting as the event itself. Internship interviews, recces, artist rehearsals, planning and organization activities kept us on our toes and as D-day neared, excitement and anticipation reached fever pitch. Before we knew it, the big day arrived and it was time for our artists to take the stage. The event kicked off with a bang with some of the earliest NSPA artists performing the NSPA song. From then on, it was two days of non-stop entertainment and awe-inspiring performances. The audience were treated to songs from different genres life Sufi, folk, western and pop. There were also some exciting Uttarbhartiya and Bengali-Marathi fusion performances. An act that stole the show was the smashing a cappella piece performed by our western artists. We also loved the innovative and extremely melodious ambient fusion piece that featured a range of percussion rhythms interspersed with mellow vocals and guitaring. Two powerful street plays added the intellectual punch needed to get the audience thinking. The play by 'Jazba' urged people to stop focusing on their differences and start focusing on qualities that unite us. 'Naatakwaale' put up a play on unemployment and advised the audience to make good use of their time and talents. There also was an energetic dance performance mid-way through the evening to infuse some fun into the event. The next day too seen some talented performances but the most memorable moments came towards the end when artists and team members left their seats to shake a leg to some feet-tapping songs performed by our NSPA artists! Yeah, that's how we like to end things – in style!
What touched us the most however, throughout the event, was the dedication and grit that shown through our artists as they performed on stage. Even during intervals when audience numbers dwindled, each artist put their best foot forward and performed as if they were performing to a packed venue. It was as if a strange surge of confidence and happiness gripped them as soon as they set foot on stage and once immersed in their performance, it didn't matter whether there were three people sitting in front of them or a hundred, their passion never waned, nor did their zeal. Eyes closed, lost in their performance, they gave us a glimpse of what it means to be an artist. As a wise man once said, "art enables us to find ourselves and lose ourselves at the same time," and watching these budding stars on stage was an inspiring experience.
We are extremely grateful to all who helped make this event a possibility. Much thanks and gratitude must be extended to Quantum Asset Management Company and Sai Baba Park Welfare Association for without their support, this event would be a distant dream. Also, we wish to thank all the interns for their help and their positive attitude. Last but not the least, a big shout out to all our artists for their fabulous performances. You guys are awesome and we are extremely proud to have y'all on board! Keep up the sunny attitude!