Yesterday, as torrential rains drenched the streets and people of Mumbai, NSPA artists and team members made their way towards one of the most happening spaces for live music in Mumbai – the Blue Frog! Yes, our artists performed at Blue Frog yesterday, and it was and always will be, a very memorable opportunity for us. We have Alliance Francaise de Bombay to thank for extending this opportunity to us. To celebrate World Music Day, or 'fete de la musique,' which is marked on the 21st of June every year, Alliance Francaise de Bombay has organized three days of fun-filled music workshops, concerts and live performances and yesterday's performances were part of this event. NSPA artists will also be performing in the Alliance Francaise auditorium on the 20th of June, between 4-5 pm, so do step in if you happen to be around.
Performing at Blue Frog is almost every upcoming musicians dream. The kickass layout, accoustics, crowd and ambience in general is perfect for live music performances. Yesterday, we experienced all this first-hand. Our first band to take the stage was RAM-Trio, a Sufi-rock band comprising of four talented musicians who like to put their own spin on popular Sufi tracks to create interesting music. They performed many popular songs like 'Saiyyan, Dama Dum Mast Kalandar and Allah ke Bande Haste' but, also slipped in a couple of original compositions to surprise the audience. It was an interesting one hour for many, especially for the French-speaking people in the audience, for this was probably their first taste of Sufi music. Many seemed to enjoy the genre and as they sipped their wine or dug into their meals, one could see them nodding their heads to the rhythm. Some busied themselves with capturing the performances on their cameras. On the whole, it was a melodious one hour, filled with music, drinks and happiness!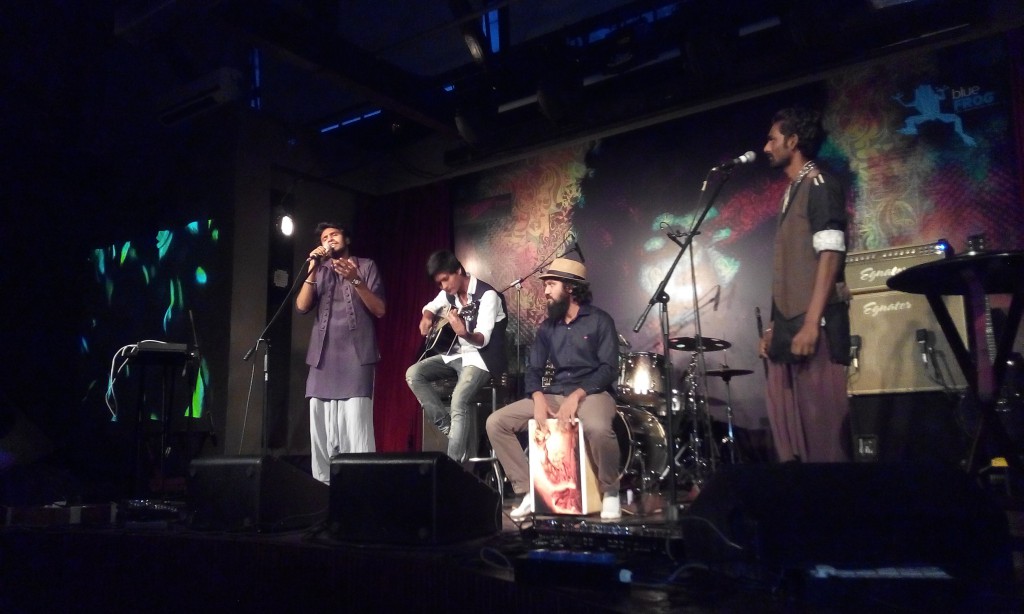 Next, to infuse a pop and blues flavor to the evening, our next set of artists – Anusha, Rachel and Rahul took the stage. Although Indian by nationality, these three put up quite a multi-lingual performance! They kicked off their act with the beautiful Spanish song 'Besame Mucho,' then shifted to performing cover versions of popular English tracks with This Love, Happy, Black Horse and a Cherry Tree, Billy Jean, Valerie, Sexy and I know it, Halleluiah being a few among the many songs they sung. To ensure that the attention of the audience never waned, they kept changing the tempo of their performances, switching from peppy, fast numbers to slow, soothing tracks to finger-snapping numbers again. The most memorable moment of the evening, we have to say, was when they performed 'La Bamba' and several couples took to the floor to shake a leg. There was jiving and salsa and some unrecognizable dance forms that involved some-clumsy-some-funny moves, but one could tell that almost everyone in the room was having a great time. They ended their set with the very melodious French song 'La Vie En Rose' which received much applause from all our French friends in the room! An evening to remember, it was!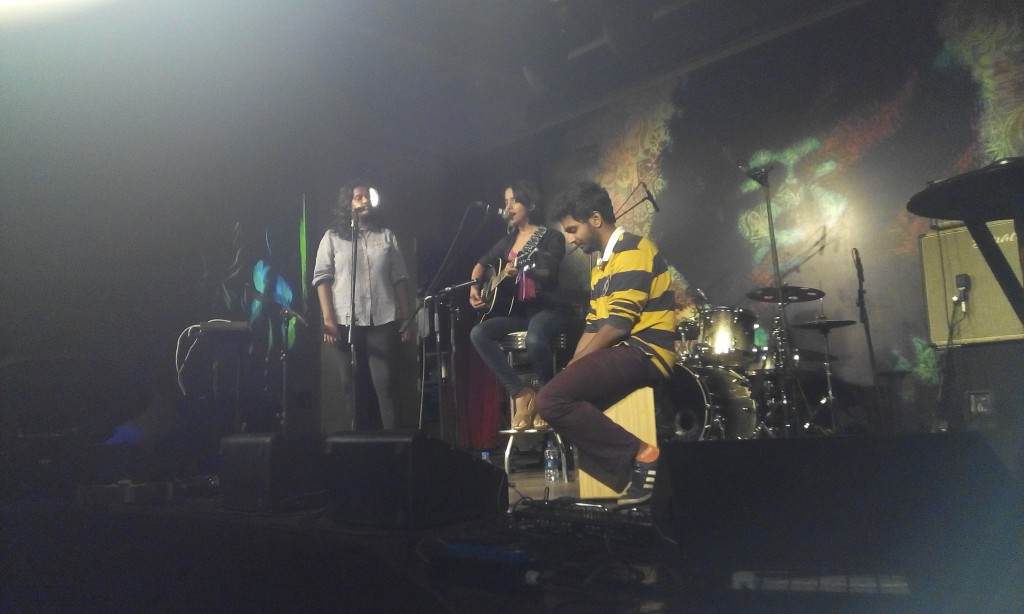 Well, that brought to a close our performances for the evening and it was time to leave. Thinking about the evening in retrospect, we were convinced once again of the almost magical quality music has of binding people. No matter the language you speak, or the nationality you belong to, when you hear good music, it moves you and makes you happy and in such moments, there are no differences or divides. Under that roof, it didn't matter if you were French, Indian or something else, because for those two hours, we were all one; lovers of music, connoisseurs of good times!