We continue in our endeavor to spread information about this melodious and mystical art form called poetry. In this article, we turn our lenses towards a particularly interesting form of poetry, one that celebrates nonsensicality and bawdy humor – the famous limerick. If you haven't heard of this poetry form before, you're in for a treat for this article, while explaining the key features of this form, will also dish out examples of well-written limericks that are sure to keep you in splits. So, get ready to do some serious laughing!
The Limerick, which seems to have derived its name from a city in Ireland, has been around for donkey's years. Earliest usage of the form was spotted in England in the early 18th century. The form was popularized by Edward Lear through a book titled 'Book of Nonsense' (1846) which compiled the best limericks of its age. Since then, the limerick has made fleeting appearances in plays, novels and even in short stories. Off late however, the popularity of the limerick has witnessed a rising trend with many online contests asking for and rewarding witty limerick submissions.
So, moving on to the main question – what is a limerick and how does one spot it among the plethora of other poetical forms? A limerick is usually a 5 line poem with an AABBA rhyme scheme. The first, second and fifth lines are usually longer than the second and third ones. The defining characteristic of a limerick however is its humour which is often obscene, sardonic and provocative in nature. These short poems are quite whimsical too, and it's the seeming nonsensicality of the verse that actually adds to the humour of the poem. Limericks also make clever use of figures of speech to convey the essence of an event in a brief and humorous manner. These poems are especially enjoyable to read because of its short length, humour and even though these poems are quite transgressive in nature, they are seldom preachy.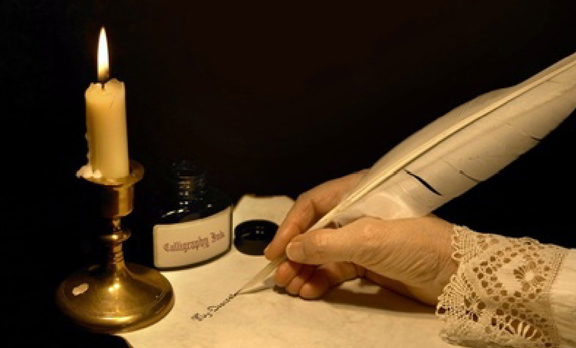 Image courtesy: freethinku
As with all things that enjoy a lot of fame, the limerick too has been happily parodied by many. These versions, called anti-limericks,' seek to poke fun at the nonsensicality and strict rhyme structure of the limerick. Anti-limericks sometimes subvert the structure of the true limerick by altering the number of syllables in each line or by changing the rhyme scheme.
Here is an example of a limerick followed by an anti-limerick to help you understand these forms better.
"There was a young lady of Niger,
Who smiled as she rode on a tiger;
They returned from the ride
With the lady inside,
And the smile on the face of the tiger."
-attributed to Edward Lear
Here's another limerick we really like -
 "A flea and a fly in a flue
Were imprisoned, so what could they do?
Said the fly, "let us flee!"
"Let us fly!" said the flea.
So they flew through a flaw in the flue."
-Ogden Nash
And here is an example of an anti-limerick
 "There was a young man of Japan
Whose limericks never would scan.
When asked why this was,
He replied "It's because
I always try to fit as many syllables into the last line as ever I possibly can." 
Well, we hope this short article has helped generate an interest in you for the form. If it has, we urge you to go ahead and check out a few more limericks. Also, write out a few if you have a flair for writing!