"All kids need is a little help, a little hope and someone who believes in them."
A winding maze of noisy corridors awaited us. Stepping through the gate, our senses were instantly assaulted by sounds that echo through the hallways of every school; muffled shouts, excited chatter, raucous laughter. Unintelligible sounds at varying frequencies seemed to fuse together to form an incessant din that filled every inch of space we invaded. This low, but persistent, hum also served as a reminder to the adult minds ambling through – "Beware, kids ahead. Lots of them!"
Well, that's what you get greeted by when your quest to find fodder for another article leads you to a school. Welcome to another NSPA art literacy session, this time conducted at Dr. Babasaheb Ambedkar School, a small municipal school in Worli. This session was especially heartwarming to be a part of because it was being conducted with a group of special children. The artists conducting the session were Manoj Pandya and Manoj Sharma, two veteran NSPA artists whose years of training have resulted in them becoming not only exceptional performers, but also excellent teachers.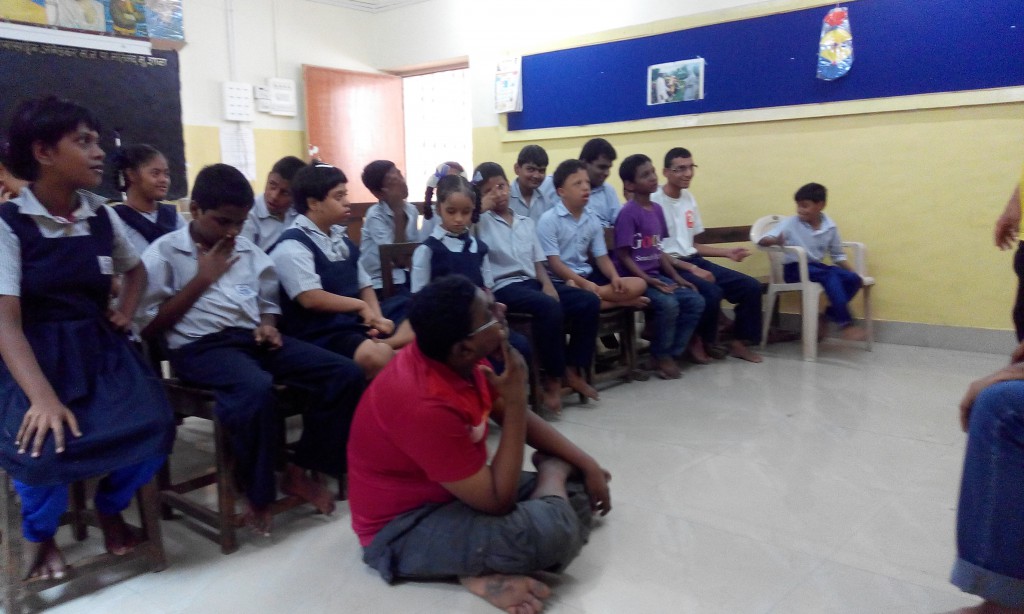 The session was an interesting one, not just because of the kind of activities our artists had planned for the kids but also because of the kind of insights this single session threw up. One of our very first learning's was that affection and warmth meant the world to these kids. They crave for it and they also love sharing it. Through handshakes and 'namastes' they did their best to assure us that we are welcome in their midst. A few of them ran up to us to wish us again, like they wanted to make us feel absolutely certain that we were quite welcome here.
The session commenced and within a few seconds, a second learning came whizzing our way – that it takes a prodigious amount of patience and understanding to deal with these kids. Powerhouses of energy and excitement, it is incredibly difficult to get them to stay put in a place, let alone focus on what is being taught in class. Our artists smartly sidestep this problem by making each session extra gripping and fun. During the session we were part of, they involved the class in a clapping session where kids had to imitate the beats the artists were creating through claps. They also used familiar words like 'kanda bata' to recreate the sound of basic rhythms. Then, a couple of children were called forward to sing the National Anthem. Although struggling with the pronunciation of certain words and the complex tune, they all tried their best to do justice to the song. This was followed by an 'anyone, sing some' session where anyone, who felt like, could sing a song for their classmates.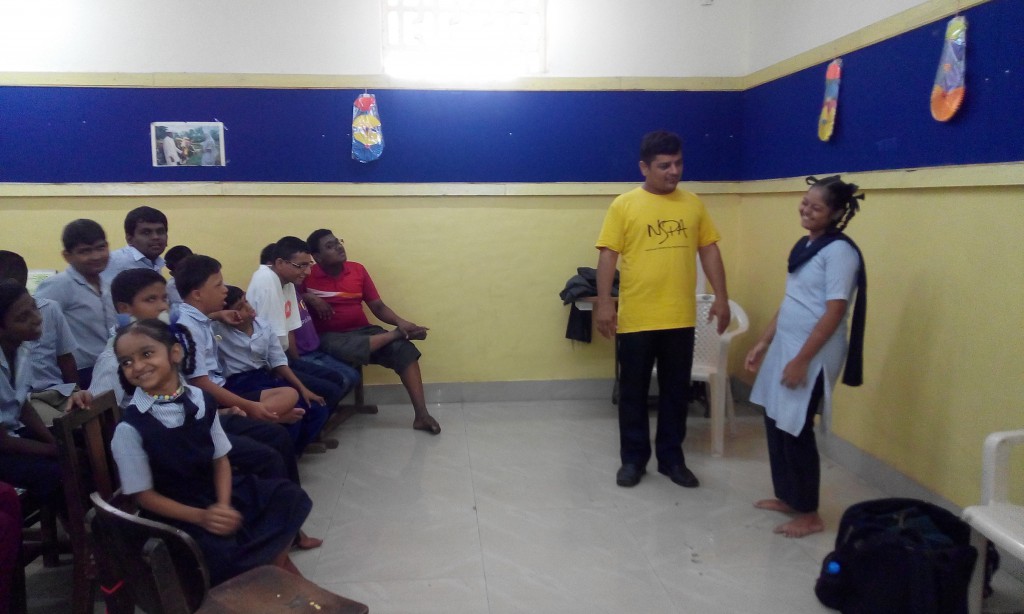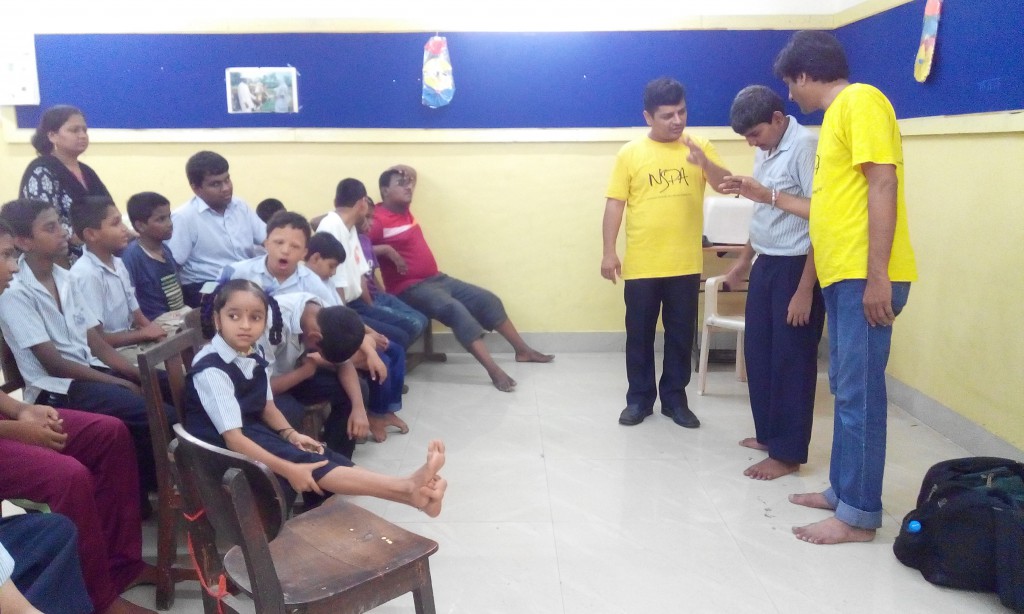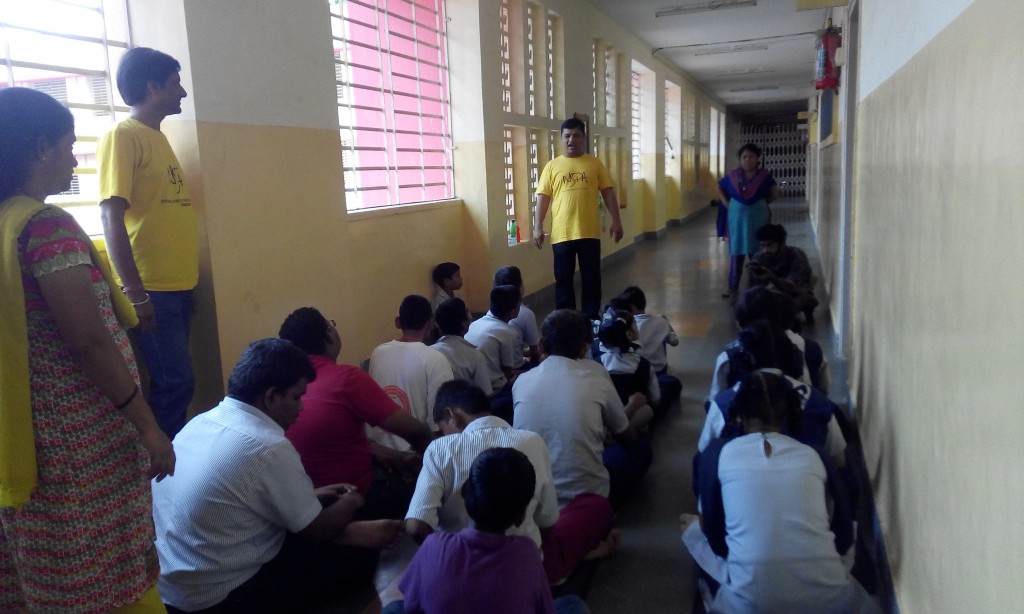 After a little over an hour, the session came to a close. As the children busied themselves in gathering their books and things, I spent some time musing over everything I had seen. Often during the session I found myself wondering if these sessions really helped these kids. Do they remember anything they're taught? Does any of this make a difference to them? And then, as if to jolt me out of my pessimistic stupor, a small kid ran up to one of our artist's and, in a booming voice, asked him when he'd see him again. On learning that the answer was "soon," a ear-to-ear grin broke out on his face and he skipped away happily. It's then that I found myself making peace with the fact that sometimes, there will be no dramatic outcome, no earth-shattering, awe-inspiring  transformation. Sometimes, the little things, the small steps, the almost invisible attempts that might seem to have no definite, tangible outcome, actually go a long way in bringing a smile to a face, making a day more interesting for a curious mind, making time spent in a school infinitely more enjoyable for a playful heart. And this, is the best kind of education you can give a child.