His calm demeanor is intriguing, this combined with his rather unique dressing sense, which often includes a hat and borders on the more formal side of things, and a visibly eccentric persona compels you to notice him even in a room full of people. On striking up a conversation with him, you'll realize he's a man of few words, but the words are wise ones. He has much to say about life and music and in this interview, he obliges to talk about both.
The musician we are in conversation with is Mujeeb Shaikh, an NSPA artist and founder, song-writer and Cajon player of the Sufi-rock band 'RAM-Trio.' The band has been doing great work and recently, they saw themselves performing at the Rann Utsav Festival, where ancient palaces and beautiful dessert sunsets formed the perfect backdrop for their mystical Sufi performances. Passionate about the work he does and sharing an almost umbilical connection with his band mates, it's no surprise that the conversation often veers towards the band, its formation and his fellow mates.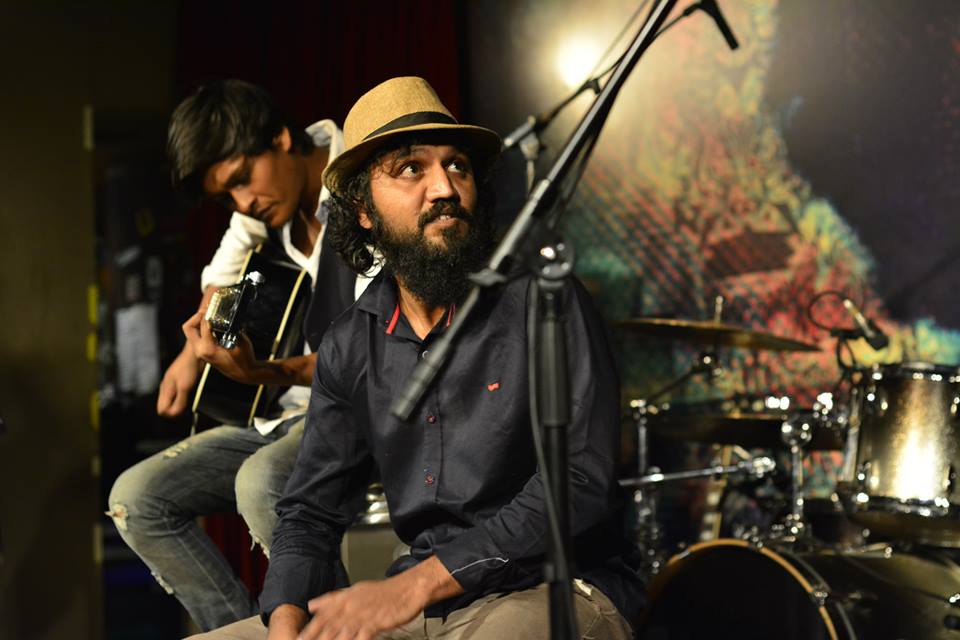 The formation story of the band is an interesting one; it has one of those 'it was meant to be' story lines. A framework was set in place when Mujeeb teamed up with Rahul Solanki, a musician he met through a student of his,  to make unique music. This led to Rahul's childhood friend and singing partner – Aarush Purabiya joining in. Rahul and Aarush, both gifted with beautiful voices are the band's vocalists. The last person to join this musical trio was Toshi Verma, who now infuses the band's songs with his soulful guitar rhythms. The music these four talented artists create is unique, because although they perform Sufi songs, one spies a distinct western influence in their music. Their experimentation with this style started with the song 'Kesariya Balam' which saw them rip apart the original instrumentation and weave together a completely new soundscape to create a distinct piece that combines heavy rock with western classical influences. Although the band has moved on to creating several new pieces, including a string of original compositions, 'Kesariya Balam' still remains their most popular and best-received song.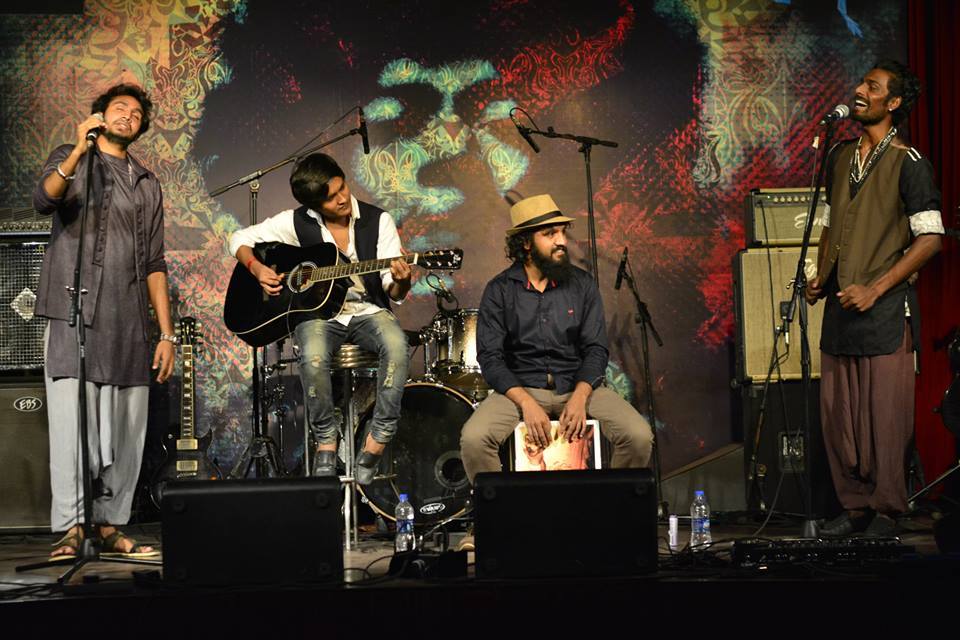 I now steer the conversation towards his personal journey as a musician since I'm curious to know how it all began. He surprises me when he tells me he has never received any formal training in music and that he spent almost eight and a half years working in a call centre. However, his constant job switches (almost 11 he tells me) point towards a sense of discontentment, like he always felt his true purpose lay elsewhere. He says he always felt out of place in the uptight atmosphere of the corporate world and one day, passion trumped practicality and just like that, he took the plunge into the world of music. His love for music, however, didn't spring up as suddenly. It was a passion and hobby he nurtured independently and untiringly for several years in private. Even when he worked as a customer service representative, he experimented with different styles of music as a DJ, something he took up on a part-time basis. On mixing softwares, he tried different genre combinations and familiarized himself with beats and rhythms that worked. These days of trial and error exposed him to a range of genres, both western and eastern and this helped enrich his understanding of music. That's probably why even today his music style is diverse, often combing the best of both worlds. He says he is equally influenced by Nusrat Fateh Ali Khan and Ramin Djawadi as he is by Breaking Benjamin, Papa Roach, Hans Zimmer and Gustavo Santaotalla.
In the course of talking about his influences, he mentioned that he belongs to a family with a Sufi lineage.  I see he is quite familiar with Sufi writings, and can talk knowledgeably and extensively about Sufi saints, practices and values. Also, the way he talks about Sufism, I'm beginning to sense that it's not just restricted to a genre of music but is more a way of life. After all, all great composers of Sufi hymns and poems were Sufi's themselves. This prompts me to dig deeper and find out what Sufism and Sufi music is all about. I begin by asking him who a Sufi is. His answer is simple, but profound. "A Sufi is one who submits his will to the almighty." However, the journey to this ultimate submission is difficult and calls on the individual to make a lot of changes in his personal life. The individual is taken on a journey of introspection as he tries to get closer to the almighty and understand his will, so that one day, he will be fully in tune with what the almighty wants him to be and then, he will experience divine light. Most Sufi songs talk about this quest, and are also meditations on the trials and tribulations that greet a Sufi along the way. The lesson I take home after this talk is hard-hitting. One can't just create Sufi music. One has to be seeped in its values and teachings to be able to create music from the heart.
His devotion towards Sufi teachings has made him a wise individual and this becomes clear as you talk to him. Our conversation meanders to various topics and soon, we're analyzing some very subjective words like 'good' and 'bad' & 'right' and 'wrong.' He rightly observes that "Being right is not synonymous with being happy," and often, in our desire to "do the right thing" we forego chances of being genuinely happy. He explains this through career choices people make, often to please society or their parents or because it seems like a right or acceptable job to do and often end up dissatisfied and unhappy. He also believes that one can find peace only when one engages in a job that was intended for him by the Divine. That is why he feels at peace now, for he believes his purpose on Earth is to make good music and to spread happiness around him through his music.
His introspection on life and Sufi teachings has made him a good writer and he often pens down poems with philosophical overtones. He also composes lyrics for many of the band's songs, or as he puts it, "fleshes out in words ideas suggested by his band mates." Most of his poetry is deep and casts a satirical glance at human life, emotions and habits. He writes in Hindi and English, but personally, I enjoyed his Hindi poems better, perhaps because they're generously sprinkled with Urdu words and this lends a lyrical quality to his poems. He shows me a poem he's written on love and this reminds me to ask him a question that has bothered me for a while. "Are Sufi songs mostly about romantic love? Or is this just the way it's portrayed in cinema?" He agrees that contemporary music videos often misrepresent Sufi music by making them always about romantic love. However, he does agree that Sufi songs are about love, but an immensely pure form of love, where the individual is so much in love with his partner that he sees them both as being one. His partner could be a human being, but it could also be the Divine.
We've had almost an hour and a half long chat and it's time for me to wind up the interview. I don't want to but my practical mind reminds me of all the work I've left pending. To bring the conversation to a close, I ask him about his future goals, for himself and for his band and for some advice too, for people eager to make it as a musicians. He says he's planning to learn the drum next, and just like he learnt the Cajon, there will be no formal training. He also says he likes to do things differently and so, the drum he designs might be of a different kind, where the cymbals will be struck by a peddle and the bass drum will be played by hand! For his band, he says he's still working on original compositions, and dreams of making his band ultra famous one day. As for aspiring musicians, he gives wise advice. One, that you cannot chose the profession, the profession chooses you. If you're meant for this, submit to nature's designs for you and you will make it! He also said another thing that struck me, and I'm sure will stay with me for long – "It doesn't matter if you play it right or wrong as long as you play it passionately."