Our lives can be quite monotonous and sometimes, or rather, often, the wake up-dress up-show up routine takes a toll on our spirits. As we trace familiar routes and repeat memorized actions, we lose our potential to be amazed, to wonder at the quirks life offers. So, once in a while, we must take a break from our monotonous routines and immerse ourselves in an activity that challenges our mind. We owe it to ourselves to enjoy more than just a breath of fresh air now and then. Here's your chance to participate in something fun for the upcoming week at QTube is full of events that promise to entertain and engage your mind. Make time to attend at least one of these and experience an immediate mood boost that will brighten up your whole month!
A Poetry Workshop for Lovers of the Written Word
Are you guilty of composing poems and then never sharing it with anyone? All us closet poets are guilty of this crime and sadly, even our best-written pieces go unnoticed. The reasons why we hide our poetic gems from the world are many. Some of us are not confident about our writing, some are terrified of having our work mocked and some of us just don't like interacting with unfamiliar faces. But, when you get a chance to share your poems in a friendly environment, even the most diffident of us should not turn down this opportunity. Poetry lovers Shrenik Mutha and Ankita Anand are hosting 'From the Brazen to the Golden: Creating and Chiseling Poetry,' a workshop that aims to help hesitant poets sharpen their writing skills and polish their reciting skills. Plus, you get a chance to connect with like-minded individuals and hopefully, form fruitful collaborations. Their Facebook event page lists more info about this fun event. Do check it out!
Date: 8th December
Time: 11 am – 7 pm
Songwriters, here's your Chance to Shine!
Vagabond is organizing 'The Pen & Paper Sessions' to give singer-songwriters a chance to showcase their best compositions. Attend this event if you'd like to discover new artistes, share your stories and learn from experienced performers. Plus, special performances by some very talented and established indie artists.
Date: 10th December
Time: 6 am – 9 pm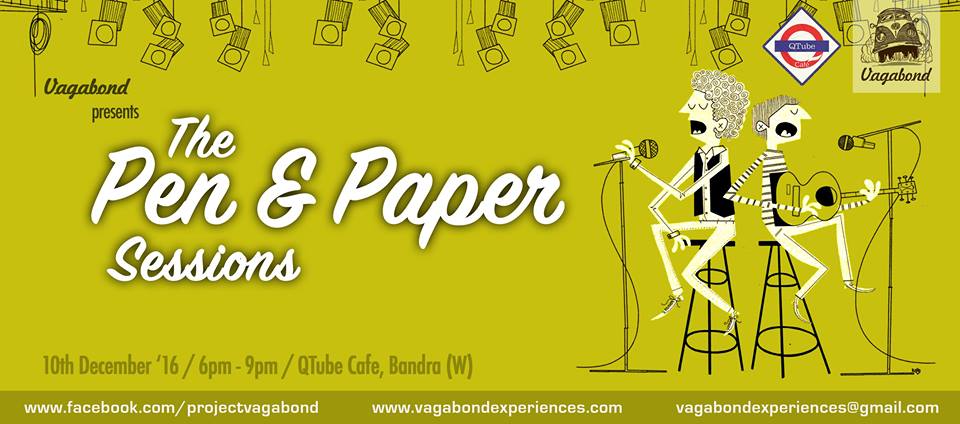 A Stigma-shattering Discussion
Voice your Abortion. Defeat Stigma. Is hosting an event titled 'The New Narrative – Smash Sanskar' which is going to be a fun discussion that aims to question and rethink stereotypes perpetuated in Bollywood movies. Join in this discussion to get a fresh perspective on important social causes.
Date: 11th December
Time: 3 pm – 6 pm
Hoping to see many of you at QTube Café for all these events!