Home > Jukebox Archive > 2nd April, 2015


NSPA goes to Goa! - NSPA Jukebox
Hello folks! Koso asa?

Last week was a good one, peppered with many successes and without further ado, here's shifting the spotlight on our first major one - the Goa launch. Yes, on the 28th of March, NSPA launched its street performance initiative in Goa. After months of planning and much excitement, our debut performance kicked off this Saturday, at Panaji Municipal Market. Our artists, instruments in hand, enthralled bystanders from 9 am to 11 am. A great start to the morning, we say!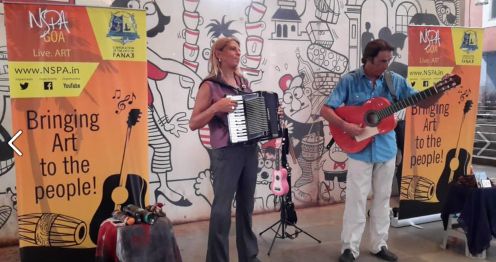 Rio Samaya Band Spreading Spanish Wave of Music at Panaji Municipal Market, Goa

The first of its kind in Goa, this busking experiment earned the artists much applause. It also succeeded in making the local folk curious about the NSPA and the work we do. Going forward, performances will be held every Thursday, Friday and Saturday at the Garden Square Junction, Kadamba Bus Stand and Panaji Municipal Market respectively. We also plan to conduct auditions in Goa to increase our artist base and give local artists a chance to showcase their talents. For more information regarding our Goa launch, check out our blog post now..


We are on Instagram now!!!

Just a minute folks, we have another announcement to make. Having realized the importance of social media and the exposure and publicity it offers, we decided to make our presence felt on another social platform - Instagram. Yes, you can now follow us @nspamumbai to get candid photos of NSPA artists, the team and other wonderful captures of our events and activities.




That's all for this week folks! Stay tuned for more exciting news, auditions and shows.

Yours,
NSPA Team
Copyright © 2013 National Streets for Performing Arts
All Rights Reserved