Home > Jukebox Archive > 19th April, 2015


Register For Summer Internship! - NSPA Jukebox
Hello folks!

Another humid, sweaty week has gone by and we continue to march on into the sweltering months of summer. Taking you through the interesting happenings last week, first there was the eye opening 'Save the Internet' video. A brilliant attempt by a bunch of funny men to inform us about net neutrality and encourage us to take a stand in favour of it. If you guys haven't watched it yet, we urge you too. Here is the link to the video if you're feeling too lazy to go online and check it out Remember guys, in the absence of net neutrality, it'll actually be very difficult for you to enjoy our videos the way you have been doing all this while. So, go ahead and push for net neutrality, for your opinion does matter!

Here, at the NSPA too, we've had quite a hectic week. Our Summer Camp plans are shaping up and we're proud of the direction they are progressing in.

Internship Alert!
To help us organize a super-awesome Summer Camp, we are looking at taking a couple of paid volunteers on board. It will be a one month opportunity where the enthusiastic youngster will be awarded a certificate and professional fees for his/her effort. So if you know of any such lively teenager who is eager to do something fun and productive this summer, do inform them about this NSPA opportunity. Here are the traits we would like to see in these young applicants: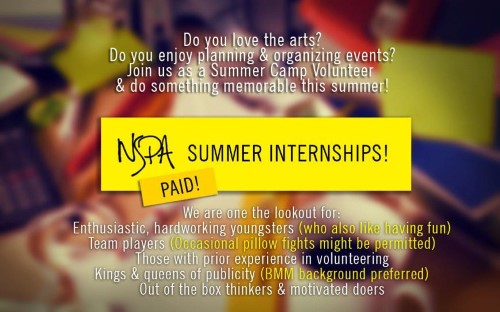 Register Now!!


Amazing performances this week
As always, our artists have been making their way to various locations to spread art, and the joy one derives from it, among people. Couldn't catch any of these performances? No worries, thanks to videography, you can now view them from the comfort of your home!




To all the lonely romantics

Yash Barse performs 'Tanha Dil' in one of the most beautiful setups. Lush green grass and an orange sun peeking through the trees provides the perfect ambience for this soulful song. Watch Video Now..


That's all for now folks, we'll be back next week with new updates and cool videos. Till then, stay happy and positive! Have a great week.

Till we meet again!

Yours,
NSPA Team
Copyright © 2013 National Streets for Performing Arts
All Rights Reserved